3 Fresh Ways To Dress Up A Classic White Shirt
It's a staple in every wardrobe!
Summer means parties, people, events and lots upon lots of activities. The invitations stack up: cookouts at the beach, pool parties, sports events, lunch with friends. Suddenly when the weather is warm, everything is up for grabs. And we all know how important it is to always show up in style.

The one constant in all this excitement? Your bestie — the classic white shirt. Fresh and clean, it's a staple in every wardrobe. It goes wherever you want it to, and whenever you want to go there. It goes with everything, can be dressed up or down, and works as a fantastic canvas for everything else.

But the best news is ... and we hope you're sitting down. This classic white shirt is not only flattering and wrinkle-free, it's also enhanced with Stain Shield®. You read that right: It means your shirt will not only always fit perfectly and look crisp, but also repel oil-based and water-based stains. So you can say "See Ya Later" to ketchup, mayo, soda and red wine. You heard it here first, my friends. You're welcome!

Here are three fresh ways to dress up a classic white shirt.

The perfect cardigan — When you're out and about, it's always important to have something to put over your shoulders. And what better something than a stylish cardigan? Not just any cardigan, mind you: This ruched-sleeve cardigan is super soft, comes in a variety of stunning colors (Blue, Alabaster, Nectarine, Cherry, Black and a few prints), and is the perfect go-with for any white shirt. The feminine ruche at the wrist makes that extra statement without ever saying a word. It's a standout piece that coordinates beautifully with everything and adds a touch of fun to a white shirt. Plus, it's great for
traveling because it's very packable and takes up no space.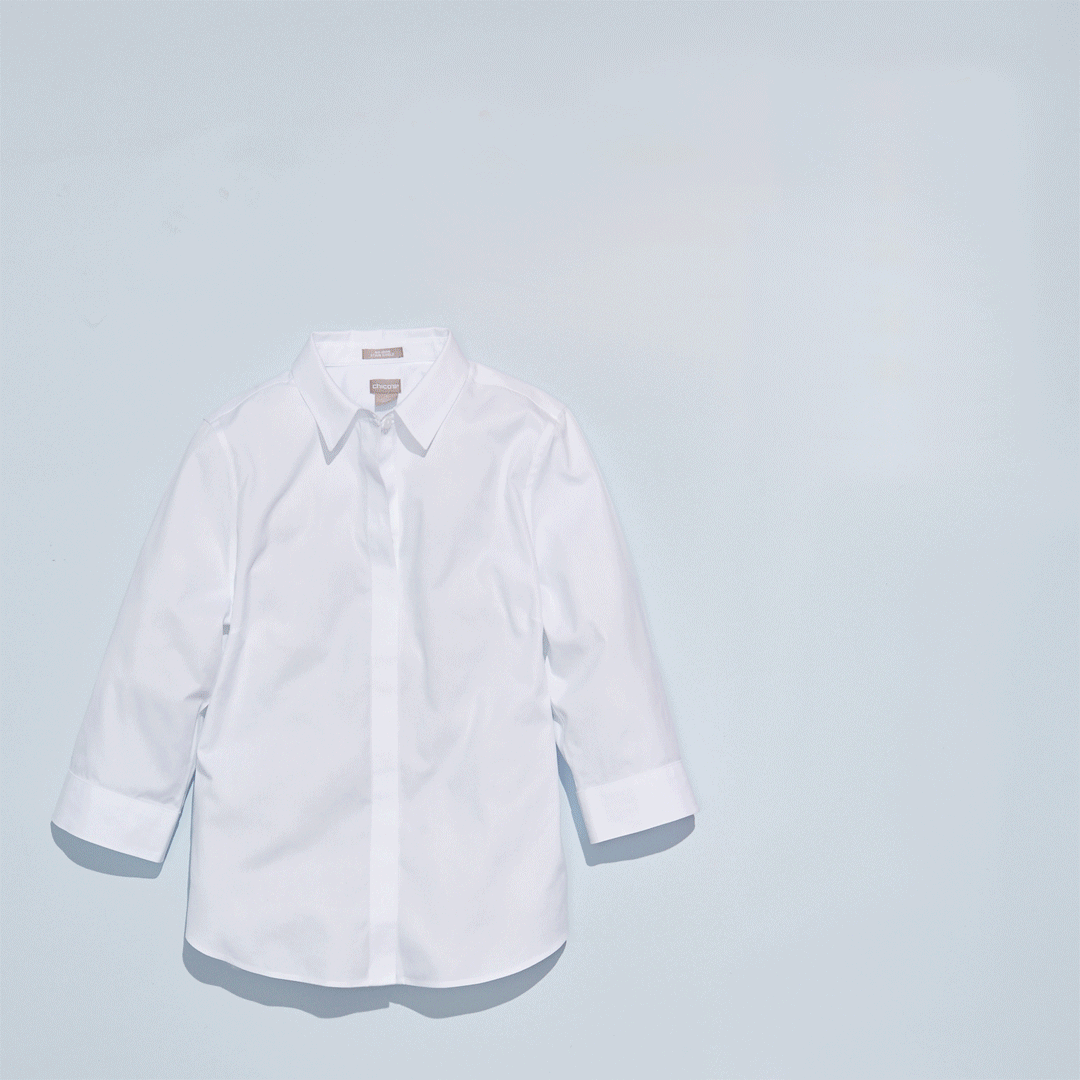 Cropped pants — Whether you're heading out to shop or going to a movie on a blistering hot day, no summer wardrobe is complete without cropped pants. And the So Slimming® Brigitte cropped pants are not only comfortably stretchy, they also are super flattering. Easy to wear, they make getting dressed a total breeze. They come in a variety of solids (Grape, Black, Alabaster, Blue) and a gorgeous Diamond print perfect for a trip to your friend's house or a trip to Rome. They literally complete an outfit in seconds when paired with your favorite crisp white shirt.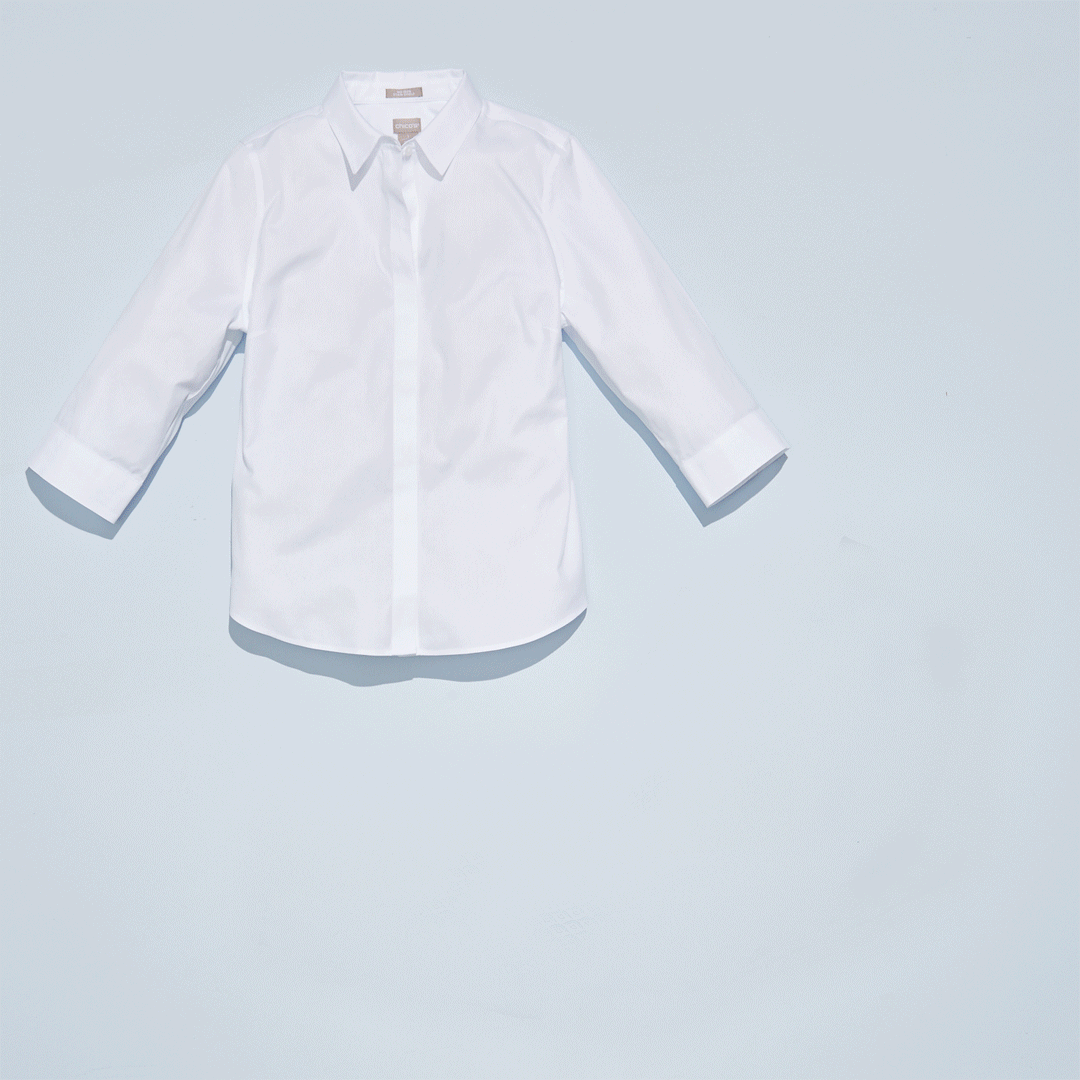 Statement-making jewelry — Wherever you go this summer, make sure people notice. And it's all in the details! So take that clean, crisp white shirt and change things up dramatically with some bold and unusual jewelry. A single strand necklace takes a classic white shirt to a whole new level. Or try standout hoop earrings, a flash of color, beads, some shiny metals or some fringe — all these elements look beautiful against a white canvas. The Tassel necklace is colorful, playful and moves when you do. The Bib necklace combines fun and tradition in a completely fresh way. And the Charm necklace is a delightful combination of hundreds of colorful pieces, beads and texture. Any one of these pieces is the perfect way for you to make a statement about you.