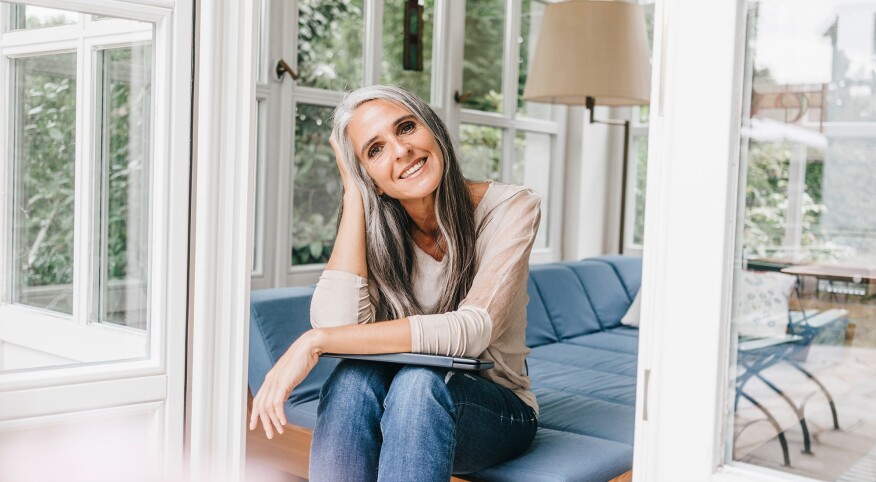 Changes in our physical appearance are an inevitable part of getting older. One of the first changes we often notice is those few strands of gray hair that creep in. Then there are a few more. Then a few more after that. You may be tempted to pluck or color those strands. Before you do, take a second to think about it…because gray hair is having a moment.

It started during the pandemic when hair appointments were tricky or downright impossible to get to. And now more than ever, women are feeling empowered to enjoy their natural silvery shade. If you're contemplating taking the plunge and going gray, newfound freedom just might be around the corner. Here are three benefits that will boost your confidence as you start or continue your journey to gray.

1. You'll save time and money. You know the drill. Each color service visit costs between $80 and $250. Once you've managed to book an appointment, you need to sit there for two-and-a-half to three hours every four to six weeks. You can end up spending thousands of dollars and many hours at the salon each year. Let the gray grow in, and your bank account and calendar will thank you.

2. Your hair will be healthier. The bleaches and chemical dyes used in the hair coloring process can be harmful to your locks. Excessive coloring can cause damage that leaves your hair brittle, dull, and lifeless. When you say goodbye to the dye, your strands will start to return to their natural, healthy state.

3. It's on trend. Plenty of celebrities are embracing their natural gray color: Jane Fonda, Allison Janney, and Andie MacDowell, to name just a few. Many women say they feel freer and more authentic as they let their gray grow in. The look is getting so popular, some women are even purposely dyeing their hair gray! And gray definitely doesn't mean boring. As you celebrate your natural hair, you can also try a new style, cut it short, or accessorize with colorful, bold scarves, headbands, and fabulous statement earrings.

Whether you're just thinking about it or have already started down the path to natural gray, Go Gray® has a cost-effective solution to make the transition easier. Their gentle and effective pro-grade formulas help remove color, and revitalize and rejuvenate tresses from top to tip. Go Gray's products, like their Revitalizing Treatment, Clarifying Duo, and Purple Toning Duo and Masque, assist in all stages of the going gray process. From lightening tough dyes to soften the look of color as it's growing out, to further removing old color and restoring hair health, look, and feel, you can count on this line of products specifically formulated to guide you to a look you love.

There are plenty of great reasons to celebrate the decision to welcome those silver strands. Maybe it's about keeping money in your wallet, reclaiming hours of your time, restoring your hair's healthy look, or joining the stylish all-gray set. Whatever your motivation for going gray, you can feel confident knowing you're treating your hair better – and looking great while doing it.

Embrace your gray™ and click here to purchase Go Gray® products at Walmart.com.