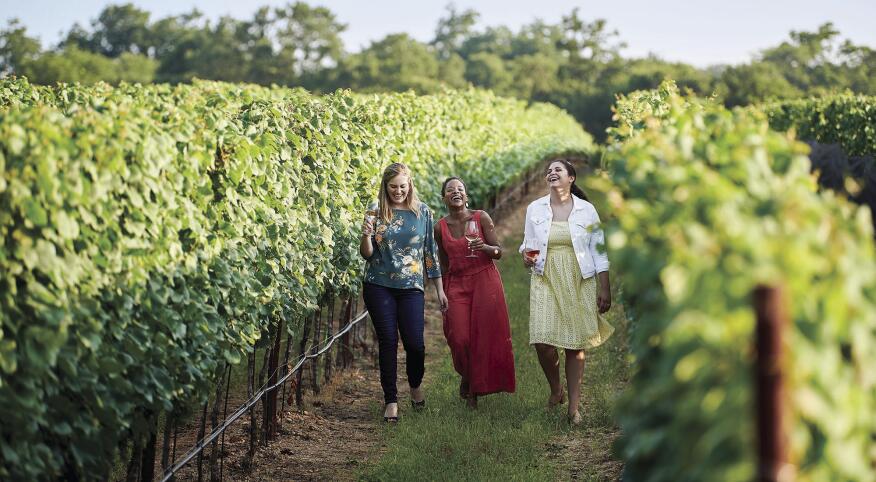 Wondering where to go for your next girls' getaway? Here's an idea – Texas! The Lone Star State has tons to explore, from incredible dining to top-notch live music, beautiful national parks, and other outdoor adventures. So, brainstorm your ideal to-do list, then check out these different vacation possibilities.

Whatever you and your girlfriends are in the mood for, Texas has a trip that'll satisfy. Wine tasting and wildflowers? Done. Late-night line-dancing? Sure! Starry skies and blissful quiet? Right this way. Read on to find your ideal itinerary.

1. For the Foodies. One of the best things about Texas is amazing BBQ – of course! So, how about a road trip with your gals to some of the region's best-known joints? Sample slow-smoked brisket, ribs, chicken, and sausage. Delectable examples are yours for the tasting all over the state.

BBQ, check. Tex-Mex, yum. But did you know that Texas has also gained a reputation for its craft beers and wineries? There are 400-plus wineries in Texas, making it the fifth-largest wine-producing state. Plus, there are more than 80 breweries. Try Saint Arnold Brewing Company in Houston, Lakewood Growler in Dallas, or San Antonio's Ranger Creek Brewing & Distilling. Or head to the Hill Country, where there are over 100 wineries in that region alone.

2. For the Girl's Night Out. As the Live Music Capital of the World, Austin is the place for music lovers. Fans pour into the city to catch big-name headliners and up-and-coming performers at two large-scale music festivals – Austin City Limits and South by Southwest. Excellent tunes are also yours for the listening any time of year in the city's many venues. Check out The Continental Club, Mohawk, or the Historic Scoot Inn, originally built as a saloon in 1871.

And when you're ready to hit the dance floor, Texas can oblige! Pack those cowboy boots and two-step over to Gruene Hall, the oldest dance hall in the state, or Luckenbach Dance Hall in Fredericksburg. Elvis Presley and Willie Nelson both played at John T. Floore Country Store, a beloved dance hall near San Antonio. And Billy Bob's Texas in Fort Worth is The World's Largest Honky Tonk with 100,000 square feet of dancing room.

3. For a Dose of Mother Nature. Texas is also big on natural beauty. Go rafting or hiking in breathtaking Big Bend National Park. Wander through the gardens, natural habitats, and arboretum at the Ladybird Johnson Wildflower Center. With a vision to help restore the state's native plants, the center was founded by the former First Lady. Scale cliffs at Hueco Tanks State Park & Historic Site, a world-famous rock-climbing destination. And when you're done with all that (phew!), cool off in one of many Texas swimming holes or relax by a beautiful beach!

There are endless vacation possibilities in Texas. Your first step is deciding what kind of trip you want to take. Eat fantastic food, wear out your dancing shoes, get outside…or heck, do it all! Travel Texas can help with the planning. Whether traveling solo, with your girlfriends, or with your family, you'll check off all the boxes. Perfect getaway, here you come.

Click here to start planning your trip and discover for yourself what's possible in Texas.