5 Fab Looks For All Your Summer Occasions
You can never be too prepared!
Flexibility is key when it comes to summer, especially when it has to do with your summer wardrobe. When the sun is shining, your options are endless: There's the beach, the pool, the park, the day trip, the weekend getaway, the garden or the garden party. You can also go to work looking fabulous and be in style for when you meet friends later at a rooftop bar. And, there are always the last-minute summer weekend getaways that are only one little suitcase away. Basically, you want to be prepared to say yes to everything that comes your way.

Here are essentials for your summer wardrobe

1. The Pleated-Waist Jumpsuit
It's perfect for a date night or for work when you're meeting friends after. Designed for a woman of action — the jumpsuit moves with you beautifully and comfortably. It has clean modern lines, is lightweight and has a flattering pleated tie waist. Try wearing it with a Blue Tassel Necklace or Cool-Tone Beaded Drop Earrings, and you are good to go, Emma Peel!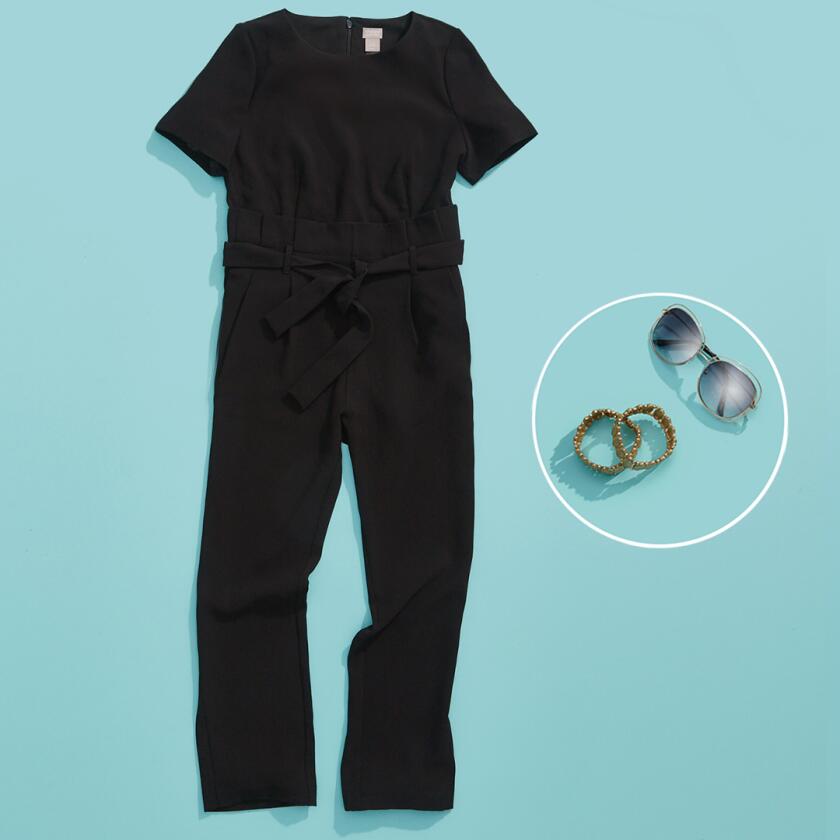 2. The super fabulous Shirttail-Hem Dress
It's easy to wear, sophisticated, chic and absolutely gorgeous in Navy. The bateau neckline, the shirttail hem and the side slits all combine to make this a reliable style choice. It moves with you. Perfect to pack on a long trip or a weekend getaway. You can dress it up with Silver-tone Shine Clip-On Earrings or a White and Silver Tone Stretch Bracelet, or dress it down with sneakers and a jean jacket. A summer essential!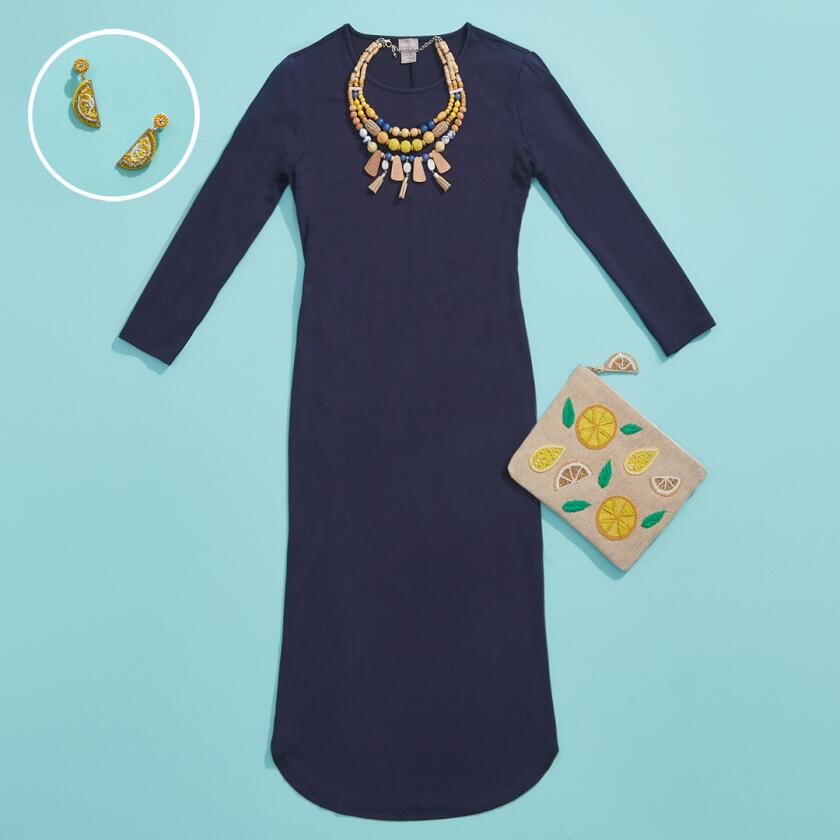 3. The new beach look
It's as important as sunscreen and non-smudge mascara in the summer. Start with the Straight-Leg Linen Pants in White. They'll make you feel beachy even if you're at your desk! The pants are versatile, pull on and feature convenient front pockets. They're thick enough to be comfortable but not too thick to be heavy or hot. Better get more than one pair!

Pair the pants with the Splice-Striped Tunic available in Neutral, Blue and White, and Papaya Coral. It's lightweight, tunic length and has an away-from-the-body fit. The style really stands out with the white pants. The top is machine washable and can be dressed up or dressed down. Try wearing it with the Blue and Neutral Drop-Coin Earrings and a Blue Seed Bead Single-Strand Necklace. Or create a more casual look with flip-flops and a high pony.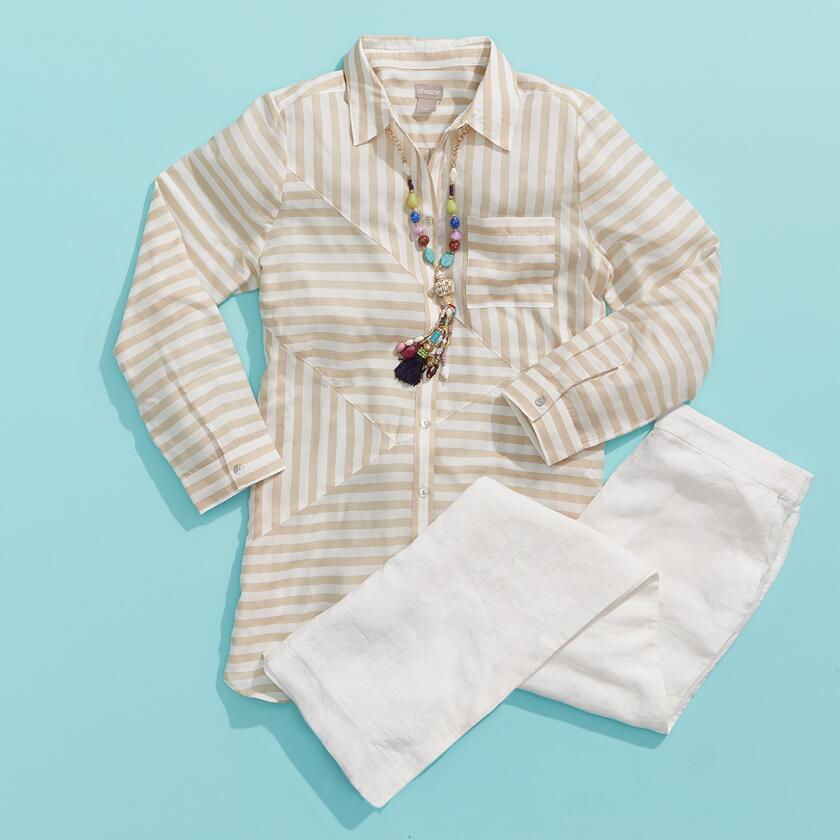 4. New tops with Maxi Skirt
How's this for summer style? Our Printed Column Maxi Skirt in a red print multi is perfect for brunch, lunch or crunch time at work. The vibrant pattern is bright and full of Wow! It's perfect for hanging out on your friend's patio or deck, or running off to a last-minute coffee date. The maxi length flows and feels feminine, and the drape is perfect. The contrasting border is a special added touch. Don't just show up, show up in style! With a simple Cotton-Blend V-Neck Tank or a Supima Cotton Convertible Tank in Black or White, you are ready for your next adventure. Top the whole thing off with a White Textured Cardigan or a Cotton Slub Cardigan, and you'll make an entrance coming and going!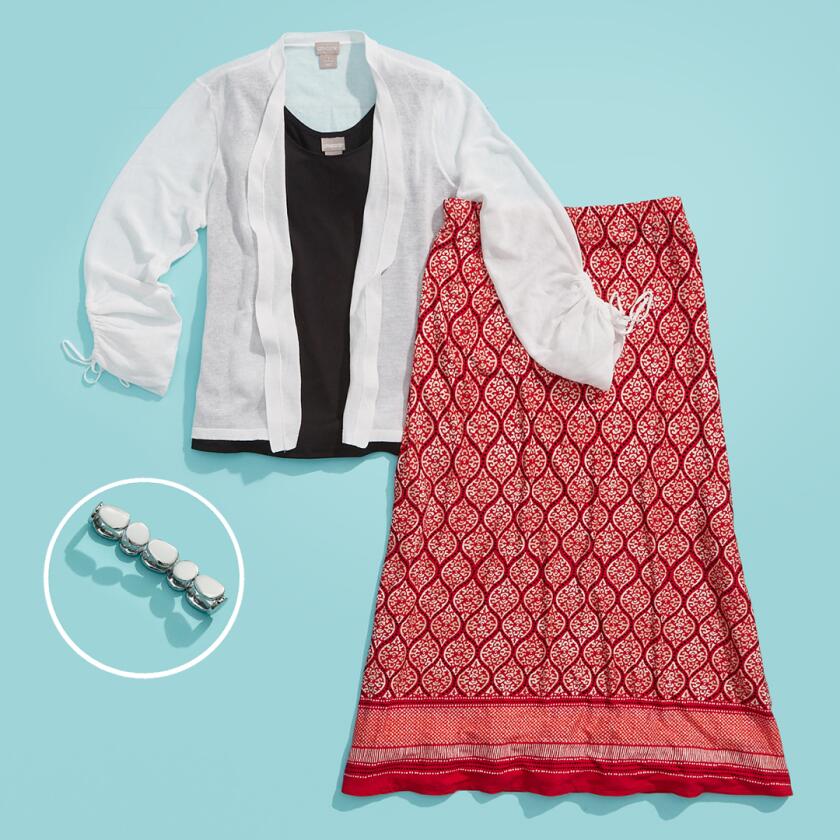 5. Darker jeans for an around-town look
Here's an outfit you'll want to wear on those cooler nights when you're going to a barbecue or shopping with friends. Start with the So-Slimming Girlfriend Ankle Jeans in Quill Rinse Indigo, and take it from there. The jeans are a combination of slightly stretchy fabric and a classic clean-cut fit. The ankle length allows for a multitude of shoe choices. Yay! Wear a Denim Tunic in either White Coastal Wash or Medium Wanderlust. The tunic gives you generous length, contrasting buttons and chest pockets. Now add the Jacquard Ruana Wrap in Indigo. The beadwork and the hint of fringe make this piece absolutely stunning. The kimono top is lightweight and a gorgeous mixture of blues. The indigo design is a real conversation starter — not like you need help with that!