5 Stylish Ways To Wear White Jeans This Summer
Talk about easy!
Does this scenario sound familiar? You're running late to meet your friends for coffee or you're going to see your daughter's dance recital, and when you open your closet ... you're dumbstruck with disappointment. You find yourself staring into a cavernous pit of BLAH. You have 30 minutes to get where you're going, and you think, OMG what am I going to wear?

We've all been there. So we thought we'd provide you with a cheat sheet so this scenario never happens again!!! With a few smart clothing additions, you'll stare into your closet like a lovestruck teenager.

First of all ... all these outfit suggestions are built around our No-Stain White Girlfriend Ankle Jeans. Yes, that was No-Stain. With a relaxed fit to the ankle, they can easily be dressed up or down. These jeans are powered by Stain-Repel, Bright-White™ technology, so they stay whiter longer. AND they repel water-based spills, from red wine to coffee to orange juice. You can wear these white jeans a lot and still live a little!

Colorful, stunning looks with our white jeans
1. This look is so easy you'll be surprised you didn't think of it. Take a sleek and modern Supima Cotton Convertible Tank in a variety of colors and throw it on over your White Girlfriend Ankle Jeans. This scoop-necked tank is a wardrobe essential and is perfect for layering over whatever kind of slacks you have on. What's more, it's soft and doesn't ride up. Now wrap this combo in a gorgeous Apricot faux-leather drape jacket. It's a very feminine silhouette with long sleeves, an open front and a drape that moves like a dream. With this simple and stunning outfit, you're ready for anything!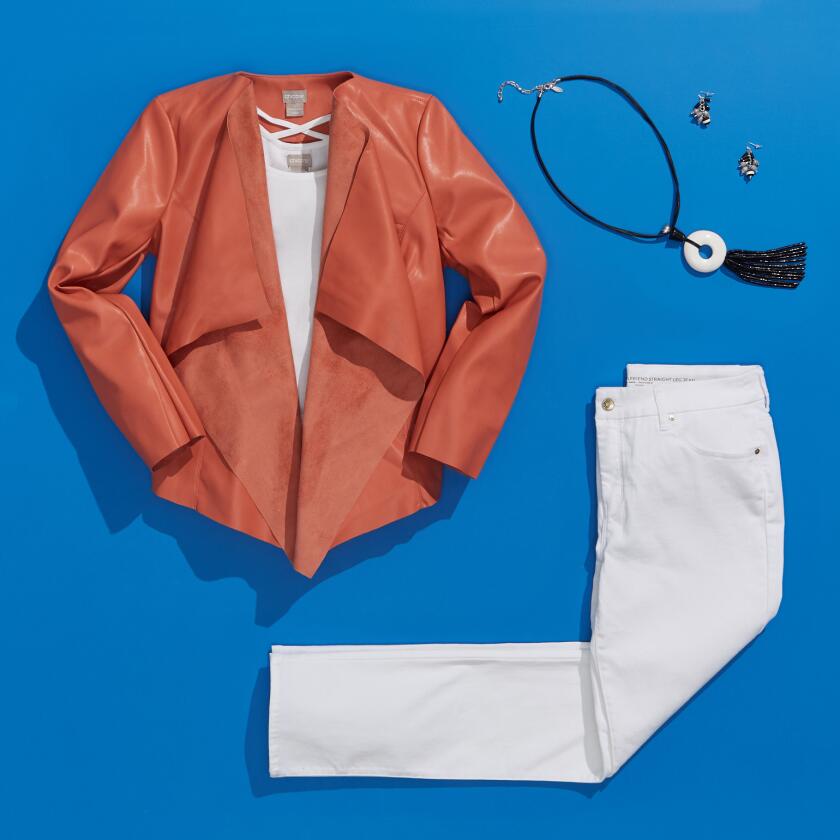 2. This look is a stunner. This time, you'll pair your No-Stain White Girlfriend Ankle Jeans with a Studded Top in Light Papaya Coral with the Printed Mesh Shirt Jacket. And wherever you go — even if it's around the block — you'll go in style.

You might also try an Essential Reversible Tank, in Algiers Blue or India Ink. Either color with the jeans is gorgeous! But here's an added bonus: The Reversible Tank doesn't mean you'll turn it inside out ... it means you turn it around to get a totally new neckline option. It can be worn either as a scoop neck or high neck, allowing you to shift looks easily. It's also made with wrinkle-resistant fabric, so it's super travel friendly.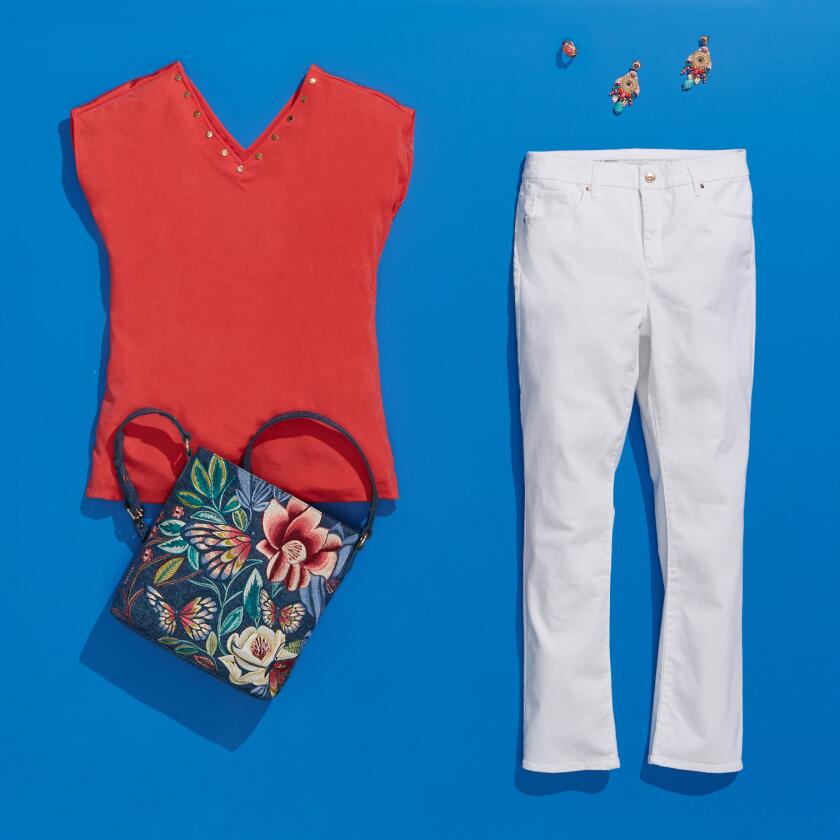 3. This look is as easy and comfortable as it is colorful. Pair your white jeans with a Printed Handkerchief-Hem Tee in Congo Green. The combination of patterns and vibrant green background makes this an irresistible go-to top. The relaxed fit, V-neck and short sleeves give it a comfy, can-I-wear-this-everyday kind of feel. Then add a Textured Basketweave Wrap in Black or Summer Berry, and you're ready to take on the world. This wrap has texture and flare and is a perfect addition for a little added warmth or style. Throw on some gorgeous shimmery earrings, and there's no stopping you.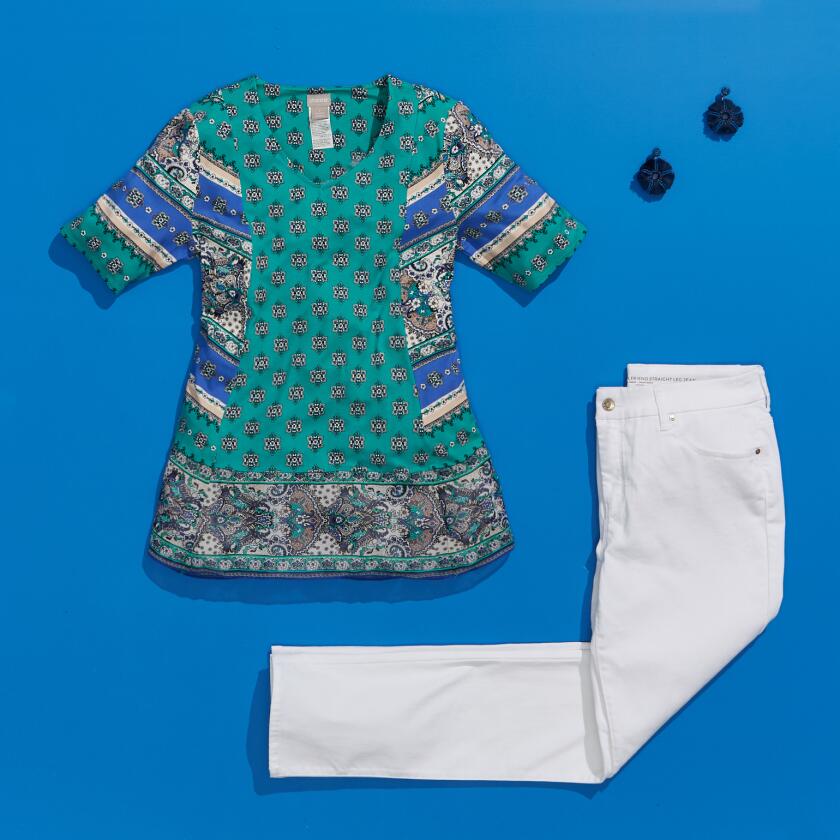 4. Talk about easy! You can throw this on in a minute and be ready to walk out the door looking fabulous. By far our favorite! Put on this Appliqué-Detail top in Indigo over your White Girlfriend Ankle Jeans, grab some dangly earrings and a purse … and HELLO world! This top not only is easy on the eyes in a soft denim color, but also feels as comfortable as it looks. The pièce de résistance is the appliqué that adds a touch of whimsy and freshness. The top is that special combination of boho and beautiful, and will be your trusted standby. Really, who wants to spend hours getting dressed when it's 75 degrees and sunny?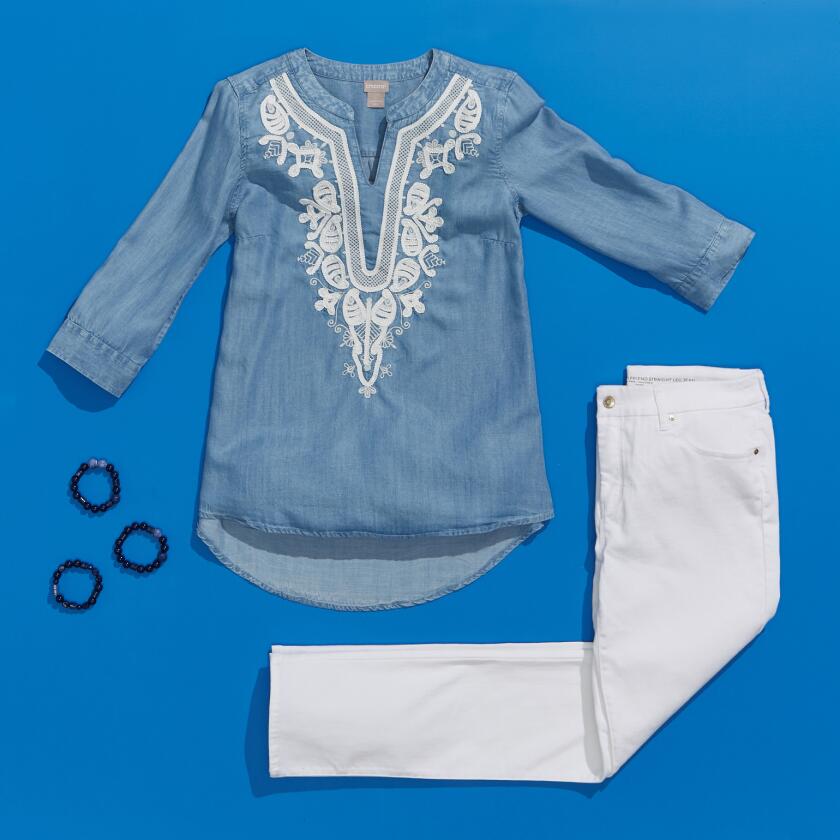 5. This outfit is another simple way to get dressed and go, and look like a super version of yourself. Start with your No-Stain White Girlfriend Ankle Jeans. Add a Solid Tunic in either Blue Grotto or Sparkling Grape. The tunic is the perfect length, and you can wear it open as a jacket or closed like a shirt. The hues are delicious and always add that pop of color to anything you have on.

You might also pair your jeans with the easy-to-wear Reversible Tile Print to Butterfly Print top. This lightweight top gives you not only a choice of prints, but also a selection of V-neck or scoop neck — perfect for those lighthearted flowery days, as well as bolder days.