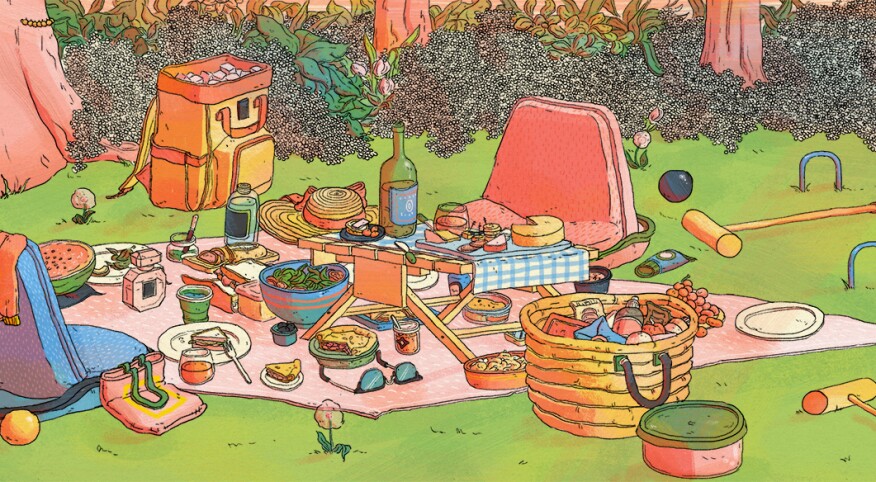 The grass and food in the great outdoors — it's a humble concept, and yet Kate Winslet says going on a picnic is one of the things in the whole world that makes her happiest. Curious?

It's time to heed summer's soft call to trade your air-conditioned lair for nature and experience the rejuvenation that comes with placing a tasty spread on a blanket under a tree.

For your picnic to sizzle, you'll want to prepare and pack up the perfect accoutrements. Here are five things to consider in order to picnic like a goddess.

Protect yourself
Before you leave home, protect yourself from pesky mosquitoes using … wait for it … Victoria's Secret fragrance Bombshell Eau de Parfum. A study revealed that outside of the strong but often irritable DEET-products, mosquitoes were repelled by this fruity floral fragrance even more so than some leading organic repellent sprays. The net effect being that you'll smell great for those you're picnicking with at the same time you're a turnoff to summer's number 1 killjoy. Scientists performed this test randomly using Bombshell and acknowledge other fragrances may very well work. There's a trove of perfume-repellent hybrid lines out there worth exploring. For those committed to 100 percent all-natural ingredients, products with oil of lemon eucalyptus are the most effective. Bottom line: You don't have to feel sticky and — ew — smell like industrial cleaner to keep mosquitoes away.

Mark your spot
The Acteon Adventure Blanket, a water-resistant picnic blanket, quells so many frustrations because it's the mother of all outdoor blankets. It's a godsend if your picnic is in the grass, equipped with retractable tiny spikes hidden in all four corners to push into the earth and — voilà — secure your blanket. If you're at the beach on a windy day, no problem. Each corner has a pocket to fill with sand to keep your blanket from flopping around and flinging sand. The hidden zipper pocket to whisk phone, keys and other valuables out of sight provides yet another thoughtful feature that makes me love this innovative blanket that does everything but hand you a drink. Other good blanket options are the Lightspeed Outdoors XL Folding Outdoor Blanket and the Brawntide Large Outdoor Waterproof Blanket.

Pack like a pro
There are picnics and then, there are picnics. The latter, the glammed-up version — reminiscent of Reese Witherspoon's fav picnic look where you're decked out in a flowy gingham dress with strappy sandals, a stylish sunhat and matte red lipstick — requires an equally elegant picnic basket. Enter the cherrywood tote-table combo carrier, a charming sturdy basket that converts into a small low table. The Personalized Picnic Table Wine Carrier combines the practical with elegant. And for those ambitious people we love to hate — hiking deep into the woods or to the peak of the mountain for their picnic — the smarter choice would be the On The Go Roll-Top Cooler Backpack.

Recline in style
Unless you're planning on holding the yoga Sukhasana (Easy Pose) all afternoon, a comfy chair to sink into will help you while away the afternoon. Try Loungie's cool practical Quickchair, which has a handle to make it easier to schlep to the parcel of grass you called dibs on. And for those who can handle it, unfold the attention-grabbing chic Australian-designed Wild in Bloom wicker picnic chairs.

Picnic hard means play hard
One of the hallmarks of the classic picnic is the chance to quietly connect with your people without the hum of the TV or distraction of screens. You'll experience relationships being refreshed amid the backdrop of birds singing, trees swaying and clouds dancing across the sky. But when there's a lull — and there will be — whip out a stylish lawn game conjuring up images of a British manor house in a Jane Austen movie. Bocce ball or croquet, anyone?