Go Behind-the-Scenes of "80 For Brady"
Meet the cast of Paramount Pictures' new comedy, in theaters February 3
If you've seen the hilarious trailer for the new movie 80 For Brady – opening in theaters nationwide Friday, February 3 – you already know the basic story. Four long-time friends who are fans of the New England Patriots football team hatch a plan to travel to Super Bowl LI in support of their favorite player, Tom Brady.

The twist? The four friends are not your typical sports fanatics. Based on a real-life story of Betty (played by Sally Field), Trish (played by Jane Fonda), Maura (played by Rita Moreno) and Lou (played by Lily Tomlin) they decide it's time to fulfill their life-long dream.

Inspired by an actual friendship, the writers gave these four gregarious girlfriends and Brady a linked path. The movie brings to life their Super Bowl tradition that goes back to the year 2001, when the women first accidentally spy a young Brady, just when they need a blast of pure, unadulterated hope. Brady might then be the 199th draft pick for the New England Patriots, and a skinny underdog, but he suddenly runs away with the game – and the ladies' hearts.

From there, the more they watch, the more they're dazzled by his courage, determination and, naturally, his cuteness – and the more they share unforgettable triumphs with one another.

Over the years, as they power through their own mix of joys and sorrow, they take pride in watching Brady become the top quarterback of all time, and the only one to win a Super Bowl in three separate decades.

At the heart of 80 For Brady's fierce foursome is Lou, who instigates the life-changing trip to the Super Bowl. Trish is the group's most outgoing and outrageous member – a self-assured knockout who knows how to glam it up and get down, yet her Achilles heel is falling all too easily into love. Maura is still missing her late husband, yet her spirit is irrepressible. She's a passionate and suave woman who loves surprises. Completing the close-knit quadrangle is quick-witted, number-crunching Betty. This trip is her chance for her to push the edges of what she's comfortable with but also to rediscover what makes her happiest.

In 2017, the women are spurred to take one last-ditch, out-there, absolute long-shot to see Brady in all his glory up close. It means a lot to them to watch Brady in person—but it turns out to not be as easy as they thought. The trip becomes about much more than getting to the Super Bowl. It becomes about them each facing things that need addressing in their personal lives.

This is the perfect film to grab your girlfriends, sisters and aunties to go enjoy a fun-loving film that emphasizes "it's never too late to live your best life!" See it in a theater this weekend!

Here's a behind-the-scenes sneak peek.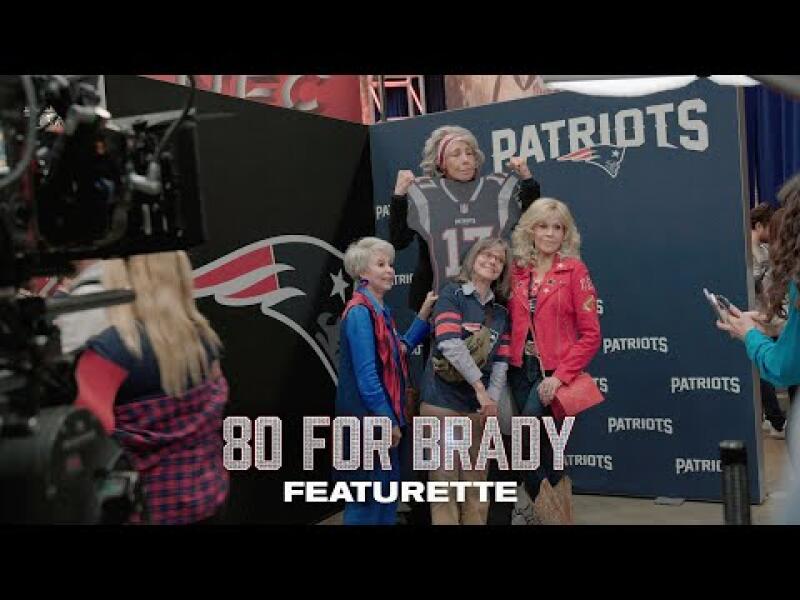 80 FOR BRADY | Friends Make Everything More Fun Featurette


80 For Brady was written by Sarah Haskins and Emily Halpern, directed by Kyle Marvin, and produced by Tom Brady. Brady and his former teammate Rob Gronkowski appear as themselves, playing for the (victorious) Patriots in the 2017 Super Bowl.

Click here to find out more about 80 For Brady.