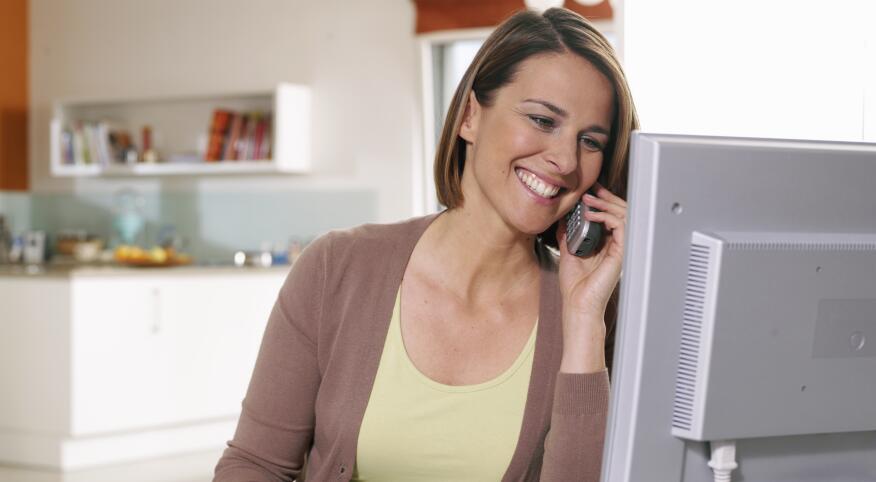 You get a lot done at home, whether it's everyday housework or an important business meeting. To be your most efficient self, you need tech tools, including your home phone, to function well and dependably. When it comes to your landline, there are new clever cordless models loaded with features. They can save you time and trouble. How? Read on for three valuable ways.

A cordless phone can act as a personal assistant

Oh, for a second pair of hands. While that wish may not come true, certain phones do have unique features that assist you in accomplishing simple tasks. The Voice Assist feature on Panasonic's KX-TGD864W cordless model lets you make calls using the speakerphone, while the Answer by Voice command lets you accept calls the same way. Catch every detail of interviews or other essential conversations by firing up the 2-Way Recording function that allows you to record calls of up to 18 minutes. And Talking Caller ID will announce callers out loud in English or Spanish.

Enhance the quality of your phone calls

You rely on your phone constantly for work, important personal matters, and connecting with family and friends. So, the more you can eliminate tech troubles – like spotty service, muddled sound quality, or low battery life, the easier it will be for you to accomplish your goals.

With the Link2Cell feature, you can pair your smartphone via Bluetooth to your cordless handset. Your cell will ring through the handsets – in any room that has one – so you don't have to worry about spotty reception on important calls. You'll always have a strong connection and better call clarity. The cordless handset also comes with a Noise Reduction feature that diminishes background sounds from your caller's phone, so you can hear and understand them more clearly.

Stop the spam calls and reclaim your time

We've all been there. In the middle of a meaningful conversation, when you finally sit down to get a necessary task done, heck, even when you're taking a nap – a robocall comes in. When you switch your landline to a cordless model, you can prevent those annoying interruptions. Panasonic's Automated Call Block feature recognizes and turns away robocalls before they even ring your line. One-Touch Call Block lets you block up to 1,000 numbers with the push of a button. Now back to that nap…

There's a lot you need to accomplish in a day, so you deserve gadgets that will help you. A savvy, easy-to-use home phone is a key tool. The Panasonic KX-TGD864W even has four handsets included, so you can utilize the features in multiple rooms of you house, making you more productive.

Save time and streamline the many ways you use your phone for everyday activities.

And suddenly, that to-do list…is done!

Click here to learn more about Panasonic cordless phones.