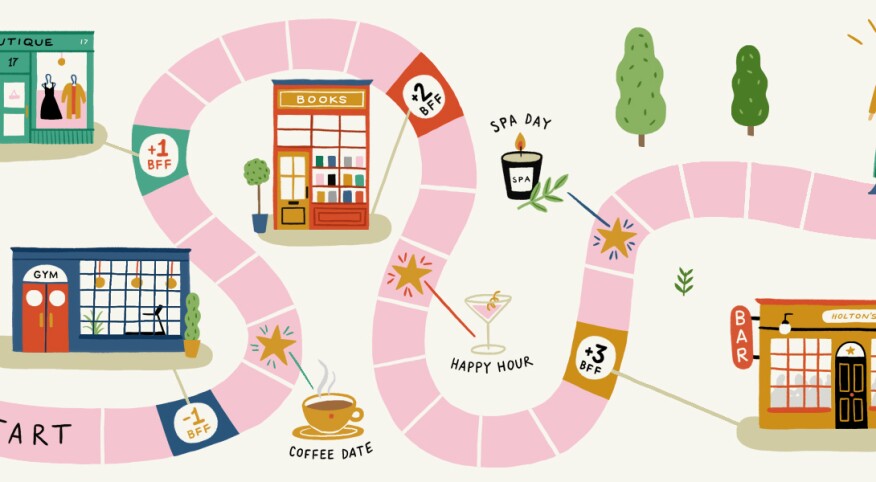 It starts in childhood, as most things do — the golden innocence of walking up to a stranger, asking if she'll be your best friend, and knowing with absolute certainty she'll say yes.

In that silvery time during your teens and 20s, it becomes trickier, and, then, trickier still in the bronze age of your 30s. Friends come and go. They often hinge on the whim of romantic relationships gone awry and the introduction of competitive pursuits, until there comes a day in adulthood no woman really expects — a day when you realize that you don't know how to go about finding a friend, let alone a best friend.

In the modern age, before COVID-19 struck, it was easier to score a date night as a woman in your 40s and 50s (no small feat) than it was to find a female confidante to chill with on a spa day. I looked, but it seemed that the women I met were too young, too fit, too career-oriented, or simply too much for me to handle.

When I complained about this at length over a phone call to a long-distance male friend, he told me that, with nearly four billion women on Earth, I could surely find at least two who were compatible. I replied in a huff that, of course, I had girlfriends, but I didn't mention that I only met them in person only once or twice a year, if that.

However, despite my lack of local acquaintances, there were more people in my life than ever before. Through technology, I've networked with a wide array of women living as far away as Australia. And, although I consider these to be valid and fulfilling friendships, it's a little harder to recreate these connections up close.

The biggest obstacle is time. We live in a fast-paced world, and it takes perseverance and dedicated mindfulness to slow down long enough to create community. Over the last year, I've picked up women in bookstores, boutiques, and bars — the perfect trifecta, as far as I'm concerned. I connected with fellow writers and bibliophiles, athletes and aesthetes, foodies and gourmands. If you reach out, it's surprising how many women are willing to take a chance on making a new acquaintance.

Before the stay-at-home orders linked to COVID-19 went into effect, I went on more blind dates with potential friends than ever before, and I met a more diverse population of women as a result. It's not without its downfalls. There are the people you meet during happy hour who later decide to go back on the wagon. There are the fitness junkies who can't slow down long enough to savor a theatrical production. And there are women with families and young children to juggle with social gatherings and girls' weekends. Each of them is perfect in her own way.

In the end, it's worth it. Once I set aside expectations of finding a best friend — one person to fulfill all of my friendship needs — it became much easier. I also learned to appreciate the complex nature of the lives of my many female companions. We have all lived rich lives, and I'd like to believe we are all stronger for those experiences.

Even though COVID-19 has shifted the social landscape, the search for meaningful female friendships doesn't need to come to a complete halt. Social distancing doesn't mean it's time to disconnect. In fact, we need these networks more than ever. More and more people are reaching out though social media and dedicated forums, which creates new venues to discover like-minded friends. And virtual happy hours, shared movie streaming, and online creative dates provide a way to continue those relationships already in place.

When I was younger, no one ever told me why women in their 40s and 50s always appeared so strong and grounded. Now that I've come of age, I have a better idea. That strength grows from the solid foundation of female friendships. We are forged from iron, and united together we are a force to be reckoned with.