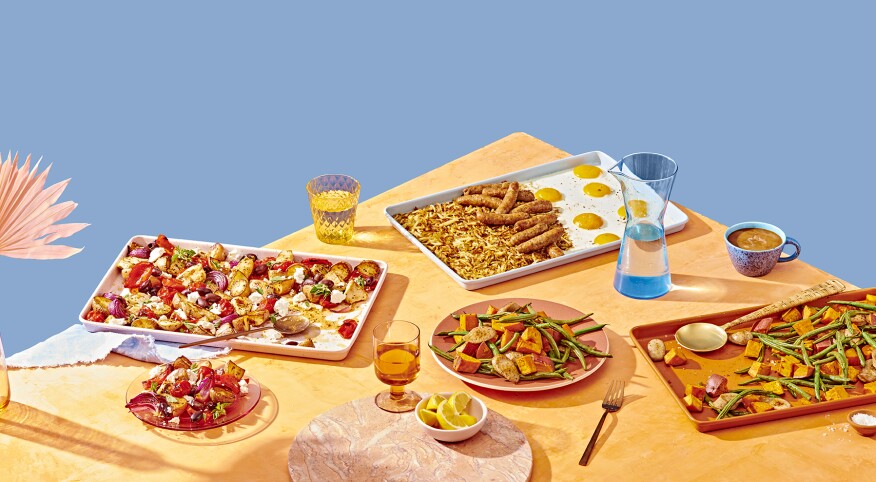 It's nearly autumn. Otherwise known as the time of year I love to cook and bake up a storm. There are apples to harvest and pumpkin-spice everything floating in the air, and it makes me hungrier than a teenage boy at the peak of a growth spurt.

Now that we have more time on our hands, let's talk about preparing great recipes that provide an entrée and sides — all in one.

My daughter and I have discovered sheet pan meals. They are (dare I say it?) easier and better than Crock-Pot meals, especially if you are into things like caramelized veggies, juicy foods and easy Chinese-inspired meals.

We've tried them all: chicken and broccoli, salmon and zucchini, even sheet pan pancakes. I will never spend my time flipping pancakes over a pan again. Nor will I attempt to make a stir fry in my Wok. All I need is my sheet pan and some good ingredients, and I'm ready to go.

So, to celebrate autumn and all the coziness it brings, we want to share some sheet pan recipes — each serves four — for you to try at home. We guarantee you'll be hooked, and these will become go-to meals.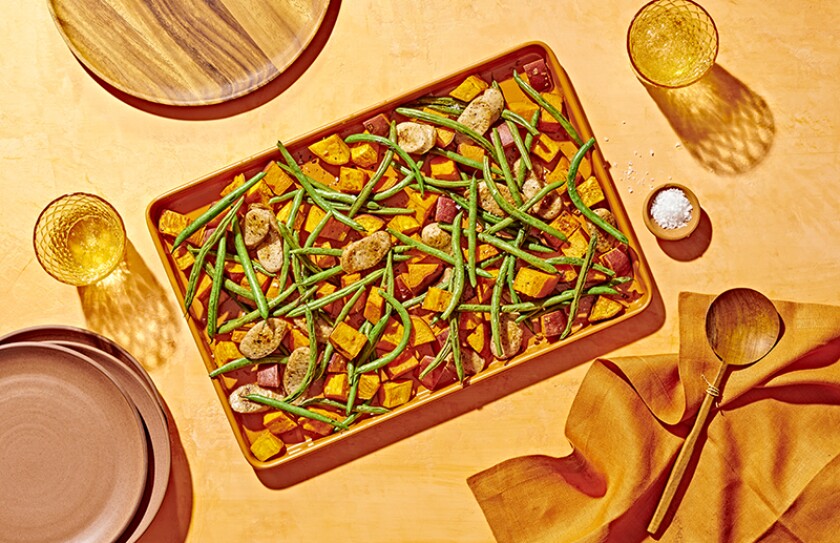 Roasted Sweet Potato, Chicken Sausage and Green Beans

Ingredients

2-3 medium sweet potatoes

1 package precooked chicken sausage links

3 tablespoons olive oil

2 cloves garlic, crushed

1 pound fresh green beans

Directions

1. Preheat oven to 425 and drizzle sheet pan with olive oil and crushed garlic.

2. Cut up sweet potatoes into 1-inch cubes.

3. Place on the pan, coat with oil and garlic, spread evenly and begin roasting. Set timer for 15 minutes.

4. Slice sausage (about 4-5 links) into bite-size pieces.

5. When the timer goes off, add sausage to the pan and roast for about 10-12 more minutes.

6. Wash and remove stems from green beans.

7. After sausage and potatoes have roasted for up to 27 minutes, remove pan from oven and turn potatoes and sausage, then add green beans to pan. Add more olive oil if needed.

8. Continue roasting about 15 minutes, or until green beans are done the way you like them and potatoes and sausage are nice and brown.

9. Remove from the pan and add salt and pepper.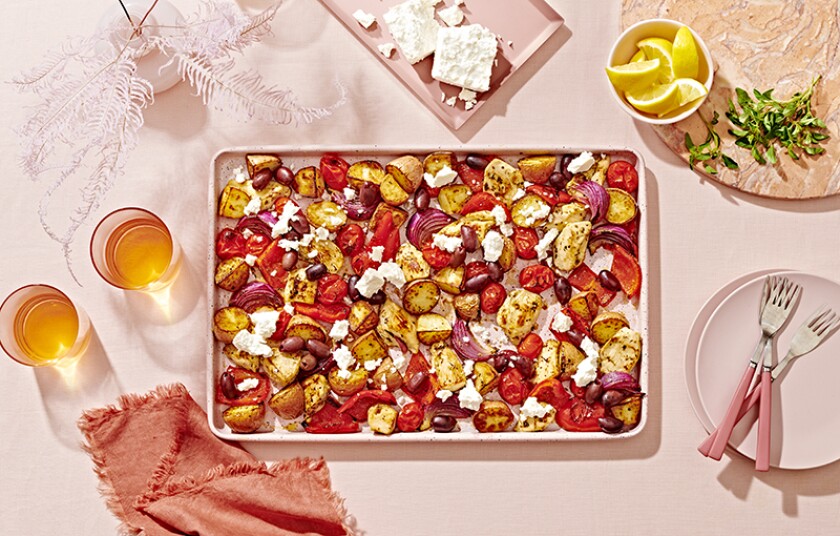 Greek Chicken

There are a few more steps and ingredients in this recipe, but trust me, it's worth it.

Ingredients

1 pound boneless skinless chicken breast

1 pound red potatoes, cut into bite-size pieces

1 red bell pepper, chopped

1 pint grape tomatoes

1 red onion, chopped

1 jar Kalamata olives

1 package feta cheese

Once you've got all that together, you'll make the Greek marinade:

⅓ cup olive oil

3 tablespoons red wine vinegar

2 garlic cloves, minced

Juice from 1 lemon

1 teaspoon dried oregano

½ teaspoon dried basil

½ teaspoon dried thyme

1 tablespoon honey

½ teaspoon salt

¼ teaspoon pepper

Directions

1. Whisk all marinade ingredients together and use half of marinade to coat veggies; put veggies on a baking sheet drizzled with olive oil and place in 400-degree oven for 15 minutes.

2. While veggies are roasting, cut up chicken into 1-inch cubes and put in reserved marinade, coating well.

3. When veggies are to your liking (I like mine more well done and crispy, while others prefer them softer), push to one side of the pan and add chicken to the other side.

4. Bake for another 15-20 minutes, or until the internal temperature of meat reaches 165 degrees.

5. Broil for 3-5 minutes, watching closely. You want tomatoes to get slightly wrinkly and potatoes to brown.

6. Remove from the oven and top with olives and cheese.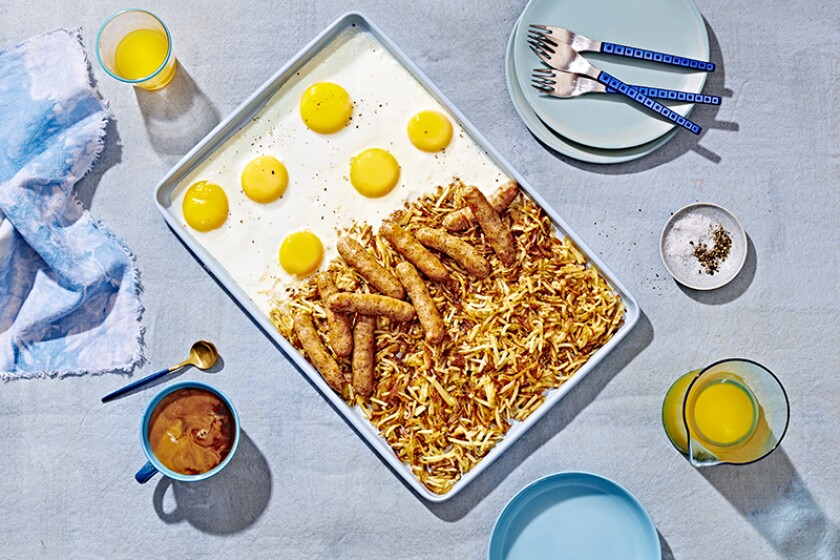 Sheet Pan Breakfast

We can't leave out breakfast. There's nothing like sleeping in a bit, then smelling breakfast through your house. This is the only way to make it. No standing over a hot frying pan, no grease splatters on your robe, and best of all, only one pan to clean up.

Ingredients

1 20-ounce package hash browns

3 tablespoons olive oil

Salt and pepper to taste

1 12-ounce package breakfast sausage links

6 large eggs

Directions

1. Preheat oven to 425 degrees and drizzle baking sheet with olive oil.

2. Place hash browns on sheet, then add salt and pepper and combine; move to one half of pan.

3. On the other half of the sheet add sausage links (bacon works here, too) and cook for 15-20 minutes.

4. Push hash browns and breakfast meat to one side of the pan and crack eggs into the other side.

5. Slide the pan carefully into the oven and bake for another 10 minutes, or until eggs are done to your liking.

6. Season eggs with salt and pepper when done, keeping them separate from hash browns and sausage. Serve immediately.