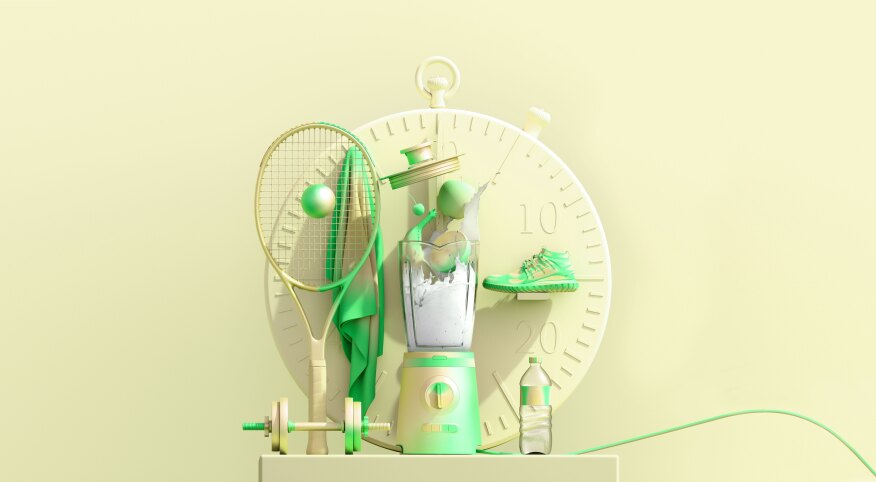 Habits. Good ones. Bad ones. REALLY bad ones. REALLY good ones. Safe to say that by middle age, we all have plenty of vices, while at the same time, we've probably grown to nurture some pretty virtuous habits as well. Hanging on to the bad habits and not incorporating more of the good ones into our daily lives can have greater and more long-lasting detrimental affects as we age. In other words, doing more of the good habits now can help you stay healthy — both mentally and physically.

But starting new daily habits is about as hard, if not harder, than breaking the old ones. The famous novelist John Irving said it best: "Good habits are worth being fanatical about." Remember, it typically takes about two months for a new behavior to become automatic, so give yourself a bit of a grace period as you try and adopt new daily habits.

With that in mind, here are five daily habits to help you stay mentally and physically happy and healthy at midlife.

1. Get enough sleep!
We all know grabbing around five hours of sleep a night is simply not doable over the long haul, but hormonal changes during peri-menopause and menopause often mean sleepless nights aplenty. Although tossing and turning may be your new norm (and getting the recommended seven to eight hours may seem out of the question), it's vital you at least try to sleep more. This can mean talking to your doctor about medicinal and/or homeopathic remedies in order to find something that actually works, and that ensures you're getting adequate sleep. Healthy sleep is in fact a habit, so treat it like one. Sleep deprivation can lead to serious health conditions because sleep is when every bodily system (including your skin) rests, recovers, and prepares itself for the next day.

Want to know more? Here are 11 surprising causes of insomnia and what to do about them.

2. Wear sunscreen
You know the drill. Don't forget to wear sunscreen to protect against skin cancer when you're at the beach or working in your yard. But that's not really the right drill, because you should be wearing sunscreen every single day, regardless of whether or not you're on a sunshine-filled vacation, or spending long chunks of time outdoors. Damaging UV rays, the number one cause of premature aging of the face, can hit our skin even on cloudy and rainy days, and even in the short amount of time it takes to walk to our mailbox. Find and use a moisturizer, foundation, or BB/CC cream with an SPF daily. You'll find there are literally hundreds on the market, and none of them are thick and goopy like regular sunscreen.

To learn more, here are 10 ways to protect your skin, no matter the season.

3. Get up and move
Getting enough exercise doesn't necessarily mean a daily visit to the gym for aerobics class and weight lifting. It simply means making a conscious effort to not sit all day long. Starting with something as small as walking briskly for 15 minutes during a lunch break can help tremendously, as well as using your off time to do anything but sedentary activities like binge-watching your favorite TV show. Consider a standing desk chair, holding a walking meeting, skipping an email and instead walking over to a colleague's desk to talk, or sitting on an exercise ball at your desk for part of the day. Always use the stairs, and make it a habit when parking in shopping centers to park several spots or rows away from the door, forcing you to walk the distance. Here's some extra motivation: a recent study by UCLA researchers shows a link between sitting for long periods and reduced thickness of a brain region integral to the formation of new memories.

4. Eat some fat. Really.
This may go against everything you've been told about healthy eating, but what we now know about the benefits of consuming healthy fats has changed the diet conversation immensely. Consuming some healthy fats daily, like the omega-3s that are commonly found in fish, as well as in a large variety of nuts and seeds, canola, soybean, and olive oils, and even chia seeds, can ward off joint pain and arthritis in your later years, and can even reduce depression. They also help keep skin supple, and are heart healthy. Other foods good for brain health include leafy greens, berries and cocoa.

5. Spend time on a hobby
Stress is bad, right? Well, it can be — unless it's "eustress," which is a type of good, moderate stress that is actually beneficial to your mental health, and that occurs when you're excited about what you're doing. For many, having a hobby that they're passionate about and can participate in frequently, even for only a few minutes a day, provides just the right amount of positive eustress (which makes your body release the feel-good neurohormone dopamine) that greatly benefits your mental health.