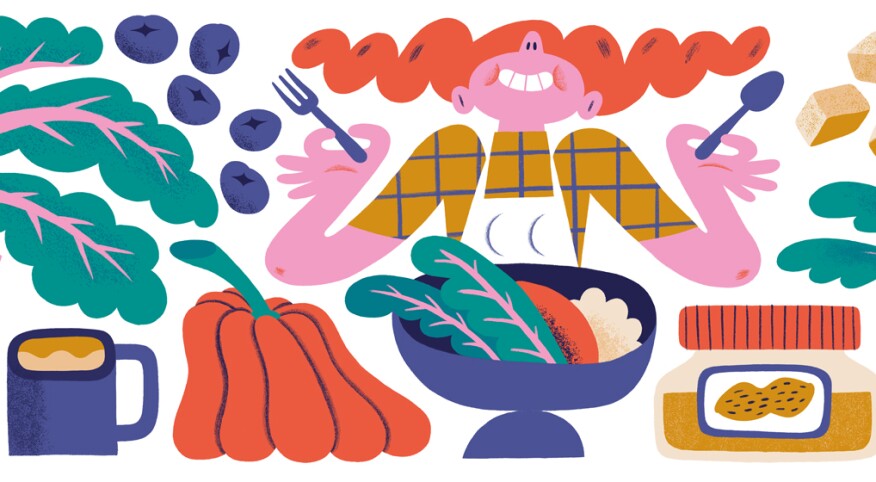 Plant-based eating is the rage — and for good reason. "There is no healthier diet than a plant-based diet," says Catherine Fody Flanagan, a registered dietitian nutritionist in Long Island, New York. Numerous studies, after all, support the health benefits of this way of eating, which include preventing chronic diseases like heart disease, diabetes and certain cancers; keeping cholesterol in check; and helping you maintain a healthy weight.

Yet if you're not used to eating a plant-forward diet, figuring out how to add more plant-based foods into your diet can be confusing at first. Want help? Try these seven dietitian-approved hacks to get you there.

Reimagine your plate

Plant-strong plates require simple math. Just divide your plate into three sections, Flanagan says. One half of the plate should consist of fruits and vegetables, one quarter should be whole grains (like brown rice, quinoa, steel-cut oats, farro or bulgur) and the remaining quarter should be protein, preferably plant-based protein sources like beans, tofu, tempeh and vegan meats.

Switch to plant milk

The explosion of plant milks on the market has made it easier than ever to take dairy out of your diet. "Switching from dairy to one of the many plant milk alternatives is the easiest change you can make," says Barbara Ravid, a registered dietitian nutritionist and vegan lifestyle coach-educator in Long Beach, California. Experiment to find the one you like and don't limit yourself to just one, as plant milks are now made from almost anything you can think of — including soy, oats, hemp, flaxseed, pea protein, cashews, almond and coconut, to name a few. Ravid, for instance, likes to use almond milk for cereal but prefers oat milk for coffee. Just make sure you look for one fortified with calcium. And while you're in the nondairy milk aisle, check out all of the other plant-based products like yogurt, cheese, butter and ice cream.

Use vegan meats

Plant-based meats are another fast-growing category in the food industry, and almost every grocery store carries at least a few choices. Check the refrigerated and frozen sections, where you'll find all the foods you know but in plant forms, such as burgers, sausages, hot dogs, ground beef, chicken nuggets, deli slices, fish filets and turkey cutlets. The one caveat? "These can be high in salt and fat so I don't recommend eating them daily," says Ravid, a Food for Life instructor. Yet when you get the craving for something meaty, they can come in handy.

Sneak veggies into your prepared dishes

You can always eat your veggies in the form of salads and steamed sides, but those options can get boring fast, especially if your palate hasn't developed a taste for veggies. An easy fix? Puree veggies and add them to dishes you're cooking, Flanagan says. For instance, put veggies into a food processor or blender and add to sauces, soups and stews or add pureed veggies like butternut squash or pumpkin to pancake or waffle batters. Feeling even more adventurous? Add black beans to your brownies.

Make dishes with three ingredients

One of Ravid's mottos is a bean, a green and a grain, and it helps her create an endless array of dishes. She chooses one of each, combines them in a bowl and drizzles sauce over them, varying them frequently. "By using a different bean, grain, vegetable and sauce, you've got a different dish each day," she says. For beans, choose garbanzo beans, pinto beans, lentils or black beans. For greens, opt for broccoli, kale, collard greens or chard. You can use any whole grain. For sauces, consider tahini sauce, hummus that can be thinned out with lemon juice and water, or peanut sauce. Take the nutrition up a notch by sprinkling hemp seeds or toasted sesame seeds on top. You'll wind up with a filling dish that provides numerous nutrients like protein, fiber, iron and B vitamins. "Meat and potatoes wouldn't provide as much nutrition as this bowl does," Ravid says.

Batch cook

If you want to thrive on a plant-based diet, batch cooking is where it's at. This simply means making several days' worth of food in one day (perhaps on Sundays when you may have more time). Flanagan likes to make several servings of whole grains, even vegetables, that she can use in different recipes during the week. Even if you only use the grains for two nights, you can always freeze the rest.

Get creative with your favorite dishes

Eating plant-based doesn't mean that you have to start from scratch. Instead, look at the dishes you make regularly and make adjustments from there, Flanagan says. For instance, swap out the beef in burritos for textured vegetable protein or a seasoned plant meat. If you want to replace chicken strips, use a vegan meat alternative or soy curls browned in taco seasoning.