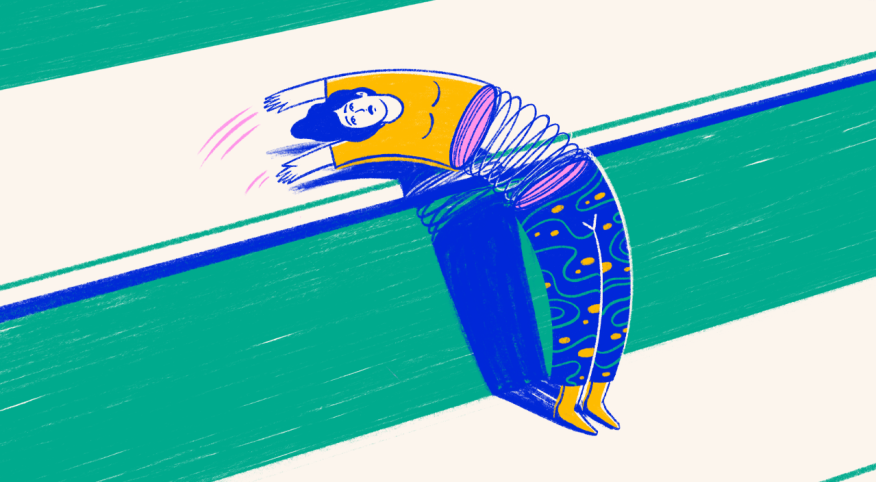 The worst imaginable has occurred: You're going through a divorce; you've experienced a death in the family; a fire has destroyed your prized possessions. You can't imagine ever feeling happy again.

Here's a scientifically proven promise: You will bounce back very soon. It's all thanks to the hedonic treadmill, a.k.a. hedonic adaptation theory, first coined in 2006: You will return to your baseline happiness level regardless of any traumatic or positive event. Your baseline is largely determined by genetics and life circumstances, but it can be partially shaped by your thought patterns and behaviors.

It works like this: Humans are created to adapt to any situation, reverting back to their original happiness set point. It's believed to happen because we tend to repeat the same experiences and interactions on a daily basis — even after a traumatic event or a really happy event (like winning the lottery) occurs.

Say, for example, that you lost your arm in an accident. You grieve, believing that nothing will ever be the same. Your spouse won't look at you the same way. You won't be able to function at work. But … your body adapts to make up for the lost arm, and you figure out how to work without it. Pretty soon, you return to life as it was, minus the arm — and your happiness level returns.

"It can be helpful to remember that even if you experience moments of unhappiness or distress, those feelings will not stay with you forever," says Joni Ogle, a licensed clinical social worker and certified sex addiction therapist. "This can help you feel more empowered and in control of your life, knowing that no matter what happens, you have the strength to continue and find joy again."

Try, for a second, asking yourself how you felt this past decade. Most people will have a pretty consistent overall feeling, despite plenty of ups and downs over the past 10 years. That's because even the big life events don't ever have the eternity effect that we assume it will have, according to a 2020 study by University of Sydney professors who examined the effects of 18 major life events on the well-being of 14,000 people over 16 years.

The study found that while bad events have longer-lasting emotional effects than happy ones, you will return to your baseline of happiness after both. For example, marriage gives a happiness boost of one year before you return to your base level, and retirement, job promotion and a pregnancy will grant you happiness for a few months. Divorce will take the average person three years to recover. A major financial loss, death of a spouse, death of a child or health shock may take four years.

"This is because our minds are wired to process emotions and to seek balance, and with time our emotions naturally stabilize and return to a state of equilibrium," says Justin Gasparovic, a behavioral psychologist and the founder of The Enemy of Average, a blog that helps readers make positive life changes.

Still, there are times when it may feel like returning to your base level of happiness is an unachievable goal, says Megan Tangradi, a licensed counselor and the clinical director of Achieve Wellness & Recovery. If you experienced extreme trauma leading to PTSD or another form of mental illness, if may take longer. In these cases, Tangradi says, professional help such as a therapist and a psychiatrist are recommended to navigate the necessary steps toward recovery.

"That being said, with time and the right care, people can and do make remarkable recoveries," she says.

Counseling will teach you how to process painful memories while allowing you to move forward with your life, explains Becca Smith, the chief clinical officer at BasePoint Academy in Dallas. Therapy and techniques such as cognitive behavioral therapy can help you deal with a devastating even by teaching you to adjust your thoughts, feelings and behaviors to improve your mental state.

So you see? Happiness may be just around the corner.

What do you do when you are going through a really rough patch? Let us know in the comments below.