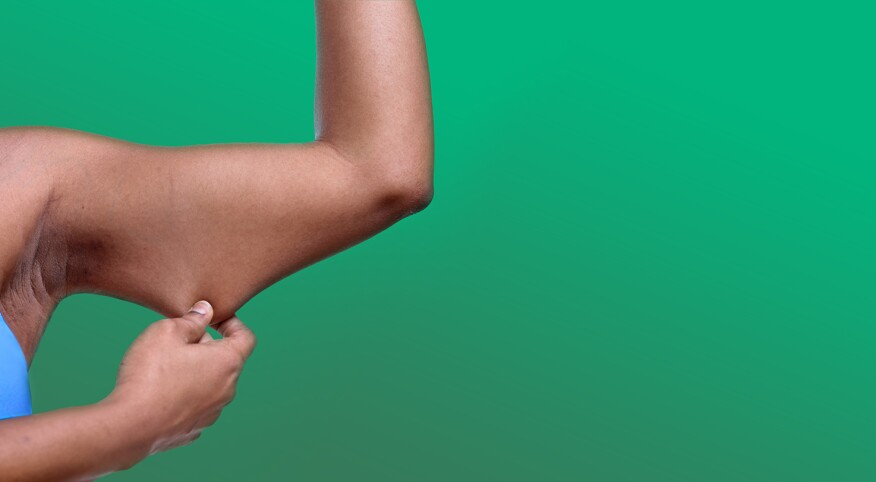 Has underarm flab taken the fun out of sleeveless tops and swimsuits? Do you find yourself throwing on a sweater just to cover your upper arms, even in the heat of summer? If so, you are not alone. The dreaded saggy underarm flaps, more commonly known as "bat wings," affect women of all ages and body types. I noticed it not long ago when I lifted my arm to point at the whiteboard in my classroom. The flab under my arm seemed to have a life of its own. My formerly muscular arms had somehow seemingly overnight turned into jiggling Jell-O. Luckily, the frightful tricep flap is easier to tone than you might think. Here are three straightforward exercises recommended by a certified yoga therapist to tighten up those triceps.

Underarm flab is usually a result of weight gain or a lack of upper body strength training, says Alana Bray, a yoga therapist in California. She recommends strength training focusing on the bicep and tricep muscles to reduce saggy underarm skin. Her favorite exercises to strengthen these muscles are diamond push-ups, triceps dips, and planks.

Diamond push-ups

These push-ups are a slight variation of a standard push-up and can be done at an angle against the wall or on a countertop as you build up strength. What characterizes a diamond push-up is the position of your hands. By placing your hands so that your thumbs and index fingers make a diamond shape as you perform your push-up, you will be targeting your tricep muscles. Make sure to keep your back and legs in a straight line as you push up. Check out this MasterClass article for more information on diamond push-ups, including the incline and wall variations.

Triceps dips

The triceps dips are another accessible exercise to target your triceps. Follow these instructions on Verywell Fit to learn how to complete the move safely. You will need a stable platform — such as a chair or bench — for this activity. Begin by sitting on the edge and then place your hands securely gripping the chair or bench next to your hips. Your legs should be extended in front of you, with your heels firmly on the ground. Slide forward and dip your hips down slowly, making sure not to bend your elbows past 90 degrees. Push up until your arms are nearly straight. Start with small dips and work your way to a deeper dip, ensuring you are always stable and not slipping.

Plank

If you are into yoga or Pilates, the plank is your old frenemy. In just 20 seconds — which may feel closer to 20 minutes — you can target those triceps (and get an abdominal workout while you are at it). A comprehensive resource by Greatist on "How to Do the Perfect Plank" includes variations such as the forearm and side plank, which are also great flab fighters. If you are looking for more, this video from Sutter Health shows "How to Get Rid of Arm Flab and Tone Your Arms" with a clear demonstration of how to use weights to perform water-pitcher lifts and tricep extensions.

Before starting any exercise program, consult your physician or health care providers. Make sure to warm up before beginning any workout, and if you experience pain or discomfort stop immediately. Everyone's body is different, so play with these exercises and find what works for you.

In addition to these strength exercises, Bray reminds us that "a regular Pilates or yoga practice (three to five times per week) plus a clean protein-rich diet can also help improve bat wings."

Consistency is essential, and spending a few minutes in the morning building strength is an excellent way to start the day. Keep your eye on the prize — that beautiful sleeveless sundress awaits you. Time to put away the sweater and wave bye-bye to bat wings!