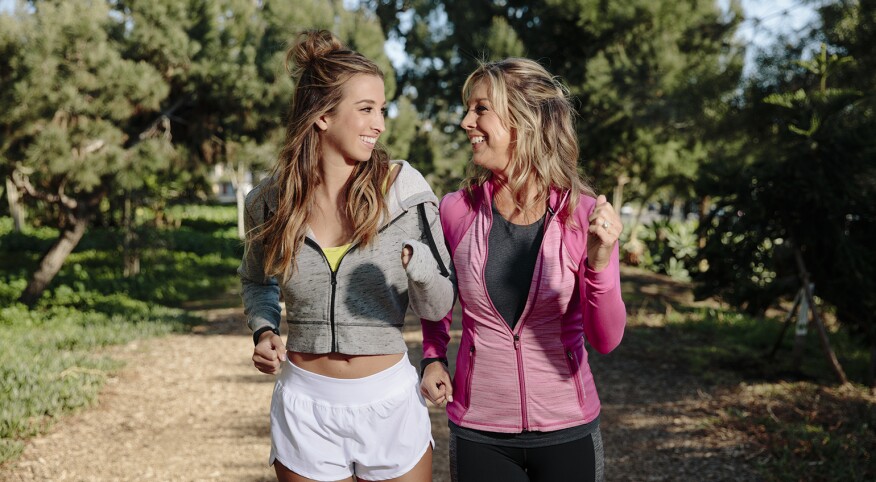 Hi Everyone!

I LOOOOOVE May! It's such a great month. We get to celebrate MOTHERS and FAMILY!! Having a Mom and being a Mom is the most special part of life. I miss my own Mom so much and one of the best ways I try to honor her is by being a great Mom myself…like she was to all five of us kids.

Growing up in Southern California and having so many brothers and sisters, we were always active. We were constantly running around and being outside in the fresh air. And that's what I have tried to share with my own two daughters: a passion for being healthy and active and getting outside every day and having a lot of get-up-and-go energy to take on challenges and try new things. What we do as parents is so important – being physically active filters down and can blossom with the next generation, especially helping girls build self-esteem and be more self-confident. Kelly and Katie were both very involved in sports growing up and they are still really athletic to this day. Today Kelly is in the music industry and Katie is an amazing fitness expert in her own right. I am so proud of both of them!

And we're still active! As soon as my daughters come home for a visit, we go out for a walk and talk. Walking is our catch-up time. My husband is also really active; we play tennis, ride our bikes, go hiking. In fact, we plan family vacations around where we can walk or go for a hike and be outside. He's also from a big family so when we have family get togethers – like for Thanksgiving or Christmas - and we always include a walk after dinner. EVERYBODY feels better after a walk!!!

In honor of Mother's Day, I motivate all of you to get your mothers moving with you and if you are a Mom, get up and do something active with your kids. Turn family time into active time!

And I'll make it easy for you: join me and my daughter Katie and enter the AARP Fit & Fun Health Challenge, kicking off THIS WEEK. The challenge? Walk 30 minutes a day and invite your mom, daughter, family and friends to walk and enter too.

It's fun and it's easy – go to aarp.org/challenge to enter (and invite your loved ones), then visit the site every day to log your 30 minutes, watch weekly videos, enjoy great tips on how to nourish mind, body and spirit, see photos and comments from walkers who have joined the challenge across the country AND earn a chance to win some amazing sweepstakes prizes.*

This is a perfect way to have fun this summer, connect with your loved ones, and give the greatest gift of all: feeling happier and healthier. At the end of the challenge, all eligible participants will have a chance to win a spa getaway for two. How cool would that be for a get-away!


* NO PURCHASE NECESSARY. Ends 6/30/18. To play and for Official Rules, visit https://sweeps.aarp.org/enterhealth2018/.