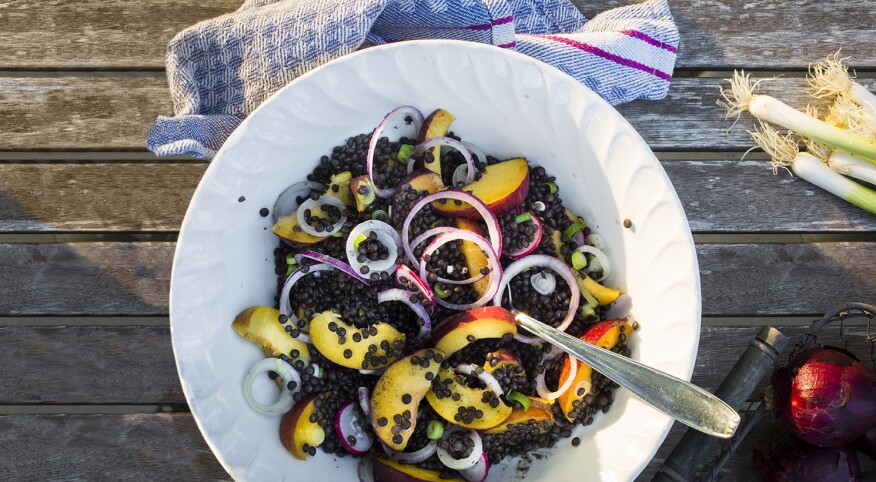 Twenty years ago, I traded in turkey for tofu and became a vegetarian. I had a vegetarian pregnancy, and my now-teenage vegetarian child towers over me. I did it for my own personal, ethical reasons, but along the way I learned about the many health advantages to ditching meat. Vegetarians enjoy better cardiovascular health, lower blood pressure, a lower chance of developing type 2 diabetes, lower cholesterol, healthier body mass indexes and a lower chance of developing heart disease. But I also learned that human beings are meat eaters, and some of us find giving up hamburgers easier than others. So how can you get some of the benefits of a vegetarian diet without completely giving up meat?

MODERATION
A lot of us grew up feeling that dinner wasn't really a meal without a piece of meat on our plate. Agreed, a complete meal should contain a protein, a vegetable and a healthy carbohydrate, but as you'll learn in the next section, there are many ways to find protein without serving meat. Rather than designating Meatless Mondays or Tofu Tuesdays, pick a few meals each week that you will commit to making vegetarian style. Try three breakfasts, three lunches and three dinners in one week as your goal and see how it goes.

SATISFYING SUBSTITUTES
Cutting back on meat should not mean giving up protein. There's nothing healthy about losing a food group. So expand your palate to include vegetarian protein sources. This of course includes the many packaged meat substitutes found at grocery stores, but use these processed foods in moderation, as they are often high in sugar or salt. Some naturally vegetarian protein sources include legumes (such as beans, peas or nuts), soy, dairy products, eggs and many whole grains, such as quinoa and amaranth.

SURROUND YOURSELF WITH VEGETARIAN YUM
It's always easier and more pleasing to feel like you're eating something you love rather than cutting out something you now miss. Everyone has different tastes, but some great ways to pack in the protein and iron vegetarian-style include eggs or cornflakes with skim milk for breakfast, salad with soybeans for lunch (along with your favorite dressing and something you love in a salad, like cheese or croutons) and meatless lasagna for dinner. Lasagna, by the way, is a great place to use one of those packaged meat substitutes instead of ground beef.

Going vegetarian-ish by simply cutting back on meat and expanding your food repertoire to include more plant-based foods is a great way to do something positive for your body. By thinking of it as adding on new kinds of foods rather than denying yourself meat, you'll start to enjoy delicious new recipes. You might even lose a few unwanted pounds. So go grab an apple and start meal planning!