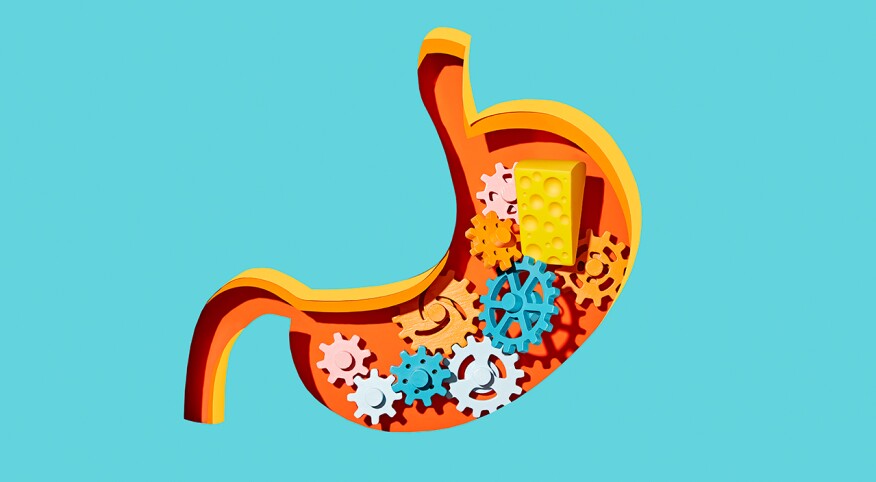 Are you tired? More irritable than usual? Are you bloated or have bad breath? Your supersavvy gut may be trying to give you a hint that something's wrong, as all roads lead to your gut.

"Being irritable or being tired can be symptoms of poor gut health because the gut and the brain are connected through the gut-brain axis," says Qaisar Usmani, a rheumatologist with SNS Rheumatology in Lakewood, New Jersey. "The gut microbiome plays a vital role in regulating mood, behavior and cognition, and an imbalance in the gut microbiome can lead to irritability, fatigue and other mental health issues."

But it's not as simple as chugging a yogurt and expecting to be energized and in a better mood (though we all could wish, am I right?). We spoke with doctors to help us decipher what our gut may be trying to tell us.

Your symptom

Bloating

What your gut may be telling you

Your poor gut is having digestion issues. Or, more technically, bloating occurs when peristalsis, or the neuromuscular contractions that facilitate digestion, is impaired, leading to poor internal handling of gas, says Rusha Modi, an internal medicine doctor at a Los Angeles clinic serving low-income populations. It could be caused by several factors, ranging from poor diet, insufficient fiber intake or lack of physical activity.

Try this

Incorporate more fiber-rich foods into your diet, stay hydrated and engage in regular exercise (150 minutes per week is recommended by current physical activity guidelines).

Your symptom

Diarrhea

What your gut may be telling you

Your gut is suffering from bacterial overgrowth: The diversity of the bacteria in your GI tract may have changed, says Niket Sonpal, a gastroenterologist at Touro College of Osteopathic Medicine. "When one prominent species of bacteria crowds out another, it releases toxins that lead to gas, diarrhea and bloating," he says.

Try this

It's confusing, as we often will experience bloating, diarrhea or gas occasionally, and it's no big deal. But it's not so much the number of symptoms you have, but the severity of the symptoms, Sonpal says. Experiencing severe daily bloating plus cramping, constipation, pain and diarrhea? Then you should see a gastroenterologist to figure out a medical plan.

Your symptom

Acid reflux, heartburn, gas and stomach pain

What your gut may be telling you

Your digestive capacity is decreasing, which is a normal part of aging. Some of the same foods you could previously digest well, such as lactose, can become problematic, says David Kahana, a gastroenterologist and formulator at 1MD Nutrition.

Try this

Try some digestive aids to increase your digestive capacity, especially when dietary changes fail to result in symptom improvement, Kahana says. Probiotics, digestive enzymes, human milk oligosaccharides and milk thistle, for example, can boost digestive capacity, resulting in better gut health.

Your symptom

Bad breath

What your gut may be telling you

You've got bacteria in your gut causing bad breath, or halitosis. The bacteria can produce sulfur compounds, which are released through your breath, Modi says.

Try this

Eat more probiotic-rich foods, such as yogurt and kefir, and reduce your intake of sugary or processed foods.

Your symptom

Irritability and fatigue

What your gut may be telling you

Your gut is having problems absorbing all the right nutrients, leading to sluggishness and irritability. Your gut sends distress signals to your brain using its very active nerve cells. Your GI tract is known as the "second brain," as it contains about 500 million neurons that are connected to your brain, so it's no surprise that when your gut is upset, your entire body will be moody. Fatigue could also follow.. A study published in the journal Microbiome found that many people who suffer from chronic fatigue syndrome have an imbalance in their gut microbiome. Other researchers found that about half of those who have irritable bowel syndrome (IBS) also suffer from fatigue.

Try this

If your irritability and fatigue is combined with other symptoms, such as bloating or gas, then this could be a sign of a bigger problem. It's a sign to contact your gastroenterologist, stat.

Your symptom

Acne, eczema, psoriasis and other skin issues.

What your gut may be telling you

While you may consider these to be issues stemming from the skin, they go deeper. A study published in the journal Frontiers in Microbiology found that there's a direct connection between the gut and the skin. When the gut microbiome (responsible for maintaining healthy skin) is not in balance, it changes your immune response, leading to acne, psoriasis, eczema and other issues often reflected in the skin.

Try this

Your gastroenterologist can do tests to see why and how your gut is off-balance.


Do any of you have poor gut health? What do you do about it? Let us know in the comments below.