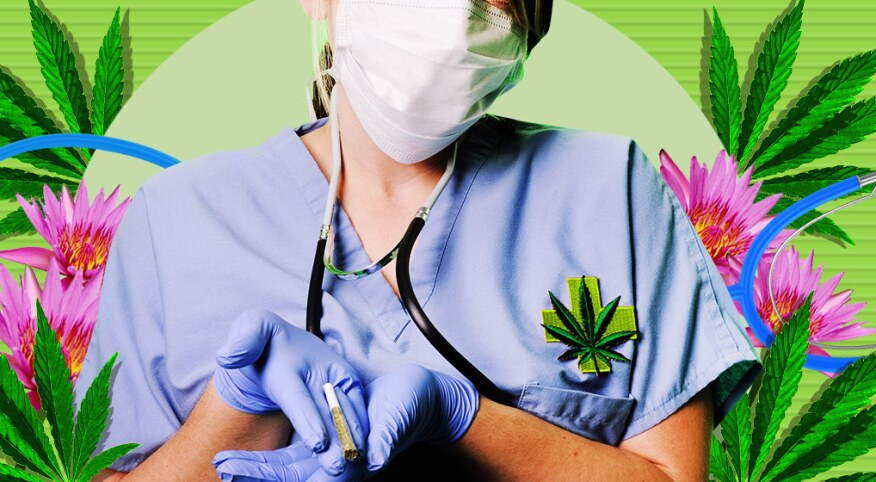 I've been a proud member of "Team CBD Is A Crock" for years now. Anti-stress tinctures, soreness-easing bath salts, orgasm-boosting lube, doggy treats for pups with separation anxiety — how could one thing fix so many problems? In 2018, a CBD oil company sent me a bottle. I've struggled with my sleep for half my life, so I figured I'd try it.

My sleep that night was horrid, peppered with dozens of anxious wake-ups and a racing heartbeat. I started the next day even more resolute in my anti-CBD stance. But when a member of my Facebook mommy group recently introduced herself as a certified cannabis nurse who helps patients manage chronic pain, sleep, stress, sexual health and menopause using CBD (cannabidiol, a non-psychoactive compound found in cannabis) and THC (tetrahydrocannabinol, the part that does cause a high), I was intrigued.

I couldn't trust the publicist who recommended a dropper at night without knowing my medical history or sleep issues, and I don't necessarily trust the 21-year-old dispensary employee wearing a 4/20 T-shirt. But a seasoned critical care/ICU registered nurse who studied cannabis — the plant that yields both THC and CBD — and was intimately familiar with dosing, drug interactions and human physiology? I could get behind that. Over Zoom, Rebecca Abraham, president and founder of Acute on Chronic, told me her typical client is female, and the average age is 40 (though her oldest is 99).

The reason cannabis benefits so many medical conditions, she explained, is that we have special receptors throughout the body, from the brain and skin to the immune and reproductive systems, waiting to latch on to molecules made by the body called endocannabinoids that promote system-wide regulation.

Mother Nature must have loved cannabis, because those same receptors will gladly interact with plant-based cannabinoids THC and CBD, keeping our many systems humming. But what works for your BFF's low libido or painful knee might not work for yours … or you may need a different dose, brand or CBD:THC ratio. Unlike taking Tylenol for a headache, one size does not fit all.

"My grandson/sister/neighbor bought me some pot gummies but I felt awful" is a common refrain heard by Abraham. Complicating matters, misperceptions abound. For instance, it turns out that anxiety-prone people, like myself, should not take CBD right before bed, as it can spike nerves; we may want to avoid brands using MCT (medium-chain triglyceride) oil for similar reasons.

Also, CBD doesn't work immediately after one try. It takes time to build up in your system, so if you swear you feel calmer after sipping an $8 CBD latte, you probably have a placebo buzz.

Regulatory oversight is lacking, too. In a JAMA study, researchers analyzed 84 CBD products and found the majority were mislabeled, containing more or less CBD than advertised. Several harbored pesticides and other contaminants.

My appointment with Abraham started with a deep dive into my medical history: lifestyle (diet, exercise); and previous experiences with CBD and THC, as well as any strong opinions I have toward cannabis. ("Gen Xers were the D.A.R.E. generation," she says, so it can be a hurdle to get from " 'This is dangerous' to 'This is medicine.' ") I said I was open to THC, which is legal in my state, but hate feeling high, and that my prior CBD experience stank. Abraham took her time educating me, explaining that THC helps spark CBD's power, "like a key in the ignition of a car," and assured me we'd "start low and go slow," titrating up as needed.

She wouldn't prescribe anything that would interact with any medications or supplements I take. (For instance, cannabis may be contraindicated in people taking certain blood thinners or breast cancer medications.) "That's something a budtender isn't likely to know," she says.

After pinpointing my goal — to feel chill but not altered, almost like I'm floating on clouds as I prep for sleep — Abraham crafted a plan for me encompassing multiple high CBD/low THC options, including a morning dropper of CBDa (a CBD precursor I'd never even heard of that can enhance sleep), fruit chews and an oral spray, plus local dispensaries that carry them.

Once I got over the initial glee of having a medical professional prescribe something called Orange Goobies, I dove in. The next few weeks, emails flew back and forth as Abraham and I discovered which products worked and which needed tweaking. (Mints and gum quickly replaced the chews, and I moved the CBD to 2 p.m.) I'm still pinpointing the perfect amount, but there's no denying my sleep is better. It's not great, but I have fewer middle-of-the-night awakenings and night sweats, and I wake feeling more rested. I haven't felt high, as the THC levels are super-low, but a few nights have had me feeling pleasantly loosey-goosey as I lie in bed reading Untamed.

I almost hate to admit, but I've drunk the CBD Kool-Aid. (Specifically, the CBDa Kool-Aid.)

To find a local cannabis practitioner, check the Society of Cannabis Clinicians website or try Abraham, who can teleconsult in every state except Oregon. Tell your doctor you're using THC or CBD; few mainstream practitioners are familiar with cannabis medicine, but your nurse can collaborate with them. Hemp-derived CBD products are legal in the United States as long as they contain no more than 0.3 percent THC (you'll need to learn your state's position on THC).

Sweet dreams!