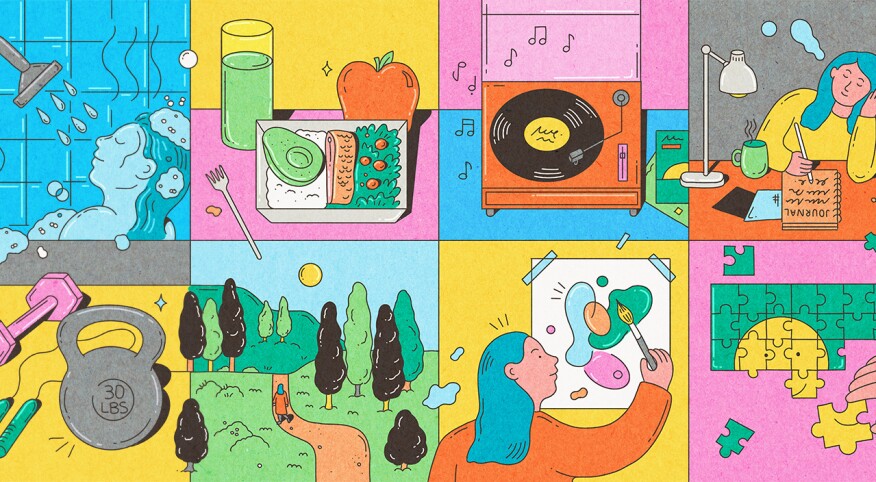 The good news: Companies are finally recognizing that we need mental health days just as much as we need physical sick days. The bad news: We have no idea what to do on our mental health days. Spoiler alert: Chores shouldn't be on your list.

A new study of 2,000 adults by OnePoll in partnership with 98point6, a virtual care app, finds that employees have taken an average of four mental health days within the past year; and 38 percent took more than this. During those days, 44 percent exercised, 42 percent slept, and 43 percent watched television.

But therapists say that there are better ways to spend your mental health days if you want to emerge refreshed, reengaged and ready to reenter the world.

Do the mental health work

"If you're at the point where you need to take a mental health day, then it's likely something went wrong a while ago," says Angela Caldwell, a licensed marriage and family therapist and founder/director of the Caldwell Family Institute in Los Angeles. Once you've replenished and relaxed, allot an hour or two to reflect on how you go to where you are. Sit in your favorite chair, journal, go for a walk or do whatever helps you think, Caldwell suggests. "Turn the clock back to the last time you felt OK, and carefully track the events that came after that moment," she says. Review decisions you made and analyze how these things led you to this day. Do you need to cut back on work? Hire more help? Go to bed earlier? Make an effort to eat healthier so you'll feel better? "With enough thoughtfulness, you'll be able to pinpoint what's wrong and what needs to change," she says.

Focus on fundamental survival needs first

Sadly, the first thing that tends to go out the window when we're stressed, overwhelmed or depressed is basic self-care, Caldwell says. Start your day by going back to basics before you do anything else. "Eat a good breakfast, get some exercise, take a shower, put on clothes that make you feel good, and drink lots of water," she says. Ensure that your day will unfold in a way that allows you to eat a light dinner and go to bed early, as a good night's sleep is absolutely essential for strong mental health.

Eat a nutritious meal

When we're stressed, our bodies crave carbs — and we often reach for the quickest and easiest meal (hello, pizza delivery!). But these meals don't last long in our system, and we are hungry again, says Arabeth Mashek, a mental health therapist with Three Creeks Counseling in Vancouver, Washington. "When our blood sugar dips, so does our mood, and our anxiety soars," she says. Choose food that will last longer in your body, such as complex carbs: whole grains, beans, vegetables and fruits.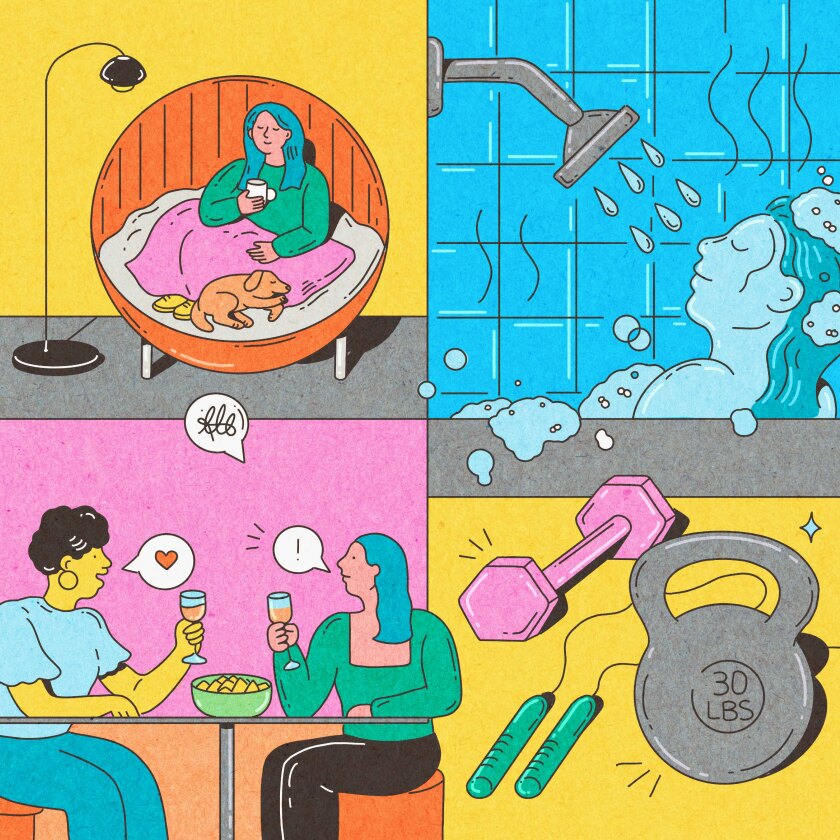 Spend time with others

Too much alone time is not always helpful, as humans are social creatures, Mashek says. "Somewhere along the way, we were taught that we have to do it all ourselves," she says, adding that it's impossible to do it all.

Exercise

Physical activity improves many elements of mental health, starting with mood and anxiety — and expanding to energy, concentration and sleep, says Nina Vasan, M.D., a psychiatrist and clinical assistant professor at Stanford University School of Medicine, and the chief medical officer at Real, a mental health care company. Not used to exercising? Start small, Vasan says. Often, people feel like they need to get a perfect workout, and if they can't do that then it's not worth starting. Instead, she says, start with a small goal of five or 10 minutes of something simple, like a 10-minute brisk walk or a five-minute dance break.

Get outside

Sunshine and light provide a natural source of vitamin D, which plays an important role in regulating mood and promoting well-being, says Allison Chase, a clinical psychologist and regional clinical director with Pathlight Mood and Anxiety Center in Austin, Texas. Fresh air provides relief physically and mentally.

Try listening to music, making art or doing a puzzle

These activities could help you become engaged and less conscious of everyday difficulties: You'll literally get lost in your passion, and not think about other things, says Susan Silver, a psychotherapist with the Wellington Counseling Group in Chicago. "There's a reason that there are disciplines like art therapy and music therapy, as they have the capacity to engage you in intense ways where you are unconsciously blocking out negative thoughts and feelings, simply because you are so engaged," she says.

Have you ever taken a mental health day? What did you do? Let us know in the comments below.