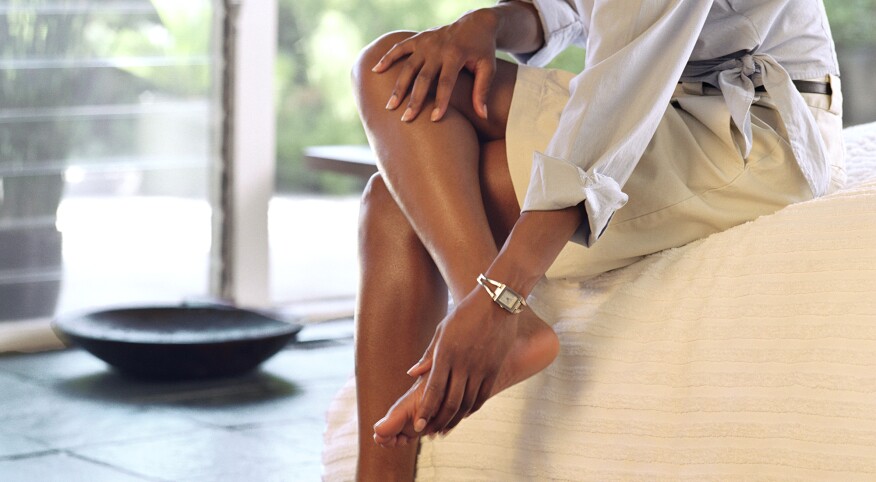 I never had particularly "cute" feet, but they were also never gross, either. Until now.

Before pandemic, I kept my tootsies presentable, indulging in pedicures regularly. But stuck at home, I did the bare minimum when it came to pampering (as in, I just cut my toenails when my husband complained that they were like tiny daggers when they grazed against him in bed).

Lately, I've been thinking that my tootsies deserve a little attention. If yours do, too, here are some tips.

Don't walk barefoot

In the past few months, like most people, my shoes have been stored sadly in my closet, relatively unused. Even when I put on shoes and go outside, I then take them off quickly to avoid tracking outside dirt and germs throughout my house.

While it is OK to walk barefoot on soft surfaces such as carpet, sand or grass, on hard surfaces (tile, wood floors, etc.) it can lead to issues. Jane Andersen, a podiatric physician and surgeon in Chapel Hill, North Carolina, says, "Walking barefoot most of the day when you're used to wearing shoes creates increased load on the plantar fascia, a band of tissue on the bottom of the foot. It usually starts as heel pain when you first stand up in the morning or after sitting."

In addition, walking barefoot can impact your gait. Adejoke Babalola, a New York-based podiatrist, explains, "When we walk barefoot on hard surfaces, we pronate, and this can put pressure on our feet, exasperating conditions like bunions."

Going shoeless can increase the risk of catching fungi that lurk on the floor (like warts) or stepping on stray objects (splinters.) Babalola suggests wearing supportive slippers in the house (not flip-flops, which are horribly unsupportive, and not socks, which can be slippery and make feet sweaty, leading to other issues).

Pay attention to itchy, flaky feet

Lately I've noted my feet are flaky and itchy, which are common symptoms of athlete's foot (at least some part of my body thinks it's an athlete.) Andersen, who is past president of the North Carolina Foot and Ankle Society and the American Association for Women Podiatrists, explains, "It's a fungus, found in areas of moisture — showers, pool decks, etc. — which is why it is important wear protective shoes in public areas."

At home, clean your shower regularly with bleach/Lysol. Also, change socks if they get sweaty or wear socks that wick moisture away.

Over-the-counter treatments are usually effective, but if you see scaling or cracking, or have itching or tiny blisters, you may need to be treated by a physician.

Blisters and bunions and corns … oh my!

If you have bunions or hammertoe, you can probably thank your parents. Andersen says, "Bunions are a bony deformity where you get a lump at the base of the big toe. It's actually a shifting of bones, mostly caused by genetics."

Hammertoe is a bending deformity of one or both joints of the second, third, fourth or fifth toes.

Both of these conditions can lead to calluses, a yellow or pale section of skin that has become tough and thick. They commonly occur on the bone or ground, where the skin of the foot rubs against something, A corn is a type of callus, usually smaller and forms by toes or on soles of feet. Your body forms corns to protect itself from developing blisters. Unfortunately, as we age our feet have less fatty skin and these conditions become more common.

While you can't change your genetics, all of these conditions can be worsened by poor shoe choices. Choosing supportive footwear and avoiding pointed toe box shoes can be helpful.

Blisters, raised pockets of fluid, are usually caused by standing for too long or by certain footwear. Harmless but painful, the best course of action is to let them heal on their own and put on a bandage for comfort. Avoid draining yourself; it's better to see a doctor to avoid infection.

Yes, you do need new shoes

In the past few months, many people have been exercising more, which is great. But it has also led to issues such as heel pain, stress fractures and other overuse issues because they increased their exercise routine too fast, especially without replacing their shoes.

Andersen says, "Replace your athletic shoes frequently (every 350 to 500 miles) to prevent overuse injuries." In addition to good shoes, don't underestimate the importance of stretching your foot before and after exercise.

Babalola explains, "When you run the impact takes the impact of six times your body weight. Stretching out the foot and Achilles tendon before a run or power walk can help avoid injury."

As for heels, there is no reason when you get older — but lower is safer. Andersen suggests limiting heels to 2 inches or less. She says, "Wide, round toe box and soft leathers or stretchy materials. Alternating heel heights can be helpful. If you wear high heels every day, the musculature in the back of your leg can shorten, making it harder to wear flat shoes. Buy them at the end of the day when your feet are the most swollen."

Seeking foot care

While complaints of aching feet are common, foot pain is never normal.

"If you are experiencing pain," Andersen says, "see your podiatrist sooner than later. Issues are always harder to fix if you have had them for longer."

While some patients need to be physically seen by the doctor (X-rays, wound care, etc.), many can benefit from a televisit. To get the most out of a virtual appointment, Andersen says, "First and foremost, know how to turn your camera around and have adequate light so the doctors can see your foot."

Also, have your shoes close by if you have any questions about your footwear.

For in-office visits, doctors are taking many precautions to keep patients safe. At her office, Andersen says, "We limit the number of people in the waiting room. Patients are asked to stay in their car until the doctor is ready to see them. We have temperature checks, screening questions, mask requirements for patients and staff."

Even if you decide to skip painting your toenails, be sure to trim the nails regularly to avoid ingrown nails, which can lead to infections. If you decide to go to a salon for a pedicure, be sure that everyone in the establishment is wearing masks and that instruments are sterilized appropriately (or bring your own).

Andersen also suggests avoiding the whirlpool tub and not shaving your legs before you go (a little gnarly, but it's safer).