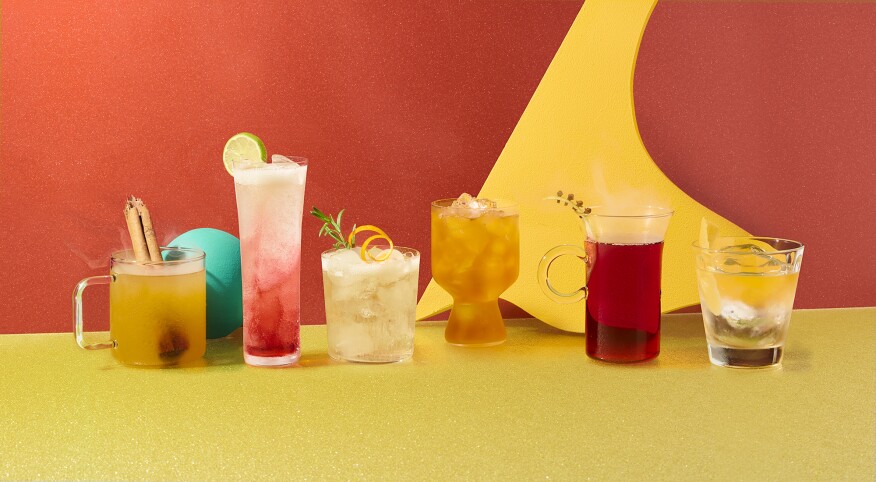 It's nearly fall! And while many autumnal rituals like apple-picking, hayrides, and (sob) back-to-school preparations may be on hiatus, we can still rake leaves in our backyard and drink. And no, we don't mean pumpkin spice lattes.

Turns out, there may even be a benefit to the increased alcohol consumption we're seeing under shelter-in-place. University of Georgia researchers recently brought us a small ray of sunshine to break through the COVID dreariness when they reported that middle-aged and older women who were light to moderate drinkers (defined as averaging seven or fewer drinks per week) tended to perform better on cognitive tests over time compared with nondrinkers. While there isn't enough evidence to justify starting a habit, it is reassuring to know that the occasional happy hour for one could be just what our brains need during these very trying times.

With bars opening and closing faster than pop-up ads on your internet browser, though, it could be a while before you can meet anyone for a drink. But that doesn't mean you can't still enjoy a good, restaurant-quality cocktail at home — whether or not you drink alcohol.

Unlike popping open a bottle or can, a cocktail is an experience, says Danny Ronen, spirits educator for Shaker & Spoon, a delivery service that mails you everything you need to recreate that experience at home. The act of making the drink, using techniques that go beyond shaken or stirred, is part of the ritual and part of the fun. And there are a few simple ways to ensure your drink is as tasty and refreshing as anything you can order for curbside delivery.

For starters, as the weather changes, so should your base spirit. Traditional fall flavors tend to be hearty and warm, and pair nicely with brown spirits like Scotch, barrel-aged whiskey and even aged rum or tequila. "Reposado or añejo tequilas are spirits people do not reach for enough," says Ronen. "The agave is rich and comforting and has aromatics that go well with spice."

Infusing your own simple syrups can be another easy way to up the ante on a drink's flavor — just heat equal parts sugar and water until the sugar dissolves, then add your aromatics. Seasonal flavors like pear, ginger or pomegranate are all good choices.

Finally, fresh-pressed juices will always rock a cocktail glass. "It's one step that's so easy to do but makes a huge difference," says Ronen.

Ready to try out your newfound mixologist skills? Here are six drinks —including one that's nonalcoholic — to get you started.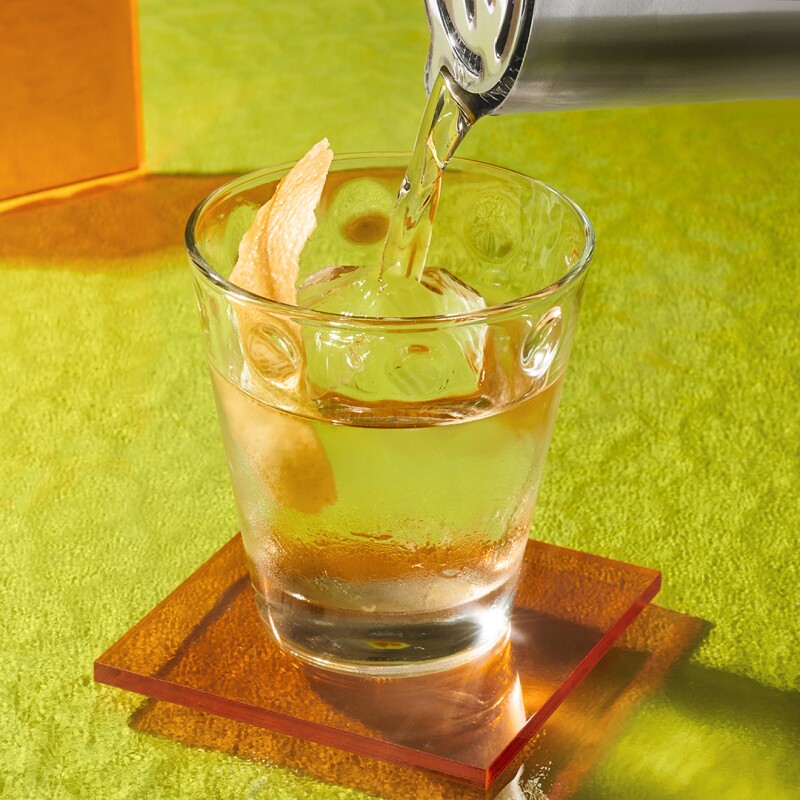 1. Jalisco Old-Fashioned

Courtesy mixologist Ben Scorah, Road Soda

1½ ounces tequila, such as Don Julio 70

1 dash angostura bitters

2 dashes orange bitters

¼ teaspoon maple syrup

Grapefruit peel for garnish

Combine tequila, bitters and maple syrup in an ice-filled mixing glass or shaker and stir well. Strain into a rocks glass over a fresh, large ice cube. Squeeze grapefruit peel (outside facing away from you) in the direction of the glass. Place grapefruit peel into glass for garnish.

BACKUP: Tequila Old-Fashioned

Courtesy Natalie Migliarini, Beautiful Booze

2½ ounces añejo tequila, such as Corralejo Añejo

¾ ounce agave syrup

2 dashes aromatic bitters

Add all ingredients into a rocks glass with ice and stir.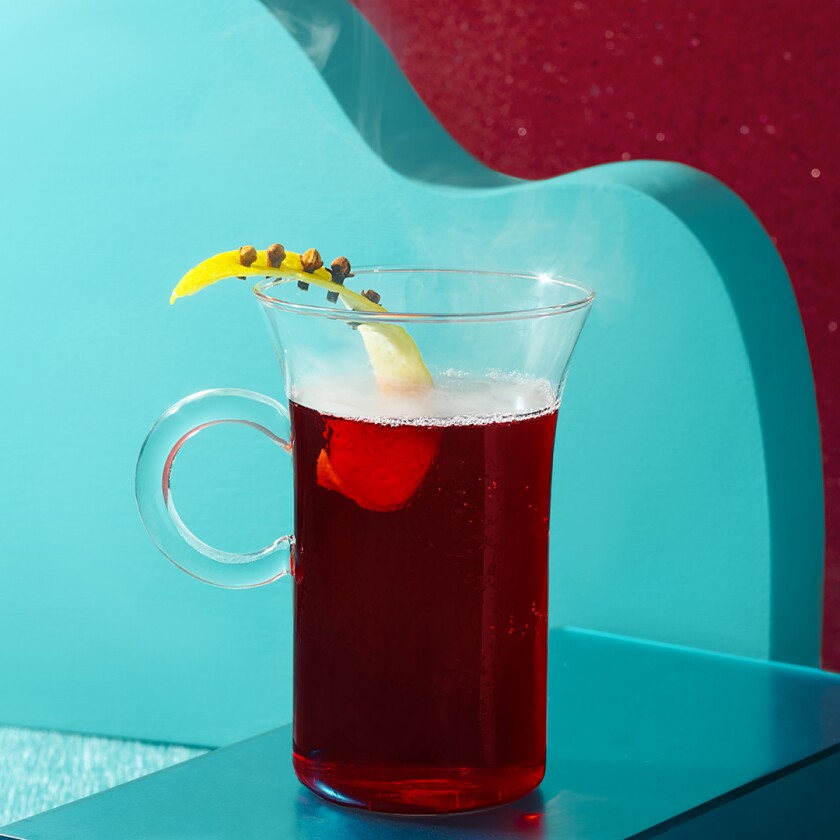 2. The Bourbon Blanket

Courtesy Devin Paulding, Wiseguy Lounge/Goodfellas Pizzeria

1½ ounces bourbon, such as Buffalo Trace

1 ounce tawny port

½ ounce French vanilla black tea syrup*

2 to 3 ounces hot water

*To make the syrup, steep tea to desired strength and add equal parts white sugar (by volume) to level of tea. Fill a mug with hot water, then discard. Add bourbon, port and vanilla black tea syrup. Top with hot water, and garnish with a clove-studded lemon peel.

BACKUP: Easy Whiskey Sour

2 ounces bourbon, such as Buffalo Trace

¾ ounce fresh lemon juice

¾ ounce simple syrup

Shake all ingredients with ice and strain into an ice-filled glass.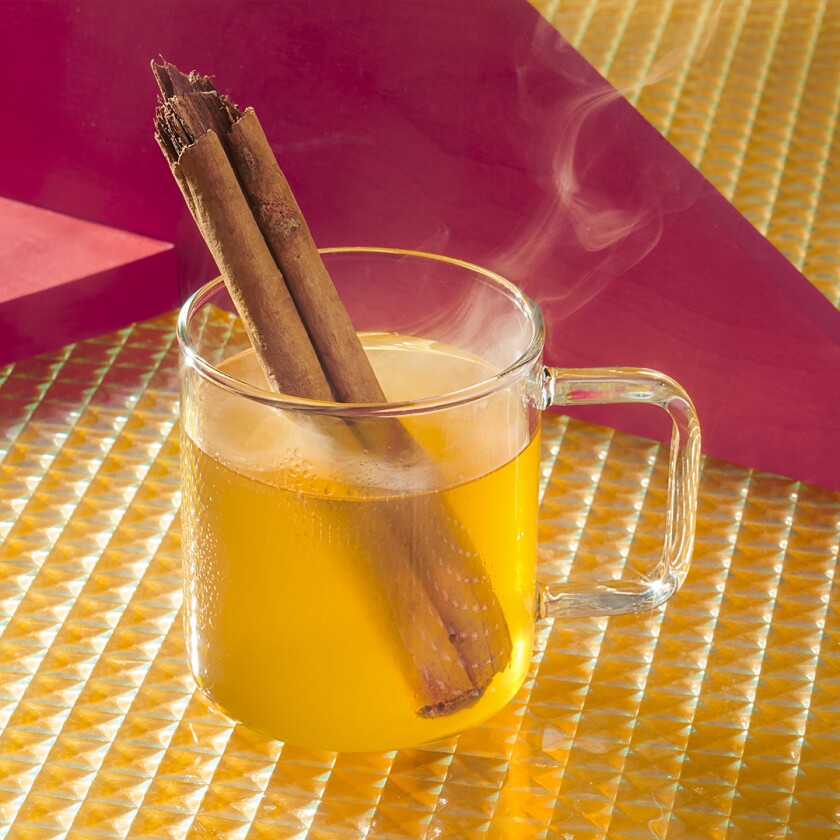 3. Templeton Maple Toddy

Courtesy Goran Remes at Rye House, New York

2 ounces rye, such as Templeton Rye Maple Cask Finish

¾ ounce lemon juice

½ ounce maple syrup

Stir together all ingredients together in a mug. Heat if desired and garnish with cinnamon bark.

BACKUP: The Saloon Sour

Courtesy Katie Dubois at The Darling, Chicago

2 ounces rye, such as Templeton Rye 4 Year

½ ounce pisco (brandy), such as BarSol

½ ounce plum puree

½ ounce apple cider

1 bar spoon Demerara sugar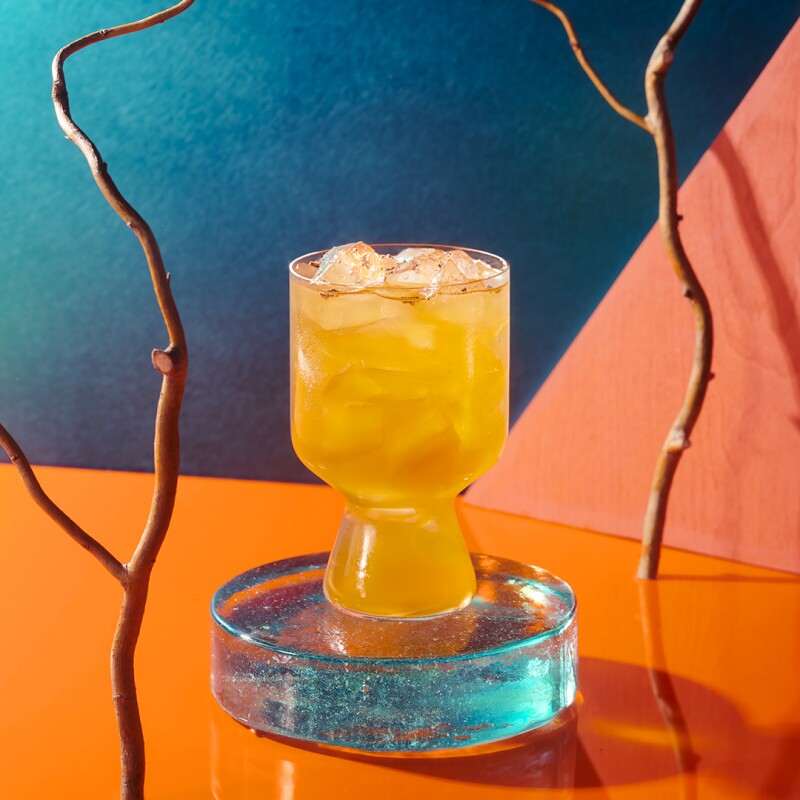 4. Manzana (can be served hot or cold)

Courtesy mixologist Charlotte Voisey, host of video series the Proper Pour with Charlotte Voisey

1½ ounces aged rum, such as Flor de Caña 12 Year

½ ounce Amontillado sherry

½ ounce agave nectar

2 ounces apple cider

2 dashes apple bitters

Combine in a mug and heat or combine ingredients, shake well, and strain over fresh ice in a rocks or tall glass. Garnish with freshly grated nutmeg.

BACKUP: Apple Rum Old-Fashioned

2 ounces aged rum, such as Flor de Caña 12 Year

¾ ounce apple-cinnamon syrup

2 dashes angostura bitters

Stir and strain over large ice cube.

Garnish with dried apple ring.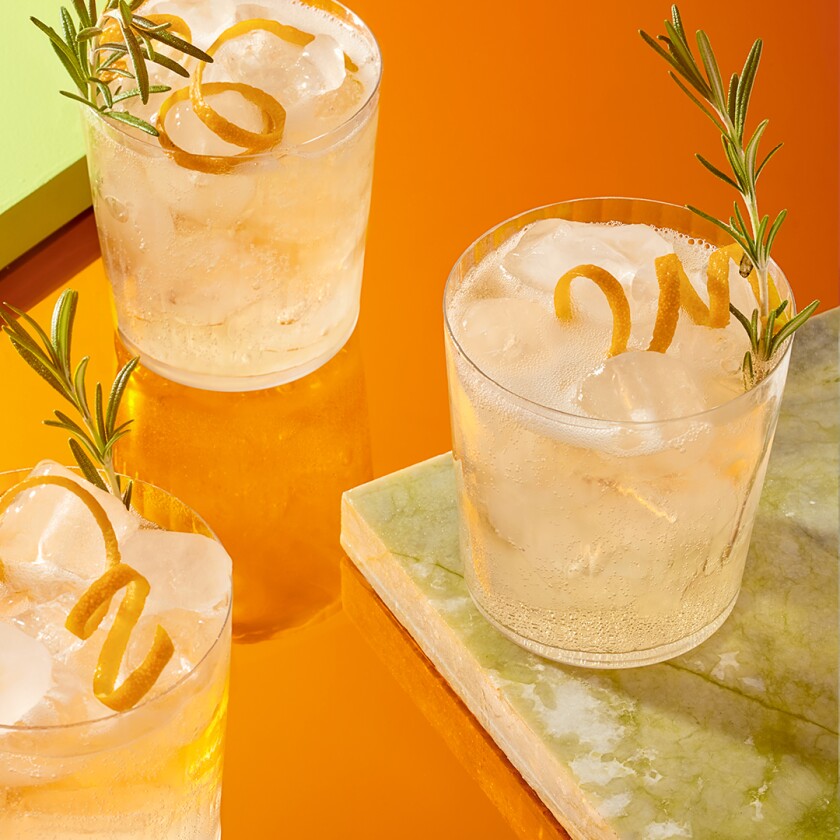 5. Ginger Diplo

1½ ounces rum, such as Diplomático Mantuano

5 ounces ginger ale

One sprig rosemary

Orange peel, for garnish

In an ice-filled rocks glass, stir together rum and ginger ale. Garnish with rosemary and orange peel.

BACKUP: Fall for Daqs

Courtesy Sailor Jerry Spiced Rum

1½ ounces spiced rum, such as Sailor Jerry

½ ounce lime juice

1 ounce pomegranate juice

Dash of grenadine

Add all ingredients into a mixing glass with ice, shake and strain into a coupe glass.

Garnish with pomegranate seeds.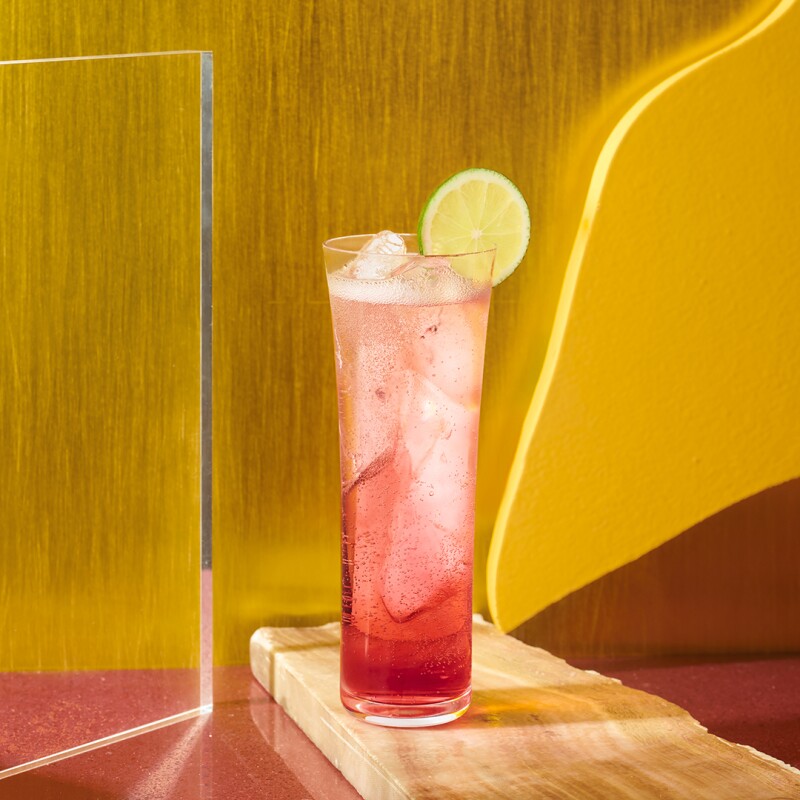 6. Hibiscus Fizz

Courtesy Joy Manning, creator of Better Without Booze

1 part hibiscus concentrate*

1 part Fever Tree tonic

1 dash orange bitters (optional)

1 thinly sliced lime wheel

Place one large ice cube in a rocks glass. Add the hibiscus concentrate, tonic water and bitters. Stir. Top with lime.

*Hibiscus concentrate:

4 cups filtered water

½ cup sugar

⅛ teaspoon salt

1 cup dried hibiscus flowers

¼ inch piece ginger, sliced thin

A few curls of lime zest

¼ cup fresh lime juice

In a saucepan, combine the water, sugar and salt. Bring to a simmer and cook, stirring until the sugar is fully dissolved. Off heat, add the hibiscus flowers, ginger slices and lime zest. Cover and let steep for 20 minutes. Strain into a bottle, and add the lime juice. Chill.