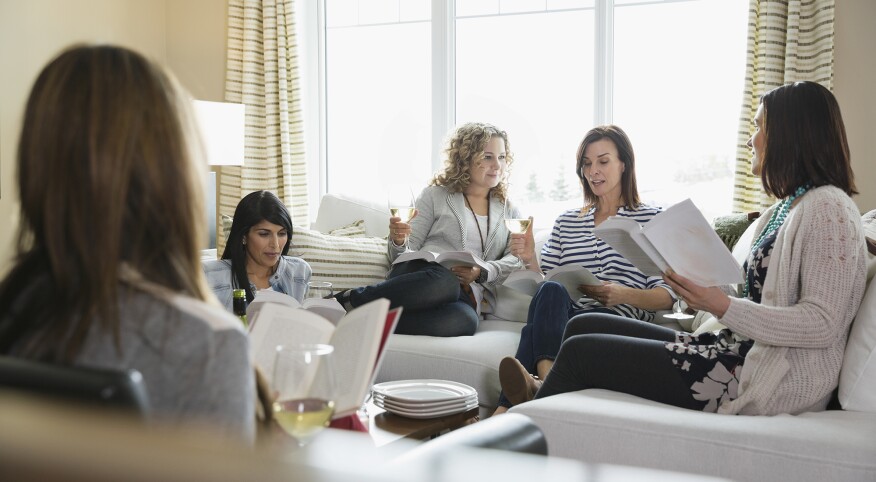 Joining a book club can be a high-minded way to cultivate friendships and read books that you otherwise wouldn't have touched. But hosting this monthly dose of literary discussion and wine? Now that's a different story. Oh, the pressure!

Here are 13 thoughts that go through everybody's mind the day they host book club. (Let us know what we missed by emailing us at TheGirlfriend@aarp.org. Please put "book club" in the subject line.)


1. Why did I have to scour Pinterest boards dedicated to Book Club Hosting? A much-pinned recipe for Peppermint Oreo Truffles? Seriously? I'm starting to feel overwhelmed by all this "inspiration."

2. I should have done a quick refresher on character names and themes. Do I even remember the book? Wait a minute. How did it end? Do I have time to check out SparkNotes or Shmoop before people come?

3. Does my furniture smell like dog? I should light my French vanilla scented candle. Even worse, will my dog bite someone?

4. Do I have enough wine?

5. Are there enough places to sit? Two people will have to sprawl out on bean bag chairs. Will they be able to get up at the end of the night?

6. Do I have enough wine?

7. I wonder if my husband is mad that I'm forcing him to vacate the premises for a few hours. I'll do something nice for him this weekend.

8. I stocked up on crudités and hummus and cheese and crackers and grapes and olives and salsa and brownies. But is that enough? Oh no, I forgot to buy cocktail napkins!

9. I can't believe I diligently emailed everyone yesterday to confirm they were still coming, and everyone responded yes, and already today two people have canceled.

10. Why couldn't it be Emily — who has never heard a juicy tidbit of gossip she wasn't itching to share — who's not coming?

11. Was Kristin Hannah's The Great Alone really a good choice? I mean, it's a coming-of-age story that is set in the '70s in rural Alaska. Can this truly sustain a thought-provoking discussion?

12. Remember that time we read Kathryn Stockett's The Help? Tara was so creative, pairing the discussion with Southern-style dishes like turnip greens and buttermilk biscuits. Why didn't I think of that?

13. Do I have enough wine?