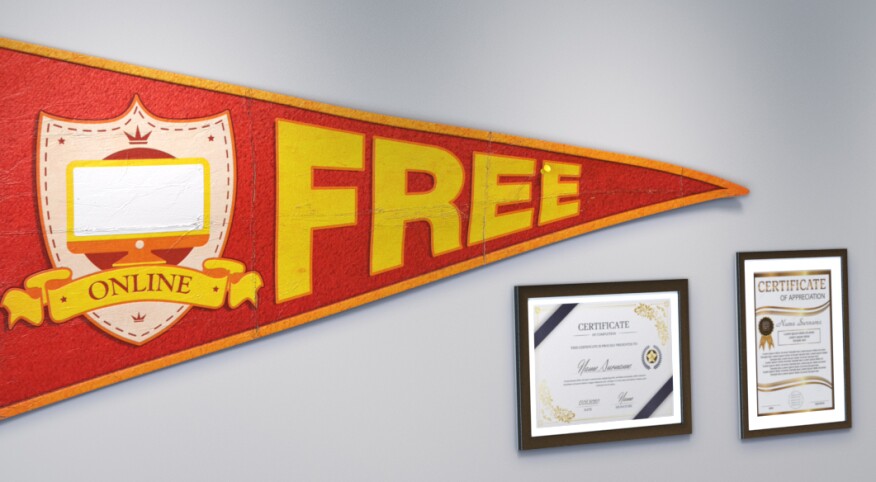 Have you already mastered the art of baking bread (if you could find yeast)? Organized your junk drawers, closets and garbage bins? Well, it's time to tackle the things you've always wanted to learn about, but never had time.

Schools, museums and a host of other places are offering — free — online classes. No catch!


What: Women Making History: Ten Objects, Many Stories
Where: Harvard University
Why: Women are still fighting for equality.
Description: This eight-week course explores how women have pushed boundaries and shaped history in the last century. You'll have unique access to 10 historic items in the Schlesinger Library on the History of Women in America.


What: Modern Art & Ideas
Where: Museum of Modern Art (MoMA)
Why: Your modern and contemporary art immersion has been lacking of late.
Description: A five-week course that explores art through the themes of Places & Spaces, Art & Identity, Transforming Everyday Objects, and Art & Society. The coursework includes interviews with artists, designers and curators.


What: Success
Where: University of Pennsylvania and Wharton School via Coursera
Why: I mean, how do you pass up a class on success?
Description: Taught by Wharton Professor G. Richard Shell, an award-winning author and the creator of the popular Wharton School course on the meaning of success, this class "was designed to help you define what success means to you, and to develop a plan for achieving it."


What: Music for Wellness
Where: Berklee College of Music
Why: You already have a song in your heart.
Description: Find out the science behind why the music you listen to makes you feel happy and reduces stress through a course that marries Eastern and Western philosophies. You'll create music, dance and learn techniques to use music as a coping and wellness mechanism.


What: Shakespeare's Life and Work
Where: Harvard University
Why: You still get moved by, "What light through yonder window breaks …"
Description: This Harvard online course taught by Shakespearean expert Stephen Greenblatt, the John Cogan University Professor of the Humanities at Harvard, will make you fluent in all things Shakespeare: his life, how his body of work relates to today, and his plays' historical significance.


What: Everything About Orchids
Where: Longwood Gardens
Why: Once orchid blooms are gone, they sure are hard to revive.
Description: Learn tricks to keep your orchids beautiful and even plant them in your garden via video learning and an interactive discussion with professionals and students who love this beautiful flowering plant.


What: Vegetable Gardening
Where: Oregon State University
Why: There's no time like the present to get your kale and tomatoes planted for summer bounty.
Description: This straightforward set of videos will help you choose the best place for your vegetable garden, how to prep and plant, and how to address common possible pest and disease issues. The course is four to six hours. One caveat: The intro to the Oregon Master Garden Program is free; other courses cost $45.


What: Buddhism and Modern Psychology
Where: Princeton University
Why: Answering "does the self really exist?" is the only incentive we need to download this course.
Description: "Can meditation make us not just happier, but better people?" Learn about Buddhist philosophy of meditation and how it relates to today's fascination with mindfulness.


What: Quarantine Cooking with Joanna Gaines
Where: YouTube
Why: Ever hear of the Midas touch?
Description: Joanna shows you how to make Gaines family favorites in YouTube videos. Think the three Cs: chocolate chip cookies, chili and cake. Yum.


What: Sharks!
Where: Cornell University
Why: Calling all Shark Week fans! Learn what's behind the umpteenth rows of teeth.
Description: Cornell teams up with the University of Queensland (Australia) to bring us all things sharks. You'll learn about their history, habitat, ecological role and human impact in this four-week class.


What: The Psychology, Biology and Politics of Food
Where: Yale University
Why: The impact of the coronavirus on the food industry — including farming, restaurants and grocery stores — is going to be a hot topic in the coming months. Get the inside scoop.
Description: Educate yourself on everything from eating as a social experience to GMOs to food advertising and food insecurity.


What: Transform Your Money Mindset
Where: Clever Girl Finance
Why: Whether the economic slowdown is causing hardships or opportunity, take some of your quarantine time to achieve your financial goals.
Description: Clever Girl starts with gratitude. Be thankful for what you have — whatever it is — and go from there. You'll assess your financial picture and choose the right budgeting method for you.


What: Kitchen Knife Skills
Where: Chef Brendan McDermott
Why: Making dinner is faster and easier if you know how to chop, dice and slice properly!
Description: Chef Brendan McDermott takes you through the four main techniques of cutting (low, high, horizontal and pull) in this online video. In under an hour, you'll feel more confident taking on onions and butternut squash.


What: COVID-19 Contact Tracing
Where: Coursera
Why: Knowledge is power.
Description: Interested in how to help during the coronavirus pandemic? Johns Hopkins University will teach you the basics of the disease; how to stop the spread of it with contact tracing, isolation and quarantine; the ethics of tracing; and effective communication skills.


What: Guitar Lessons
Where: Justin Guitar
Why: Playing the guitar is just cool. Also, you probably have one as a dust collector in a spare room.
Description: Australian Justin Sandercoe offers hundreds of beginning guitar lessons and songs on his free site. Learn basic chords, strumming and techniques, without a huge commitment. Plus, that Aussie accent!


What: The Science of Happiness
Where: University of California, Berkeley
Why: Pharrell Williams and Bobby McFerrin just can't be wrong.
Description: Explore "the roots of a happy and meaningful life" in this wildly popular science-based course about positive psychology. Discover "what does happiness mean to me?" and learn how to increase it in your own life. Hint: It's about connecting with others and your community, and, ahem, being nice.


What: Introduction to Classical Music
Where: Yale University
Why: Classical music has an innate way of calming the soul.
Description: Craig Wright, a professor of music, takes you on a melodic journey from the Middle Ages to Postmodernism and Minimalism, plus every stage in between: Baroque, Classic, Romantic, Modernist and more! You'll learn how composers make you feel through the use of certain chords, plus the instruments that play them.


What: Foreign Language
Where: Duolingo
Why: You want to be able to speak Spanish in Ibiza when you book that trip the minute you can start flying again!
Description: Learn pretty much any language you can think of on the Duolingo website or app. Choose from five, 10, 15 or 20 minutes a day. Their proven techniques of teaching foreign tongues will have you saying, "Si, por supuesto!" when offered a second glass of rosé at the chic Cala Bassa Beach Club. De nada.


What: Cooking with Chef Ludo
Where: Instagram Live
Why: This is the time to up your kitchen game.
Description: Chef Ludovic Lefebvre of Los Angeles' Petit Trois fame takes us on French bistro cooking lessons in the comfort of our own homes. Think escargots, ratatouille and sole meunière. Prepare for butter and deliciousness. Follow @chefludo for ingredient lists and IG live times.


What: Yoga
Where: Yoga with Adriene
Why: You've tried yoga and you have friends who rave about it, but you get bored holding poses or can't see the point of spending time "exercising" this way.
Description: Adriene has classes specifically geared toward beginners, and the testimonials are fierce. Move from her beginner videos to a 30-day series. The mind-body connection and coming back to your breath allow you to deal with the stressors of the coronavirus.