When I bunked with my parents for six months during the pandemic, I regularly woke up with a sense of dread. I sensed that my mental and emotional state was on the verge of change. It was only a matter of when, not if. Finally, on my last night, my mom lowered the boom. "Mara," she implored. "You need to go into the basement."

In high school, a marching order to go into the basement meant cleaning up from the party I organized the night before. But as the decades wore on, the space evolved into one big fluorescent-lit storage center for my stuff. It's possible that I saved nearly every piece of paper that ever touched my hands in the 1990s — along with clothes, accessories, movies, CDs, magazines, books and miscellaneous goodies. Because I've lived in a series of shoebox-sized New York City apartments (unlike my house-dwelling brother and sister), my mom let me keep everything on the premises. No more. At long last, I had to edit the remnants of my youth.

I walked down the creaking steps with garbage bags and a heavy heart. It's not like I was a homecoming queen in high school; heck, I doubt the homecoming queen even knew my name. And in college, I only stuck to my quirky circle of friends. But I'm deeply sentimental when it comes to my formative years. I never kept a diary, so my collection of artifacts always represented who I was and where I came from. Somehow I could justify that keeping an Entertainment Weekly with the "Men of Melrose Place" on the cover led to me becoming an entertainment journalist years later.

At least, that's what I told myself as I unearthed the magazine from one of the many plastic bins. I leafed through it, barely able to read the small type on the pages because my eyesight was now decidedly middle age. I tossed in a white garbage bag and felt … oddly liberated. I had gone this long without using it, I rationalized, so how could I possibly miss it? This was my philosophy as I pored over all the other items, from my political science paper on the 1996 presidential election to the front page of the local newspaper the day O.J. Simpson was found not guilty to the frayed-edged poster of the movie Speed. Only the truly treasured personal items made the trip back with me to Manhattan.

Now it's your turn to do a '90s nostalgia purge. I'm not suggesting to scrap your varsity jacket or your autographed copy of Tuesdays with Morrie. But letting go — whether it's selling memorabilia on eBay or filling up the circular file — is the right thing to do. Remember that if you value everything, then you value nothing. (And thanks to the wonders of technology, many of your '90s favorites have gone digital, anyway.) I promise your memories — not to mention your heart — will go on.
25 Mementos From The '90s You Should Finally Toss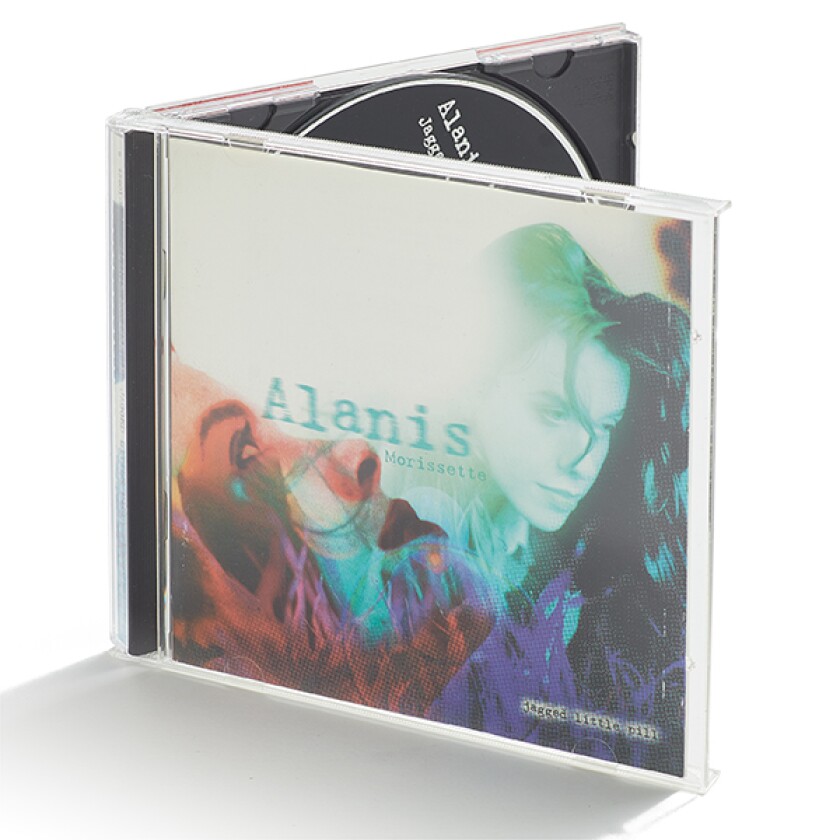 Alanis Morissette, Jagged Little Pill
Jeff Elkins
Cell Phone
Alamy Stock Photo
Scream, Pulp Fiction and Clueless VHS tapes
Jeff Elkins
Beanie Babies
The Washington Post via Getty Images
Rock Station bumper stickers
Jeff Elkins
Absolut Vodka Pop Art Poster
Jeff Elkins
TV Guide featuring Friends
TV Guide/Courtesy Everett Collection
Wheaties box featuring the "Magnificent Seven" gymnastics team
Jeff Elkins
A Time to Kill by John Grisham
Jeff Elkins
Steve Madden Slinky Shoes
Courtesy Steve Madden
Z Cavaricci jeans
Courtesy Etsy
Shannen Doherty wearing a black velvet choker
Ron Galella Collection via Getty Images
Baby Blue Jean Jacket (not GAP brand)
Alamy Stock Photo
The musical 'Rent' in New York City
The LIFE Picture Collection via Getty Images
LeSportsac wallet
Jeff Elkins
Columbia sweatshirt
Courtesy Crys Vintage Shop/Etsy
Oakley Sunglasses
Courtesy dDushy shop/Etsy
Eddie Bauer Backpack
Courtesy HERCoutureResale/Etsy
Super Nintendo
GamesMaster Magazine/Future via Getty Images
Courtney Love wearing a babydoll dress at the 1994 Reading Festival
Getty Images
Blockbuster Membership card
Alamy Stock Photo
Floppy disks
Alamy Stock Photo
Yellow Neon Fanny Pack
iStockphoto
Tie-dyed Wall Tapestry
Jeff Elkins
Planet Hollywood baseball cap
Jeff Elkins
1. Your Jagged Little Pill CD with the cracked cover — along with the 5-disc CD changer with the detached speakers that your boyfriend hooked up for you

2. Your clunky first cellphone

3. Your VHS copies of Pulp Fiction, Clueless and Scream

4. Your dusty Beanie Baby collection

5. The bumper sticker that promoted your local alt-rock radio station

6. The rolled-up Absolut Vodka pop art poster that once hung up in your dorm room

7. The TV Guide issues with the Friends cast on the cover (but save a few copies of Sassy!)

8. The commemorative Wheaties box with the "Magnificent Seven" gymnastics team from the1996 Summer Olympics

9. Your paperback copies of Jurassic Park, A Time to Kill and The Deep End of the Ocean

10. Those chunky open-toed Steve Madden shoes

11. The Z. Cavaricci pants, all styles

12. The choker necklaces you bought because Brenda Walsh wore them

13. The baby-blue denim jacket from the Gap

14. The yellowing "Will You Light My Candle?" T-shirt you got after seeing Rent for the first time

15. The LeSportsac wallet filled with high-school senior photos of girls whose names you can't even remember

16. The two-sizes-too-big Champion hoodie in teal green

17. Those frog-eyed Oakley sunglasses

18. The musty blue Eddie Bauer backpack that got you through college

19. Your broken Nintendo Entertainment System console

20. The floral babydoll dress from your Courtney Love phase

21. Your Blockbuster Video membership card

22. Every. Single. Floppy. Disk.

23. The neon fanny pack that you proudly wore on your class trip to Washington, D.C.

24. The tie-dyed Bob Marley-inspired wall tapestry

25. The Planet Hollywood baseball cap you bought in Acapulco over spring break