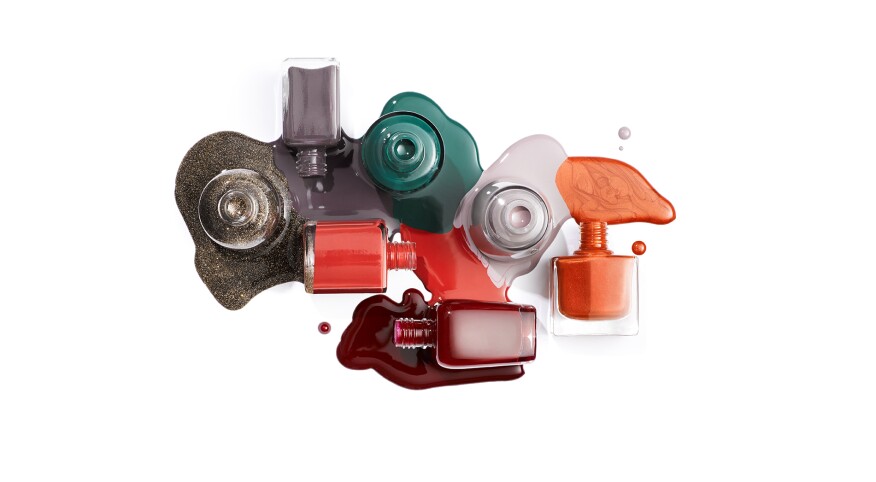 The first time I ever treated myself to a professional manicure was back in college. Several of my roommates convinced me to tag along as they went to a local salon on a Saturday afternoon. At first I thought about staying behind, but one look at my ragged cuticles told me it was probably time to let a professional take over my nail-bed care.

The minute the manicurist started massaging my hands, I was hooked. Since that day, I have spent the better part of 20 years getting regular manicures and pedicures.

Back in the day manicures were simple affairs: The tech cleaned up your cuticles, filed your nails, soaked your hands and polished your nails to a lustrous finish that barely lasted three days, if you were lucky. And, if you were like me, it was less time than that: I'd inevitably smudge my nails while digging daintily for my keys or when I'd put my car in drive.

About 10 years ago, I was in a salon with my mother-in-law when one of the manicurists suggested a "gel manicure." Different from a regular manicure, gel nail polish is applied with the help of an ultraviolet light in a somewhat lengthy process. The manicurist paints each finger with special polish that is then "cured" under UV light. The result is astonishing: A gel manicure can last for two weeks or more!

Again, I was hooked. I mean, the savings alone was fantastic: I could cut down to two manicures a month and my nails looked great all the time. And though the idea of subjecting my nails and the skin on my hands to UV light regularly bothered me a little, I pushed the worries from my head.

Then I recently read an article about a woman who developed melanoma on her nail bed that was attributed to years of UV light applied during gel manicures. In an article on Today.com about the woman's case, Vishal Patel, M.D., assistant professor of dermatology at the George Washington University School of Medicine and Health Sciences in Washington, D.C., said, "It's like tanning beds for your hands," when referring to the ultraviolet lights used in most nail salons.

Yikes, ladies.

After reading several more articles about cases of nail melanoma on the rise, I decided that skin cancer is already hard enough to avoid with sunscreen, big hats and long sleeves, let alone directly applying potentially harmful ultraviolet light directly to my hands.

Though I was bummed to give up nail polish that kept my nails looking glossy for weeks at a time, I was determined to find an over-the-counter alternative. Because, let's face it: Dishpan hands are a thing, and they just look prettier with fresh polish, right?

Here are the three systems I've found that are inexpensive and last awhile:

OPI Infinite Shine System
This one is, admittedly, my favorite home gel system. You simply buy a primer, an OPI color and a top coat. The primer and the top coat come in a set for about $20 and the color (labeled Infinite Shine 2) is about $9. I can report that I've used several colors with this system and, ladies, brace yourselves: The polish really lasts for 10 days (11 or 12 if you aren't picky about a few chips here and there). Seriously, go try it. And total bonus: Everyone knows OPI has great nail polish names.

Sally Hansen Miracle Gel
As far as gel systems go, this one is pretty good and works well if you need a manicure that will get you through a long weekend. Though it's not quite as durable or long-lasting as the OPI one, Sally Hansen products are inexpensive and readily available at big-box stores and drugstores. The system requires only the color and top coat, so you don't have to buy a primer. For about $20, you can buy the gel top coat and a pretty color that will last about five days.

Revlon Colorstay Gel Envy Nail Polish
What I love, love, LOVE about this home gel polish is that it dries fast (like, really fast). And we've all been there: It's 6:45 in the evening, your sitter is coming at 7:15, and your husband is giving you the stink eye to hurry up for date night. Two coats of Colorstay polish and a swipe of the top coat will be dry in 10 minutes flat. However, don't expect to get much longevity out of this polish: It has lasted about three to four days — at best — for me. But the fast-drying component means I'll always keep a few bottles of basic red in my stash for those time-crunch nights.

Though I miss the luxury of a hand massage and a professional who caters to my cuticles, the peace of mind that I'm not exposing myself to harmful UV rays is more relaxing to me. And not to worry: Only professional help can save my toes, so a pedicure will always be on my self- care list. UV-light free, of course.