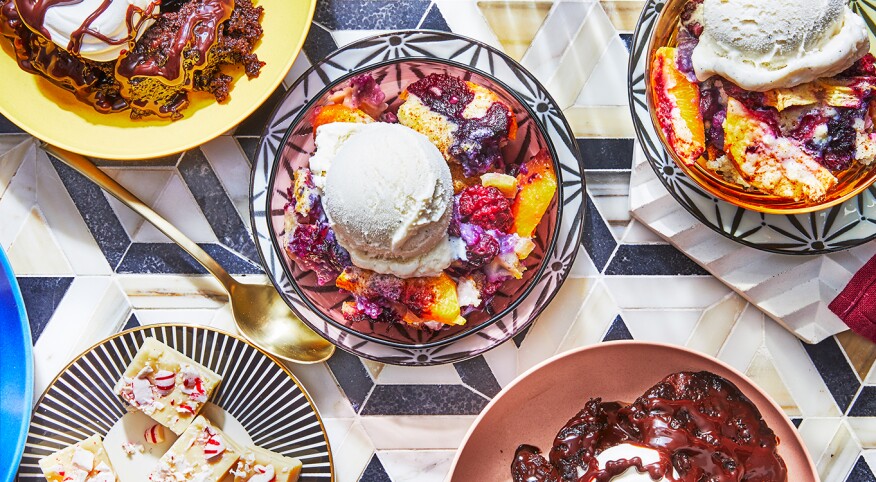 3 Desserts You Can Make In The Crockpot

My life changed the day I realized you could make desserts in the crockpot. I was hosting Easter dinner and my oven was already full of ham and vegetables, my stove top was busy with two pots of potatoes, and I realized I didn't have time to get my carrot cake in the oven before everyone arrived.

I was kicking myself for not making it the night before and contemplated mixing and measuring while my guests sat and relaxed but I knew once I sat down to eat, I wouldn't want to get back up again and make one more thing.

I quickly grabbed some of my cookbooks and googled "Easy Carrot Cake." Low and behold I came across a recipe for Carrot spoon cake and decided to give it a try. It was such a relief to know I could dump all the ingredients in the crockpot and let it cook away while we ate. The house smelled amazing and honestly, my favorite part was the fact I didn't have to try and make my cake look beautiful, frost it, or cut individual pieces. Everyone said it was the best carrot cake they'd ever had and from that moment on I vowed to never kill myself trying to make a dessert.

Crockpot desserts are great for those warm days when you don't want the oven on or you want something fast and easy you can throw together before leaving the house. They are also great for the holidays when your oven is already maxed out but you'd like to prepare a sweet treat. Not to mention a crockpot dessert always comes out moist and wonderful.

Here are three crockpot desserts you must try, even if you don't think you know how to bake.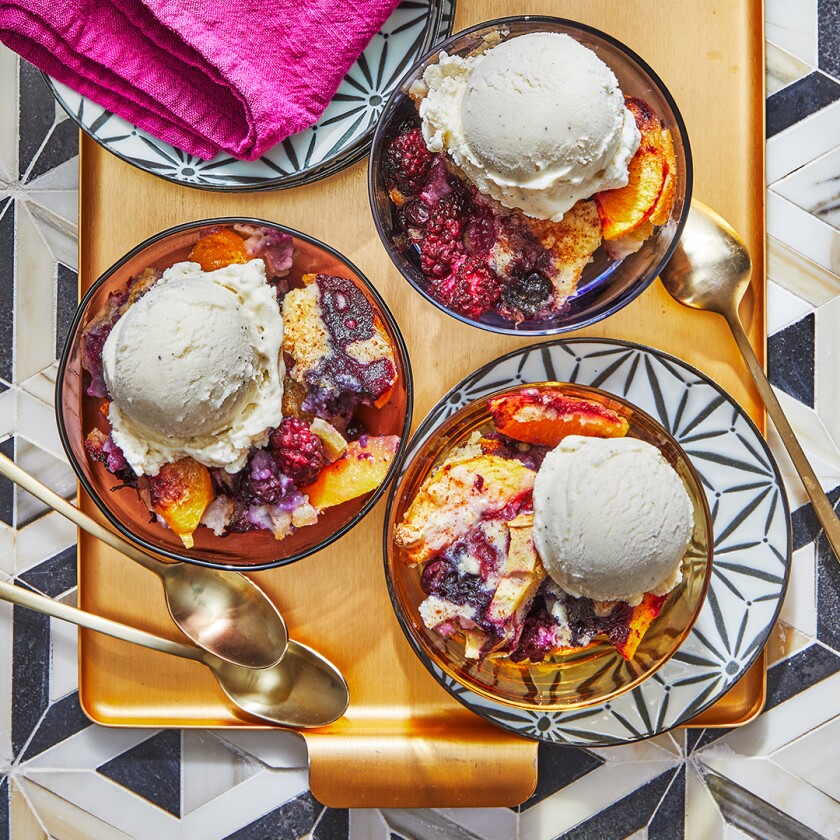 Fruit Cobbler

Serves 8

You can't go wrong with a fruit cobbler. It's a wonderful dessert to have all year round but especially when your fruit of choice is in season.

Ingredients:

3 cups chopped skinless fruit (like apples or peaches) or berries

1 ¼ cup all-purpose flour

1/2 cup sugar

1 1/2 tsp baking powder

1/4 tsp cinnamon

1 tbsp cornstarch

1/2 tsp salt

1 tsp vanilla

4 tbsp butter

1 cup milk (substitute half and half for a richer dessert)

In the crockpot, layer ingredients in this order:

Berries or fruit

Cornstarch

Sugar

Butter

Toss all ingredients well.

For the cobbler layer, you will mix the flour, sugar, baking powder, and salt in a bowl. Then, stir in the milk, vanilla extract, and melted butter. It's supposed to be lumpy so make sure you don't over mix.

Spread layer over fruit in the crockpot.

Sprinkle a few pinches of cinnamon and sugar over the top of the batter and cook on high for 2 hours and 30 minutes with the lid on.

When it's done cooking it can be served immediately with the ice cream flavor of your choice or whipped cream.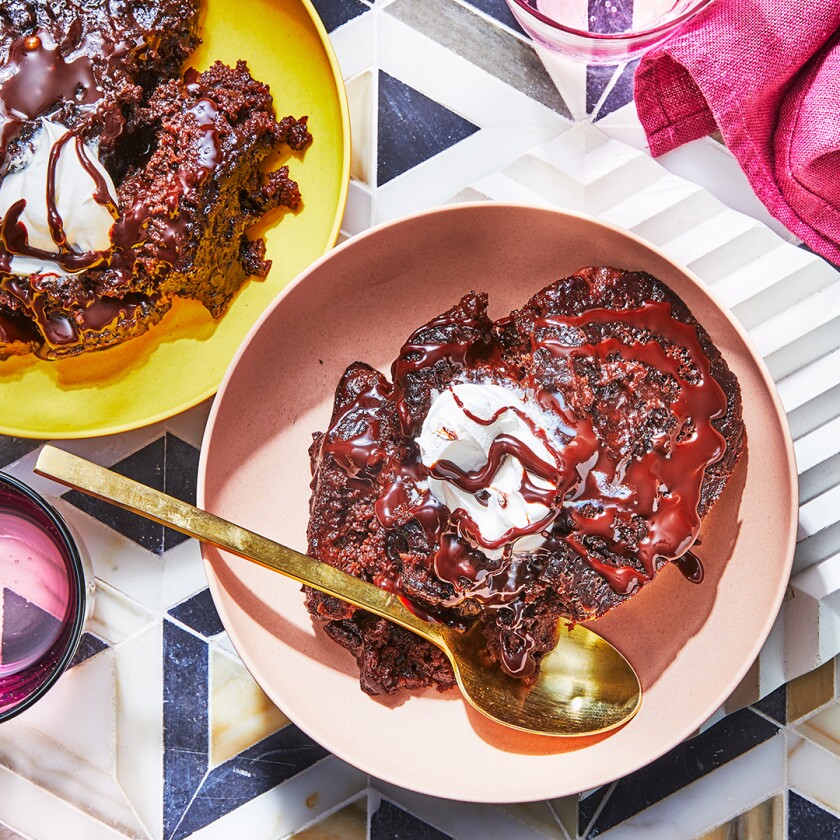 Chocolate Spoon Cake

Serves 8

Who doesn't like a gooey chocolate cake? The best part of this recipe is you don't have to worry about presentation and it comes out decadent every time.

Ingredients:

Cooking spray

1 15.25 chocolate cake mix of your choice

2 cups sour cream

4-ounce instant chocolate pudding mix

3/4 cup vegetable oil

4 large eggs

1 cup water

1 cup semi-sweet chocolate chips

Spray your crock-pot with cooking spray.

In a large bowl combine the first six ingredients and stir until well combined.

Stir in chocolate chips.

Pour batter into a crockpot and cover.

Cook on low for 4-6 hours or until the cake springs back to the touch.

Serve when done and add your favorite toppings: whipped cream and chocolate sauce is heavenly.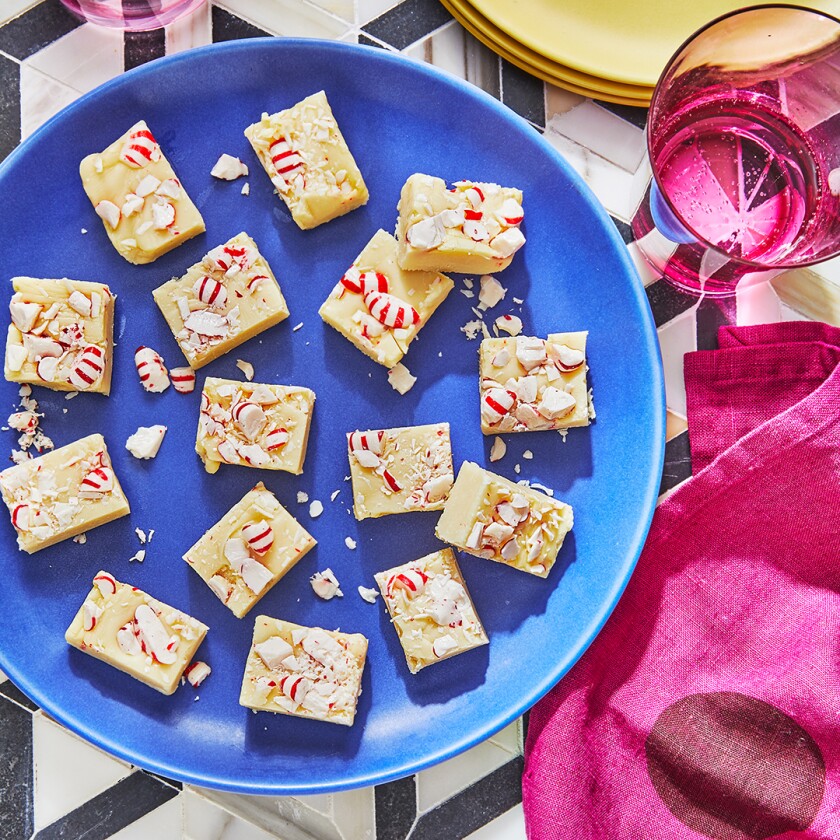 Peppermint-Vanilla Crockpot Fudge

Makes about 15 servings depending on the size of the fudge pieces.

This is a great candy to make around the holidays. You can also swap out the candy canes for ½ cup of sprinkles or nuts.

Ingredients:

10 ounces white chocolate chips or melting wafers

2/3 cup sweetened condensed milk

2 tablespoons butter

2 teaspoons vanilla

3 crushed candy canes

Add white chocolate, sweetened condensed milk, butter, and vanilla to your Crockpot. Place on high heat for about ten minutes or until melted.

Stir and top crock pot with lid for fifteen minutes or until you see a slight film or crust at the top.

Stir again, top with lid, and wait fifteen minutes until you see the film again.

Stir until smooth and pour into a greased bread loaf pan.

Top with crushed candy canes.

Store in an air-tight container until firm and cut fudge into desired shapes.

Fudge will last in the refrigerator for up to two months.