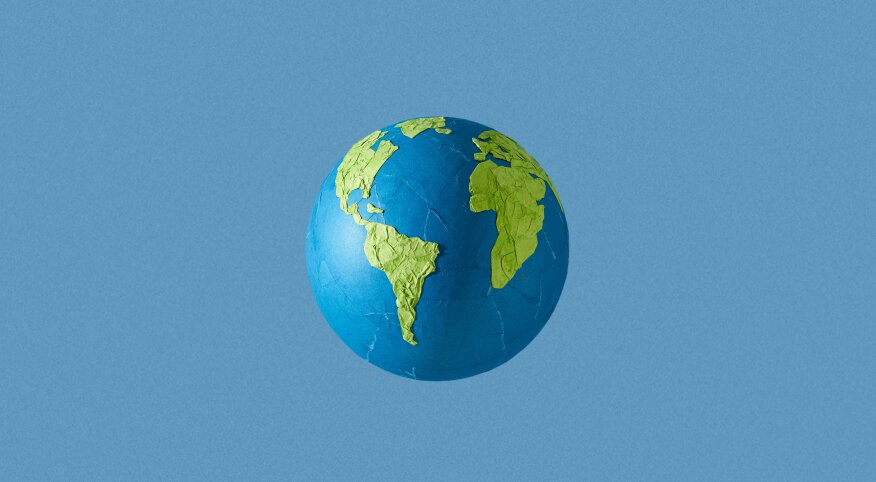 Global warming is an existential crisis facing humanity, and you want to be part of the solution. And yet, it's easy to feel incredibly helpless. You recycle as much as possible, but have little control over where the products in your blue bin eventually end up. So here are a few ways you may be able to reduce the amount of waste generated each day.

Stop using (or reduce your use of) commercial gift wrap. Who made the rule that special presents must be presented in colorful, festive paper? Why not wrap gifts in items you were already planning to recycle, like paper bags or clean yogurt containers?

Sure, your friend or family member might be a bit confused at first, but every time you skip the fancy wrapping, you'll reduce waste. And if your pals started doing the same thing, and then their friends, etc., well, it could become a thing. What a difference that could make worldwide, especially during the holiday season.

But if that idea feels too strange to you, perhaps you'd consider purchasing a pretty scarf from a local thrift store for a dollar or two (about the same price as a gift bag) and wrapping your gift in that? Then, your recipient would receive two gifts, and they could choose to keep the scarf or pass it on. And speaking of thrift stores …

Buy secondhand clothing whenever possible. Remember when thrifting meant dusty stores that smelled faintly (or not so faintly) of mildew? Well, if you haven't explored secondhand clothing options in the past few years, do yourself a favor and take a look. Things have changed.

These days, secondhand wear is big business for several reasons. First of all, brand-new clothes — especially well-made ones — are expensive, so why not save some cash? Recently, I bought a pair of jeans selling for $180 in a major department store for about $30 on a secondhand website. And honestly, they look and feel totally new to me. A secondhand website, you ask? Yes! You may be familiar with eBay, but have you seen thredUP, Poshmark, Swap.com, Vinted, Tradesy or any of the other online spots that sell quality, gently used clothes at a fraction of their original price? All these sites allow users to filter items by size, brand, style, color and other factors, and offer generous return policies.

Imagine that: It's a chance to buy exactly what you want while saving significant amounts of money. But wait, there's more! Buying secondhand helps to reduce the extreme amount of waste and pollution generated by the garment industry, which is one of the worst offenders in our environmental crisis.

Finally, perhaps you have enough clothes and aren't thinking about gifts right now. Well, here's one last suggestion, and although it's not particularly new, most of us can improve in this area.

If/when you pack lunches, try reusable containers. For years, I made my kids school lunches like this: sandwich in a plastic baggie (tossed out after one use), snack in another plastic baggie (also tossed), and an individually packaged dessert. And to top it off, I'd pack it in all a paper lunch bag that ended up in the trash. So much waste each day, most of it avoidable if I'd availed myself of reusable containers.

These days, I try hard to stay away from single-use plastics. It's not always possible, but thankfully, lots of stores sell reusable lunch-container options. Yes, the packing and washing take a few extra minutes, but it's a step in the right direction. And if you give this idea a fair chance, you might be surprised to find your lunchmates following your example.