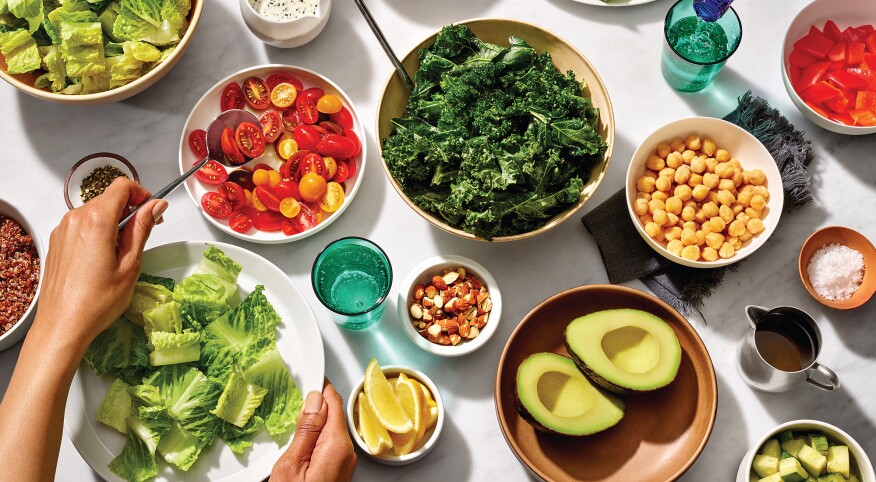 "Eat your salad first," my parents would say when we sat down together. I'd look down at a plate of limp iceberg lettuce with a few springs of carrot shavings and a mushy sliced tomato, all slathered in a store-bought Italian dressing and think, Ugh, do I have to eat it?

That was my childhood introduction to salads. Bland, dull, uninspired and something you needed to eat to get to the actual meal. But now salads are the main event. Green, leafy vegetables have many health benefits, including being high in fiber and nutrients while also being low in fat and calories. And while the '70s mainstay iceberg lettuce is still around, now there are tons of options for leafy bases, including romaine, arugula, kale, spring mix and spinach.

When it comes to salads, don't be afraid to have fun and experiment, says salad guru Darlene at the Salad Lab. "The key to creating fabulous salads that taste delicious is to use the freshest produce you can find," she explains. "Although bagged lettuces are convenient, it's better to use locally grown organic greens when possible. The cleaner, the better."

For inspiration, go seasonal. Summer fruits like peaches and blueberries work well with vegetable-based salads. Roasted root vegetables add a heartiness to winter salads. If you find yourself still hungry when you eat a salad as a meal, try adding in a protein like quinoa or sliced eggs to make it more filling.

As for dressings, less is more. "It doesn't take that long or that many ingredients to make a homemade dressing, and it is so much better than bottled," Darlene says. "Be aware of the type of lettuce you are using. Kale needs to be massaged with dressing in advance, but other leafy vegetables can go limp if overdressed or you put on the dressing too long before serving."

If you are still looking at your salads and stifling a yawn, here are three of her recipes that will take your greens game from ho-hum to mmm-yum!

Hudson Department Store's Maurice Style Salad

People have asked Darlene to recreate this department store favorite from their childhood. While Hudson's may be gone, this crowd-pleasing salad can still be enjoyed.

4 meal-size servings

Ingredients for salad base

Thinly sliced head of iceberg lettuce

1½ cups julienne sliced smoked turkey

1½ cups julienne sliced smoked ham

1½ cups julienne sliced Swiss cheese

¾ cup coarsely chopped sweet gherkin pickles (optional)

¾ cup pimento-stuffed green olives

Ingredients for dressing

Whisk together:

1 teaspoon white wine vinegar

1 cup mayonnaise

1 finely chopped hard-boiled egg

2 tablespoons parsley

½ teaspoon sugar

1 teaspoon whole grain mustard

½ teaspoon onion juice

½ teaspoon salt

2 tablespoons finely chopped onion

1 tablespoon finely chopped gherkin pickle

Toss and serve. You can double the recipe if you like a lot of dressing.

Goop Style Sweet Potato Salad

Even if some of the items on the Goop site are financially out of reach, this salad inspired by Goop founder Gwyneth Paltrow is just a few chops away.

4 meal-size servings

Ingredients for salad base

8 cups thinly sliced Red Curly kale and Dino kale (massage in the dressing)

2 cups quinoa cooked in vegetable stock (or coconut water)

2 cups roasted sweet potatoes

½ cup torn fresh mint leaves

Ingredients for dressing

Whisk together:

¼ cup extra virgin olive oil

Juice of 2 small lemons

Zest of 2 lemons

2 cloves of crushed garlic

¼ teaspoon cumin

Massage kale with some of the dressing. Add together rest of base ingredients, and toss with additional dressing.

Sesame Chicken Salad

This salad inspired by Kylie Jenner has been viewed 12.5 million times on Salad Lab's TikTok. If it's good enough for a Kardashian, it's probably worth a try!

4 meal-size servings

Ingredients for salad base

Toss:

4 cups torn butter lettuce

4 cups chopped romaine or baby gem lettuce

2 cups thinly sliced red cabbage

¾ cup chopped green onion

1 cup toasted slivered almonds

½ cup black and white toasted sesame seeds

1 chopped rotisserie chicken

¾ cup chopped cilantro

Ingredients for dressing

Whisk together:

4 tablespoons rice vinegar

2 teaspoons toasted sesame oil

2 tablespoons soy sauce

6 tablespoons tahini

4 teaspoons brown sugar

½ teaspoon flakey sea salt

¼ teaspoon white pepper

Toss and serve.