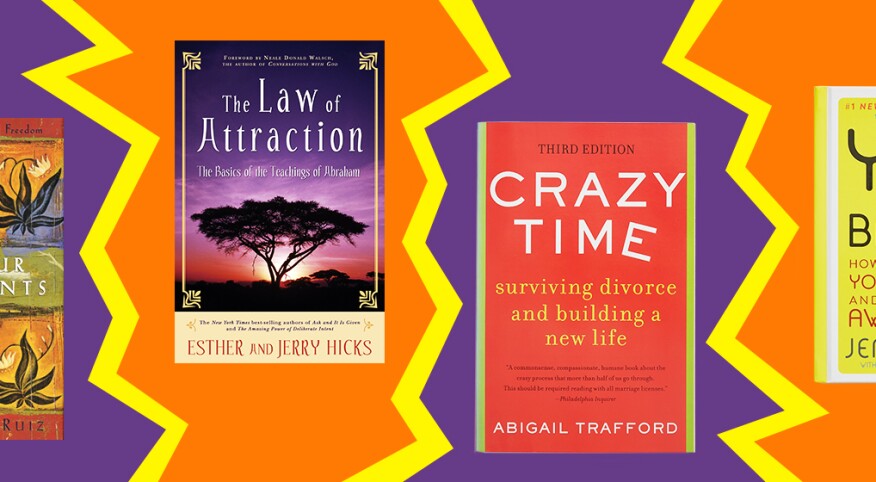 I turned to reading while I was going through my divorce, and I can honestly say — four years later — nothing helped me as much as reading every night before I went to bed. Not only did it help me sleep, but I genuinely felt like I was taking care of myself and moving forward.

I have reread a few of these and can tell you they all have dog-eared pages and lots of highlights and notes. There were so many passages that stood out to me and helped me remember who I was and what I was capable of as I faced this new chapter in my life.

You Are a Badass: How to Stop Doubting Your Greatness and Start Living an Awesome Life

Jen Sincero

This book spoke to me in so many ways. Sincero helps you tap into your own superpowers (that we all have) and her writing is to the point, witty and funny. It put a smile on my face every day, and helped give me the power to change my thoughts about my life and put a positive spin on what was happening to me.

Sincero came by her success honestly and talks openly about how she didn't tap into her potential until later in life. She shares exactly how she did it. This book was on the New York Times best-seller list for over four years for a reason. I recommend it to everyone I know, but especially to those going through a divorce.

Crazy Time: Surviving Divorce and Building a New Life

Abigail Trafford

A friend recommended this to me about a year after my divorce. I was finding myself stuck and doubting my decisions, and was overwhelmed with guilt. She told me this would help me understand what was going on with me and normalize my feelings.

It did exactly that. I read the whole book in a few days while on a solo vacation. I was so enthralled, as the author takes you through real-life couples who had gone through a divorce. Their entire journeys are charted from marriage to divorce to starting a new chapter. Trafford was able to describe exactly what I was feeling, which made it easier to move on.

The Law of Attraction: The Basics of the Teachings of Abraham

Esther and Jerry Hicks

This book has been circling for a long time. I'd always wanted to read it, but it wasn't until after my divorce that I felt like I really needed to read it. It's funny how a really tough time can motivate you into finally pulling the plug on something you don't do in your life if sailing along.

While not everyone believes in the power of your thoughts, I certainly do. This book breaks it all down and makes it simple to understand why certain things happen to us. It also put me in the habit of thinking in a more positive way, something I have always struggled with — as I tend to think the worst.

The Four Agreements

Don Miguel Ruiz

I was dating a guy and saw this book on his nightstand. When I asked him about it, he told me his ex-wife got it for him when they were married and he never read it. He added that he wished he had because it might have saved his marriage. He now reads it a few times a year.

I ordered it right away and finished it in two nights. It is a book that will break you free of some limiting beliefs. It gives me a sense of freedom, as it explains why people do the things they do and guides you to not take things so personally.

These books aren't a step-by-step guide on how to get through a divorce, by any means. They are better than that. They make you realize you are the one who holds the power to your life and happiness. For me, they gave me a new outlook on what this next part of my life could be like if I was in the right headspace.