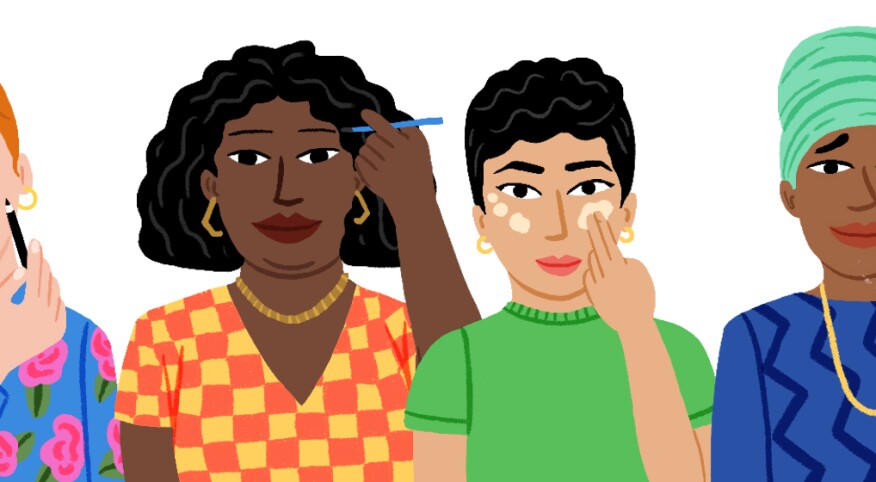 Let's make one thing clear: Aging is a natural process that should be embraced. That being said, there's no harm in wanting to keep your face looking as vibrant and youthful as possible. We get it — it is easy to fall into the same everyday makeup routine and forget about the skin changes that come with aging. But the reality is that as we get older it is important to develop a new makeup routine that caters to these changes and emulates a glowing, fresh-faced complexion. While you may think you're achieving just that with your swift makeup skills, in actuality you could be doing the exact opposite. From heavily lining your waterlines to packing on the powder, here are four of the most common makeup mistakes that are making you look older than you really are — plus, how to fix them.

Lining your waterlines too thick

A smoky lash line may be the goal, but this can quickly turn into tired-looking, bottom-heavy eyes if you're already dealing with thin, crepey skin in this area. Not to mention, it can appear as though you have more shadows underneath your eyes than you really do, which can contribute to a dull, sleepless look that we want no part of. Instead, opt for a white pencil eyeliner to add brightness and give the illusion of larger eyes. Still a die-hard fan of black eyeliner? You don't have to nix it from your routine completely — just make sure to apply a thin line on your top and bottom lash line to make it even. You can also create a flick upward at the outer eyelid, which will create lift and mask any signs of droopiness.

Skipping your brows

A thin eyebrow shape can be a dead giveaway of age. This is because as we age, our eyebrow hairs tend to get sparser, and when that's coupled with an arch-less, thin shape, it can add years to your look. Well-defined brows signify youth, but if you're not used to filling them in, go for a pencil formula (it's easier to manipulate than a cream yet doesn't require as much artistry as powder). Focus on first adding fullness by filling in any patchy, sparse areas, then work on defining the tail of the brow to tackle any issues of hair loss, which is common to experience in this area as you get older. You can also try eyebrow stencils if you're looking to alter your shape or add an arch — these are designed to help guide you on where to fill in your brows for the most flattering shape possible.

Using the wrong face primer (or not at all)

Just like wall primer makes your paint apply evenly and more vibrant, the right face primer can do the same for your complexion. There are a slew of face primers on the market — from ones that contain built-in skin care to ones that that make enlarged pores a thing of the past. Try applying a pea-sized amount of a blurring pore-filling primer in the center of your face using pressing motions, and notice how smooth your skin looks afterward. Or, opt for a primer for mature skin that's rich in coconut water or hyaluronic acid, as these ingredients are touted for their plumping abilities and create a hydrated base that's ready for foundation.

Applying too much powder

It's easy to get carried away with powder, but if you have fine lines and wrinkles, know this: Applying too much powder creates a buildup of layers that can settle into these vulnerable areas and make them more pronounced. Instead of packing on the powder, apply a lightweight dewy foundation all over the face with a damp beauty sponge and then spot conceal where necessary (for example, on any age spots or areas of discoloration). If you're oily and worried about getting a shiny T-zone come noon, try setting your makeup in place with a light dusting of translucent mineral powder versus a foundation powder, which tends to be heavier in texture and feel.