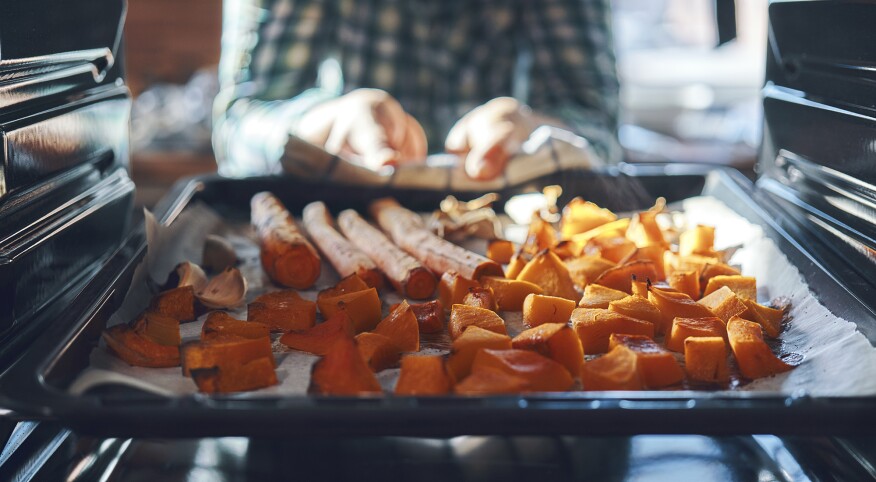 Let's face it: Turkey Day hasn't been good to vegetarians. While meat eaters gather 'round the bird, vegetarians are typically spooning canned cranberry sauce and green bean casserole onto their plates. This year, step it up a notch with these dishes that are so tasty that everyone will be sneaking bites.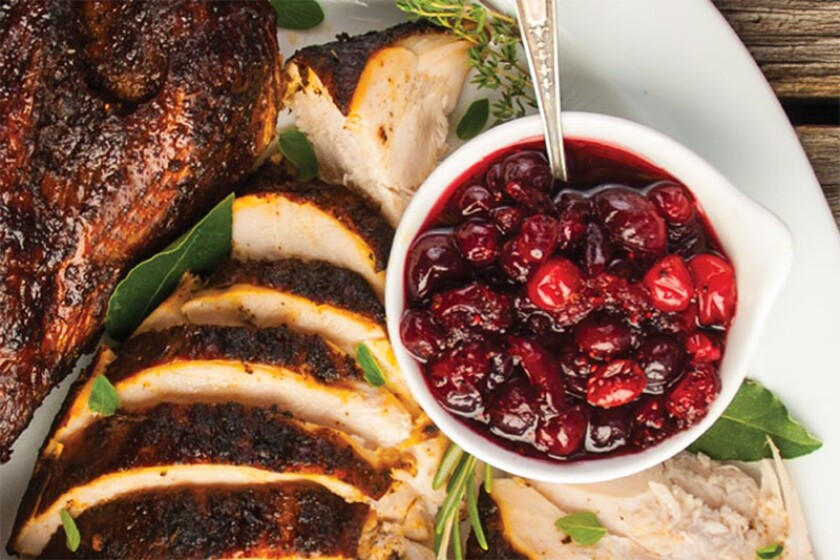 Coffee-Spiced Cranberry Sauce

—by Chef Michael Kimball, the product and food media manager for Savory Spice Shop

The coffee and cocoa-spiked cranberry sauce adds a rich flavor and a unique twist to this Thanksgiving classic, Kimball says. "Try drizzling it over roasted squash halves for veggie lovers," he says.

Ingredients

1 orange, zested and juiced

½ cup or more water

12 ounces fresh or frozen cranberries

1 cup white or brown sugar

1½ tablespoons Baker's Brew Coffee Spice

Directions

Add fresh orange juice to a measuring cup. Top juice with enough water to yield 1 total cup of liquid. Combine liquid, orange zest and sugar in a medium saucepan. Stir in cranberries and Baker's Brew. Bring to a boil then reduce heat and simmer for 10 minutes for a thinner sauce or 20 minutes for a thicker sauce. Let cool to room temperature before serving.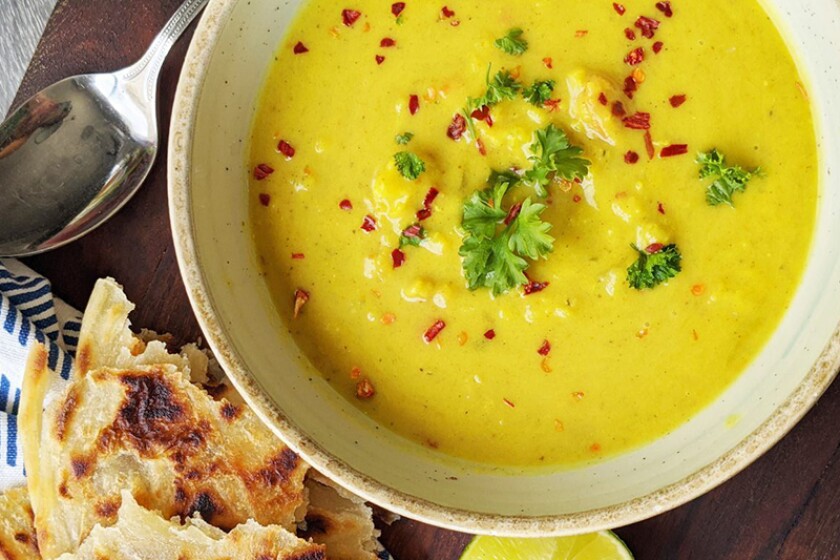 Cauliflower, Coconut and Orange Lentil Soup with Pita Bread

—by Stephanie Harris-Uyidi, producer and host of the travel show Appetite for Adventure

She describes her soup as a colorful dish that comes together by combining veggies with a wide variety of flavors, including cumin, coriander, coconut milk and ginger powder.

Ingredients

1 head of cauliflower (or 2 cups chopped)

3 tablespoons vegetable oil

1 medium brown onion, diced small

2 large stalks celery, diced small

2 large carrots, diced small

1 tablespoon coriander powder

1 tablespoon cumin powder

1 tablespoon fresh garlic, minced

1 teaspoon paprika

1 tablespoon turmeric

1 tablespoon ginger powder

2½ cups low sodium vegetable broth or water

1 can coconut milk

Sea salt and freshly cracked black pepper, to taste

1 cup red lentils, rinsed and drained

1 teaspoon red pepper flake, to taste

Optional: Whole wheat pita, and fresh cilantro for garnish

Special tool: stick blender, food processor or blender

Directions

Add the cauliflower to a large pot along with ½ cup water. Cover and cook for 5–8 minutes depending on your desired texture. Turn off the heat, add to a container and set aside. In the same pot used to cook the cauliflower, add the vegetable oil, onion, celery and carrots over medium heat. Cook until soft and fragrant, about 3 minutes. Toss in the coriander, cumin, garlic, paprika, turmeric and ginger powder and cook for another minute.

Make the lentils

Pour in the vegetable broth or water and add the lentils. Stir to combine, cover and cook for 10 minutes. The lentils should be soft. Turn off the heat and add half of the cauliflower to the pot along with the coconut milk. Use an immersion blender to mix until smooth. If using a food processor or blender, add the contents of the pot to the container and pulse until smooth, then add back to pot. Taste for seasoning and add red pepper flakes, sea salt and freshly cracked black pepper to taste.

Add the remaining cauliflower to the pot and simmer and cook for 5 minutes. The soup should be a bit chunky, and the lentils should be soft and tender. Add a little more water if the soup is too thick for your liking. Serve immediately with whole wheat pita and garnished with fresh cilantro as desired.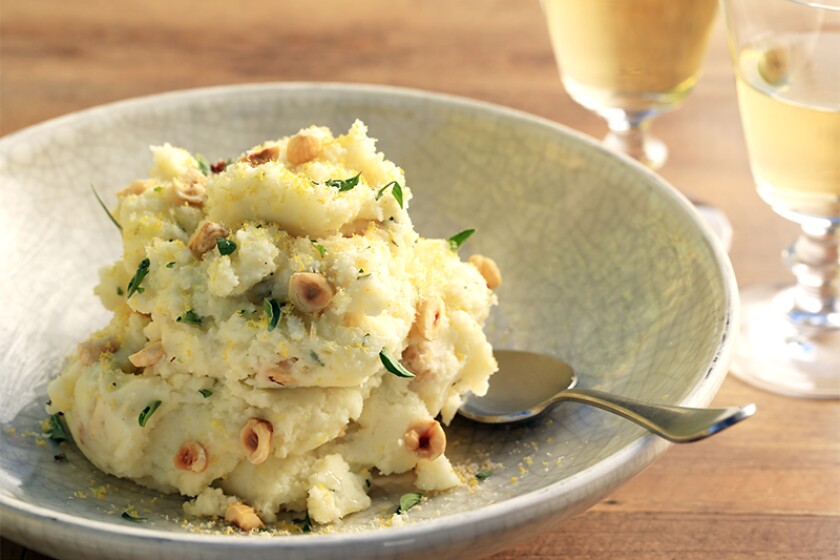 Meyer Lemon Hazelnut Mashed Potatoes

—by Todd Knoll, executive chef at Jordan Winery in Healdsburg, California

"Adding crunchy hazelnuts brings a lovely contrast to the creamy texture of your favorite recipe," Knoll says. "If you're a white wine lover, the bright citrus flavors from the Meyer lemon zest complements the crisp fruit in bright white wines like Jordan Chardonnay, while the toasted nuts and hazelnut oil highlight the wine's subtle oak nuances.

Serves 6

Ingredients

4–6 Russet potatoes, mashed

5 Meyer lemons, zested

¼ cup hazelnuts, toasted and cracked

1 tablespoon hazelnut oil

2 teaspoons marjoram

Crushed hazelnuts and lemon zest for garnish

Salt and pepper to taste

Directions

Follow your favorite mashed potato recipe to completion. Heat butter and cream together before folding into potatoes and adding salt during the fold, which ensures even seasoning, eliminates the need to reheat the finished product and decreases the risk of over-mashing. Fold in lemon zest, cracked hazelnuts, hazelnut oil and marjoram. Garnish with additional crushed nuts and lemon zest. Season to taste and serve.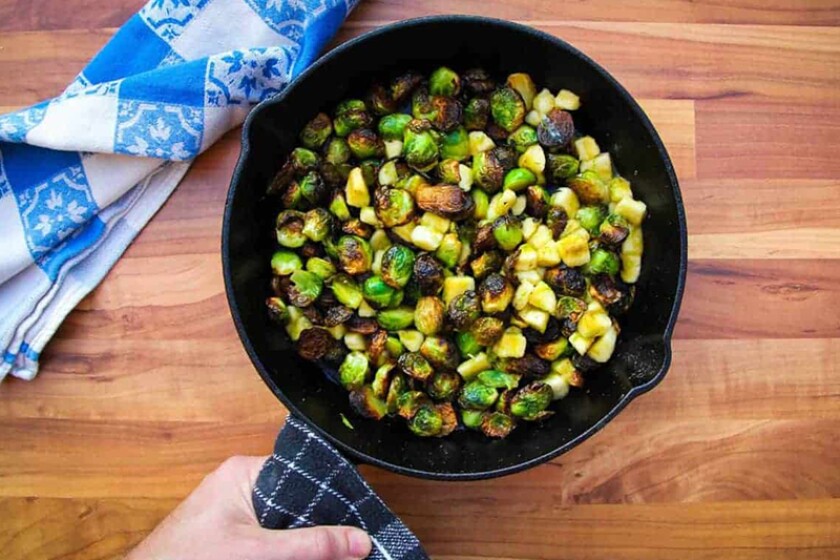 Crispy Brussel Sprouts with Banana and Lime

—by Devan Cameron, the chef and owner of Braised & Deglazed, a food-focused website

This genius idea was made famous by 3-star Michelin Chef Tim Raue of Berlin. He describes accidentally tasting banana and Brussel sprouts together while racing through the dessert and hot sections of his restaurant. To his surprise, a brand new and delicious flavor combo was born. This is Cameron's take on Raue's dish.

Serves 2

Ingredients

50 milliliters (1.69 fluid ounces) peanut oil

½ kilogram (1.1 pounds) Brussel sprouts

1 whole banana

½ piece lime zested and juiced

Salt and pepper to taste

Directions

Heat the oven to 425°F. With a small paring knife remove the small stem (careful not to go too far or all the leaves will fall off) and then cut in half. Save the Brussel leaves that fall off for something later if you want. Make sure the Brussel sprouts are very dry. Peel and cut the banana into small pieces and set aside. Zest and juice ½ the lime into the bowl with the cut bananas. Mix. Set a large cast iron pan on high heat. Add the peanut oil and wait until it is almost smoking. Add the Brussel sprouts all at once and quickly turn them on the flat side. Continue to fry the sprouts until nicely golden on the bottom. You may need to add more oil so they fry evenly. Season heavily with salt. Once the sprouts are nicely colored, put the pan in the oven to continue cooking or alternatively you can roast them on a baking tray. Roast for about 5–10 minutes until they are tender. When they are hot out of the oven add the bananas, lime zest and juice, and mix together in a bowl or on the tray.