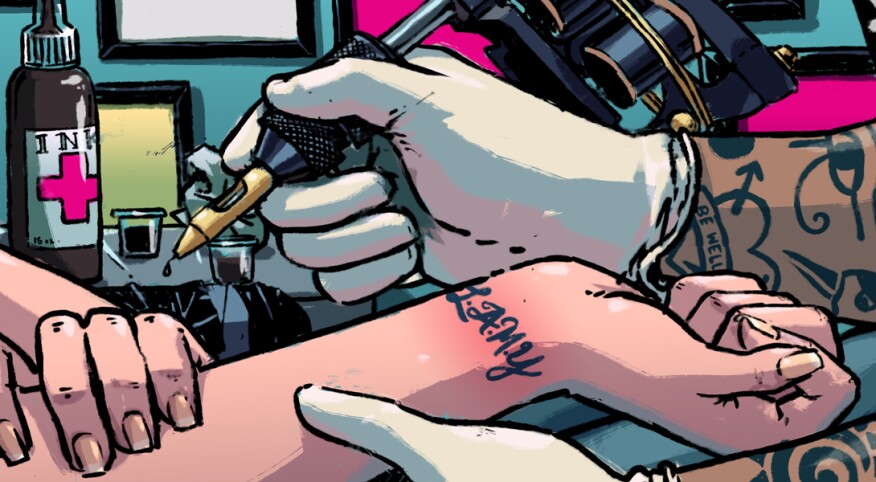 Debra Rolli got her first – and only – tattoo at 48, a year after her husband, Tony, unexpectedly passed away. "He always signed his letters, emails and texts, 'LAMY,' which stood for Love and Miss You. I found a letter he'd written me before we were married, and my daughter and I each got LAMY tattoos in his handwriting." The Muncie, Ind., resident, now 52, got inked on her wrist, "and it feels like he's still loving us, even now."

People go under the needle for all sorts of reasons, from catharsis or well-intentioned declarations of love to tequila-fueled college mistakes. These days, ink is more than mainstream; 1 in 3 Americans have one or more tattoos, up from 1 in 5 just a few years ago, according a recent Harris Poll. And it's not just octogenarian veterans with faded forearm pin-ups or hipster millennials with "Vegan for Life" renderings; 36 percent of Gen Xers (born 1965 to 1980) have at least one.

Why wait?

Waiting until you are, shall we say, of advanced inking age has its benefits, including having the maturity to consider that just because Mickey Mouse might look cute peeking out from above your thong when you're 18 doesn't mean you'll want everyone seeing him when you bend over in your mom jeans two decades down the road. (Though you totally might!) And for some women, life is so crazy-busy that they simply don't have time to get inked until they're a bit older.

"When I was 46, my husband and I both got three little dots on the inside of our wrists, representing myself, him, and our now-14-year-old," says Andrea Dunham, 48, of Brooklyn. "I'd wanted one for years but basically hadn't had one free day where I could devote the time to think of a tattoo I could live with!" On a Costa Rican vacation, Dunham stole an hour to wander into a tiny backwater village with her husband. They spotted a tattoo parlor and spontaneously negotiated the subtle dot design in broken Spanish. "The process was surprisingly painless," she says. Now she hopes to get a larger one from a female Swedish artist she follows on Instagram.

Some women use tattooing as a means of proclaiming triumph over an illness or recovery from an addiction. Karen Malkin-Lazarovitz, 43, from Montreal, underwent a prophylactic double mastectomy in 2009 after testing positive for the BRCA gene. Two years ago, she had the four-inch scar snaking across her left breast covered with a colorful tumble of magnolias and cherry blossoms. "I turned my mastectomy into a work of art, and defined beauty on my own terms," she says. (This wasn't Malkin-Lazarovitz's first tattoo, though; she has accrued six over the years, starting with a little devil on her lower belly at age 18.) She calls the flower "my tittoo."

For Amanda Griffith, a 41-year-old from Norton, Mass., learning about Project Semicolon, a suicide-prevention organization (the semicolon represents all that is to come), inspired her to get an open-ended heart nestled next to a semicolon. "I live with anxiety and depression and often feel overwhelmed – I work full time, have a husband, three children, dog, and no family nearby," Griffith says. She made the design permanent three weeks before her 40th birthday and considers it a permanent ode to self-care and a reminder to never give up.

Cleveland Clinic clinical psychologist Scott Bea says recovery tattoos "serve as lasting visual reminders of our struggles and our victories." And because it's difficult to ignore, say, a purple ribbon on someone's shoulder, the artwork can prompt conversation among friends and strangers alike.

Do it right

Marisa Chapman, M.D., a board-certified dermatologist in practice at the Advanced Dermatology & Cosmetic Institute in Edina, Minn., recommends avoiding areas with accumulated sun exposure (i.e. the décolletage) or any spot that tends to sag over time, from aging or weight fluctuations. (In other words, steer clear of your chest, upper arms and buttocks.) Also, avoid tattooing over moles, which makes it trickier for a dermatologist to conduct skin cancer evaluations.

Chapman adds that while she has seen "a noticeable increase" over the past decade in ladies 40 and beyond getting tattoos, "I see very few cases of 'tattoo regret' in these women." That makes sense, considering the Harris Poll found that, of those adults who say they do regret their tattoo, the No. 1 reason was "I was too young when I got it."

Still, if you end up hating your design, lasers can remove or minimize its appearance. Black and red ink are the easiest to treat; light colors, not so much. Never too late for that "MOM" heart tattoo!