When we think of colder days a lot of us turn to comfort food. There's nothing like gathering around the table during a chilly evening with loved ones and enjoying a wonderful meal. Of course, many of us have these magical visions and then find ourselves too tapped out at the end of the day to make them come to fruition.

One-pot meals are great for this time of year. You can make something warm and nourishing for your family and not break your back trying to do it. No making a mess in the kitchen, no using every pot and pan you have, and you don't have to worry about coming up with a bunch of sides to go with your meal. Here are some delicious one-pot dishes your family will love on cold nights.

:
One-Skillet Pork Chop Dinner

This easy pork dinner is delightful on lazy Sundays or a busy weeknight. In one pot you get meat, potatoes and veggies.

Serves 4

Ingredients

1 tablespoon butter

4 pork loin chops (about 7 ounces each)

3 red potatoes cut into wedges

2 cups fresh baby carrots

1 medium onion cut into wedges

1 (10.5 ounce) can of condensed cream of mushroom soup (don't dilute with extra liquid)

½ cup water

Directions

In a large, heavy skillet, heat butter over medium heat. Brown pork chops on both sides and remove them from the pan and keep the drippings. Using the same pan, cook veggies in drippings until lightly browned. Add in soup and water and whisk. Bring to a boil. Reduce heat and simmer, keeping the pot covered until vegetables are tender, about 15–20 minutes. Add pork chops back into the pan and cook, covered, until the inside temperature of pork reaches 145°F (about 8–10 minutes). Remove from heat and let rest for about 5 minutes before serving.

Chicken and Rice Casserole

We had this in my house all the time growing up, and I still love making it for my family. This casserole has it all: It provides lean protein, is creamy, has rice for substance and makes first-rate leftovers.

Serves 4

Ingredients

Olive oil or cooking spray for baking dish

2 pounds boneless, skinless chicken thighs

2 cups white or brown rice

1 large white onion chopped

2 cups chicken broth

2 (10.5 ounce) cans of cream of mushroom or cream of chicken soup

Salt and pepper to taste

2 tablespoons butter

1 clove of garlic, minced

Directions

Preheat oven to 350°F and grease a 9-by-13-inch casserole dish. Add rice, onion, chicken broth and soup, and stir. Season top with salt and pepper. Place chicken thighs on top of rice mixture and brush top with melted butter and garlic. Season chicken with salt and pepper. Cover the dish with a piece of foil and bake for 1 hour. Uncover and bake for another half hour, until chicken is cooked through, and rice is done.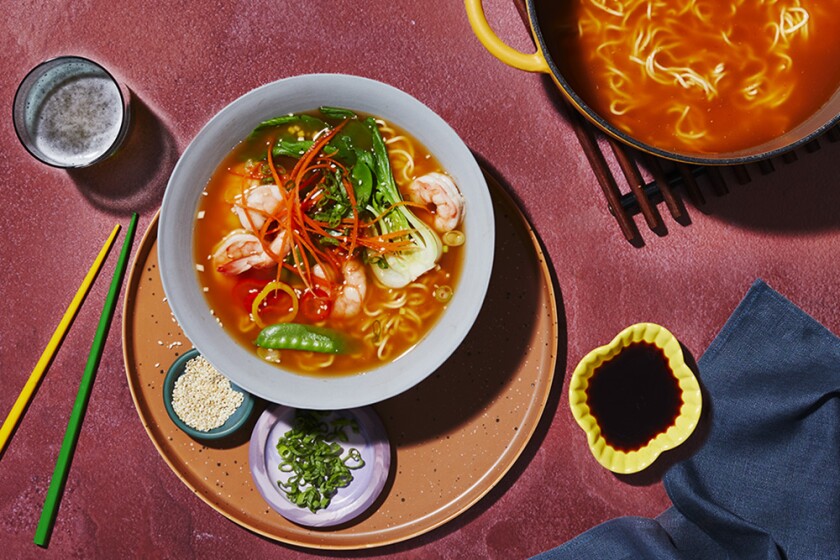 Homemade Ramen

Ramen may be one of the most comforting foods out there. It's salty, filling and the perfect meal to enjoy when you are craving some soup with substance.

Serves 4 to 6

Ingredients

10 ounces Ramen or Udon noodles

1 sliced rainbow pepper

½ cup thinly sliced carrots

½ cup snow peas

2 chopped green onions

1 cup chopped Bok choy

3 cloves garlic, minced

1 teaspoon sesame oil

1 tablespoon grated, fresh ginger

1 tablespoon brown sugar

¼ cup soy sauce

2 tablespoons chili paste

2 teaspoons fish sauce

4 cups chicken or vegetable broth

Directions

In a Dutch oven add all ingredients and stir. Bring to a boil over high heat. Cover and reduce heat to medium-low and continue cooking for about 15 minutes. It's terrific as is or you can add some cooked chicken or shrimp.


Baked Feta Eggs

Who doesn't love breakfast for dinner? This recipe is a tasty twist on a traditional omelet, has lots of healthy veggies, and will leave you warm and satisfied.

Serves 6

Ingredients

2½ cups cherry tomatoes

2 rainbow peppers, chopped

1 cup onion, chopped

8 ounces feta cheese

¼ cup olive oil

1 teaspoon dried oregano

6 large eggs

Directions

Preheat the oven to 375°F and chop up all the veggies. Combine all other ingredients except for eggs in a greased, 9-by-13-inch baking dish, putting the whole block of feta on top. Bake for 45 minutes. Mix everything together by stirring and pressing all the ingredients together. Form 6 nests in baking dish and drop the eggs in each nest. Return to the oven for 6–10 minutes until eggs are set. Serve warm with some crusty bread.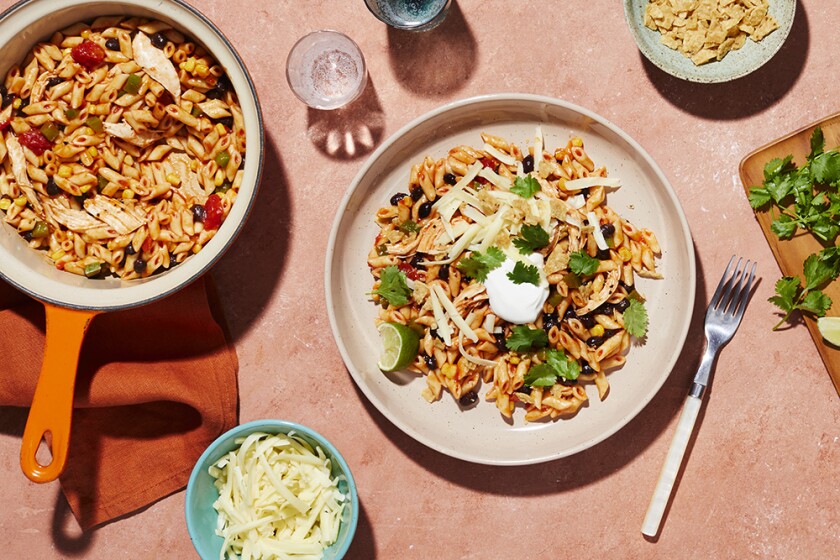 Enchilada Pasta

This savory enchilada pasta recipe is an excellent way to get everyone excited for dinner. It's so easy to throw together — and incredibly filling.

Serves 6

Ingredients

4 cups uncooked mini pasta

4 cups vegetable broth

1 (15 ounce) can black beans, rinsed and drained

1 (14.5 ounce) can diced tomatoes

1 medium rainbow pepper, chopped

1 cup frozen corn, thawed

1 (10 ounce) can red enchilada sauce

½ cup cheddar cheese, grated

Directions

In a large skillet or Dutch oven, combine all ingredients except for the cheese. Bring to a boil then reduce heat to a medium-low. Simmer in an uncovered pot until pasta is done and the sauce has thickened a bit — about 15 minutes. Stir in cheese and cook until the cheese has melted. You can also add some cooked chicken to this recipe and top it with anything you'd like: more cheese, sour cream, cilantro, limes or crushed corn chips.

What's YOUR favorite dish to make on a cold night? Let us know in the comments below.