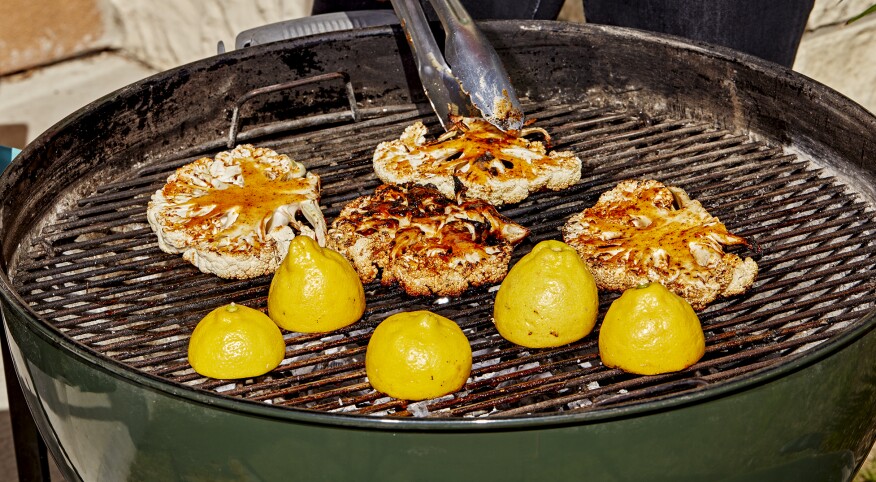 Ah, plant-based diets — is there anything they can't do? Not only does research show that following a plant-based diet can help you lose weight, lower your risk for cognitive decline and even stave off death itself, but focusing on plants also has a positive impact on the environment, and some research has found it may slash your food bill by up to a third. Who doesn't welcome that news? But focusing on foods that grow from seeds doesn't mean you have to give up your love of grilling. If anything, it expands your repertoire as you realize the wonders that grilled fruits, vegetables and more bring to your menu. Plus, plant-based foods are less likely to develop carcinogenic compounds from being flame broiled. What are you waiting for — break out the charcoal and get grilling!

Grilled Brown Sugar-Thyme Lemonade

Lemonade is the ultimate warm-weather drink, but it often needs a lot of sugar to balance out the tartness. Grilling your lemons before squeezing them will give you a more complex flavor without all the acidity. The lemonade also pairs well with iced tea and whiskey.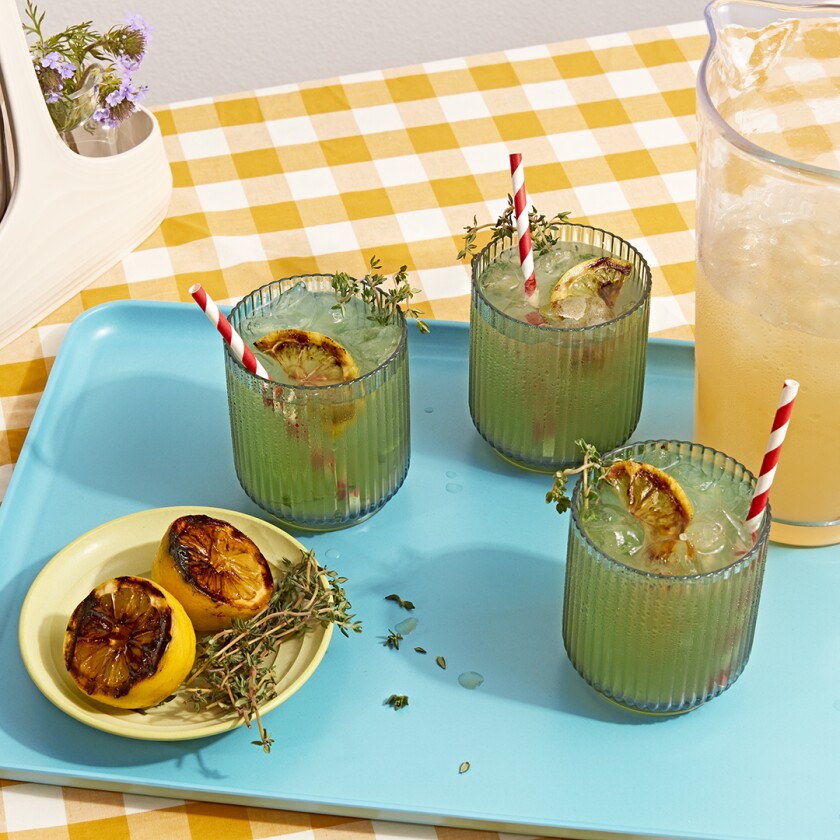 Makes 4 servings

1/3 cup brown sugar

4 Wonderful Seedless lemons, halved

3 tablespoons honey

1¼ cups water

2-3 fresh thyme sprigs


Prepare a charcoal grill or heat a gas grill or broiler to high.

Spread brown sugar on a plate. Dip the cut halves of each lemon in the sugar to lightly coat before placing on the grill, cut side down (for broiler, cut side up). Grill until charred, about 5 minutes. Cool.

Combine remaining brown sugar, honey, water and thyme in a saucepan and heat, stirring, until sugar dissolves. Cool.

Squeeze lemon juice into a large measuring cup (you should have about ¾ cup of juice). Add honey mixture and strain into a pitcher with ½ cup ice. Add ¾ cup cold water and more honey or sugar to taste.

Grilled Chili-Lime Cauliflower Steaks

These vegetarian steaks hold up to the heat and give you a brand-new way to enjoy this vegetable, sans any carcinogenic chemicals. If you don't have ancho chili powder, you can use any other ground pepper blend.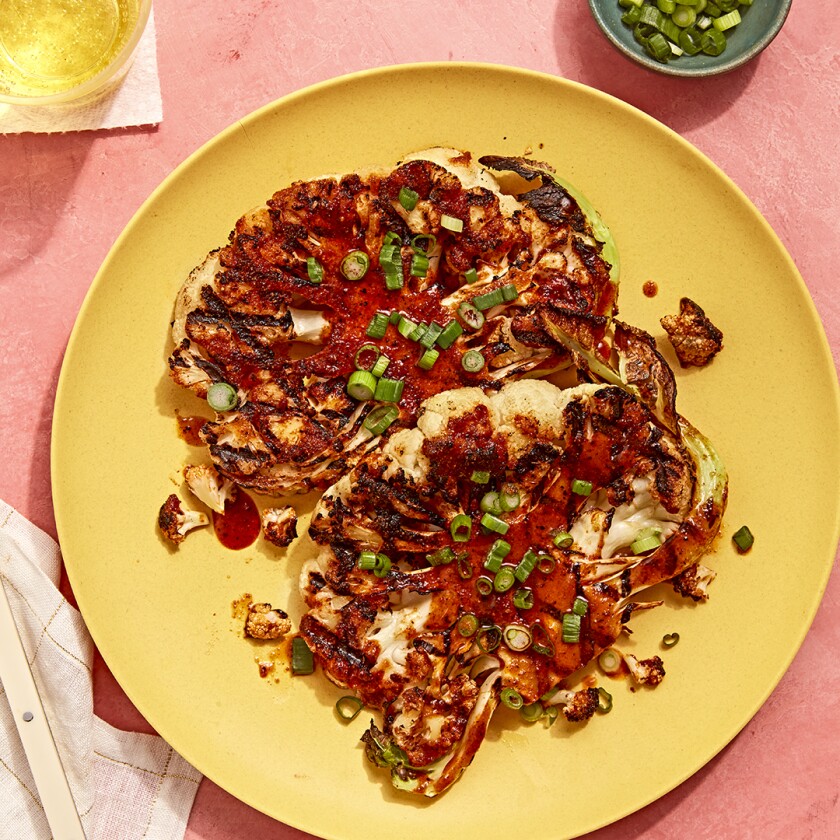 Makes 2 servings (entrée) or 4 (side)

1 head cauliflower, leaves removed

2 tablespoons extra-virgin olive oil

½ tablespoon honey

½ teaspoon lime juice

1 tablespoon ancho chili powder (or any chili powder)

½ teaspoon garlic powder

½ teaspoon ground cumin

½ teaspoon kosher salt

Pinch of black pepper

Sliced green onions (for garnish, optional)


Prepare a charcoal grill or heat a gas grill to high.

Slice the cauliflower in half through the head, then slice ¾-inch slices from each side. Reserve any remaining florets for another use.

Combine all remaining ingredients except green onions in a shallow dish and whisk to combine into a thick paste. Coat cauliflower steaks in the paste, turning to coat each side.

Grill steaks 5 minutes, flip, and grill for another 5 minutes, brushing with more paste mixture. Steaks should be somewhat charred. Top with green onions if using and serve.

Grilled Bananas With Maple Cream

Grilling any fruit — peaches and pineapple especially — is heavenly, and adding a scoop of vanilla ice cream makes it into a dreamy treat with zero effort. This mashup of s'mores and Bananas Foster is no different: With dessert ready in 5 minutes, everyone's happy.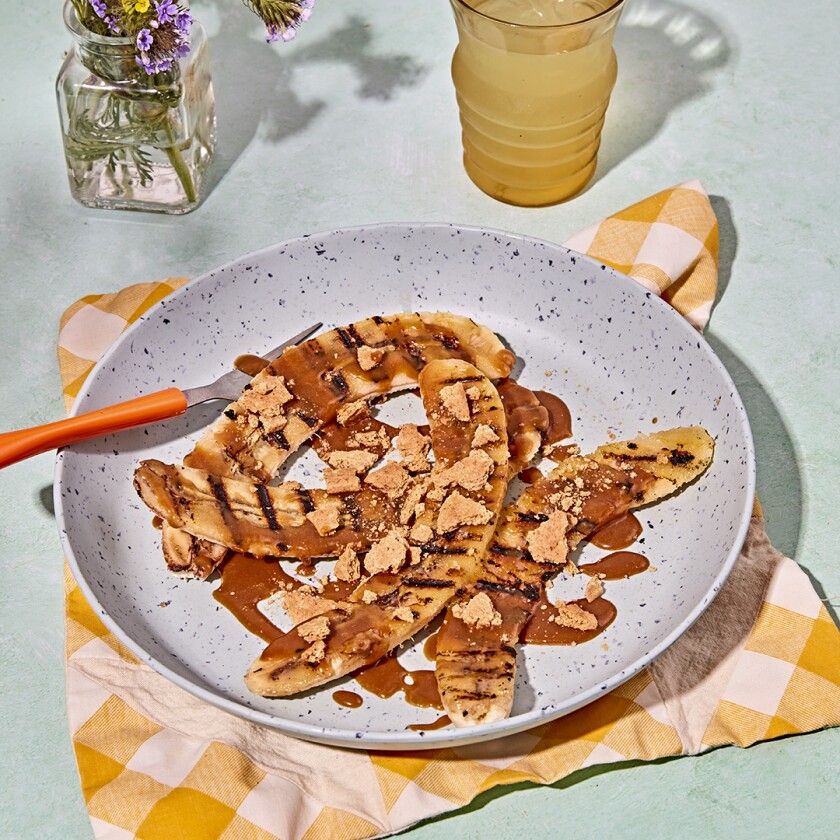 Makes 4 servings

2 bananas

2 tablespoons unsalted butter, melted

1½ tablespoons maple syrup

Pinch kosher salt

1 graham cracker, crumbled

Vanilla ice cream, optional


Prepare a charcoal grill or heat a gas grill to medium-high.

With peel on, slice bananas in half lengthwise. Brush each exposed half of banana with melted butter, reserving remaining butter.

Place bananas flesh side down on the grill and cook until caramelized, about 4 minutes.

Mix remaining butter with maple syrup and a pinch of kosher salt.

Flip bananas and grill skins for 20 seconds (helps to release the peel) before removing them to a serving plate.

To serve, peel bananas gently and arrange on a plate. Drizzle with maple butter and sprinkle with graham cracker crumbs. Top with ice cream if using.

Grilled Potato Salad

Be the hit of the block party with this fire-kissed take on a potluck classic. Equal parts tangy and smoky, this potato salad is also mayo-free, so you don't have to fight over which brand is better!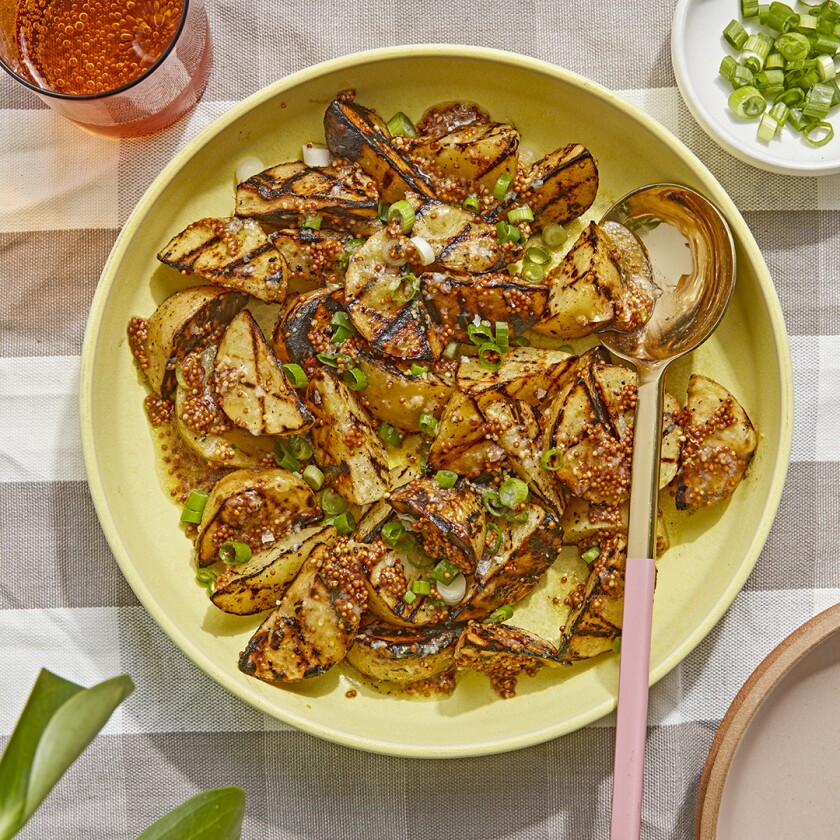 Makes 4 servings

5-6 yellow potatoes, cut in half and then quartered

2½ tablespoons extra-virgin olive oil, divided

Kosher salt and pepper, to taste

1½ tablespoons white wine vinegar

1 teaspoon whole grain mustard

1 clove garlic, grated

4 green onions, sliced


Prepare a charcoal grill or heat a gas grill to medium-high.

Toss potatoes with 1 tablespoon of oil and season with salt and pepper.

Spread potatoes on grill and cook covered, stirring occasionally, until a potato chunk can be pierced with a fork, about 15 minutes.

Whisk together remaining 1½ tablespoons of oil, vinegar, mustard and garlic. Season with more salt and pepper if needed. Add potatoes and toss to coat. Sprinkle with green onions and toss again.
Grilled Sage & Honey Flatbread

The best thing about flatbreads is how incredibly versatile they are. You can use pretty much any combination of cheese and herb here, or even add sliced fruit for a sweeter twist. Sliced into thinner pieces, it's a great party appetizer.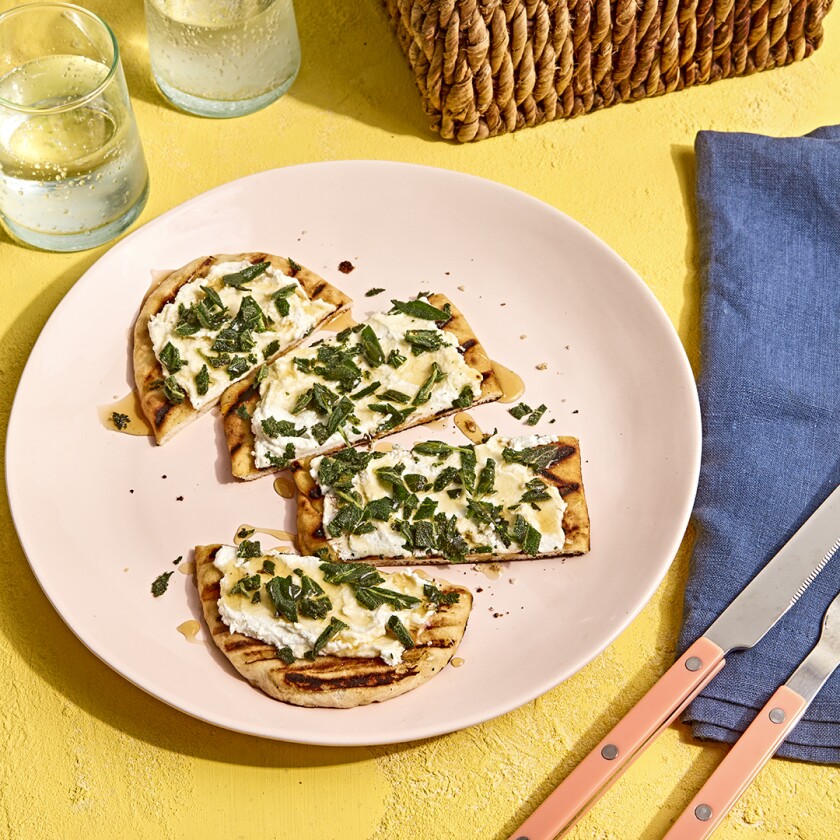 Makes 2 servings (entrée) or 4 (appetizer)

1 premade flatbread or naan

½ tablespoon extra-virgin olive oil

2 ounces goat cheese

1 bunch fresh sage leaves, roughly chopped

1 tablespoon balsamic vinegar

½ tablespoon honey


Prepare a charcoal grill or heat a gas grill to medium-high.

Brush flatbread with oil and grill until marks begin forming, about 2 minutes. Flip and spread goat cheese on top to cover, then sprinkle with sage leaves.

Cover and grill until cheese is melted and sage is crisp, 1-2 minutes.

Remove to a plate, drizzle with vinegar and honey, cut into quarters and serve.
What's your favorite thing to grill in the summer? Let us know in the comments below.