Holidays can be nostalgic, but the foods we love and eat this time of year often hold a special meaning that can transport us back to a childhood meal, remind us of the past and help us remember loved ones. So, we asked five foodies which holiday dish has the power to whisk them back to their favorite holiday memories. Here are their recipes.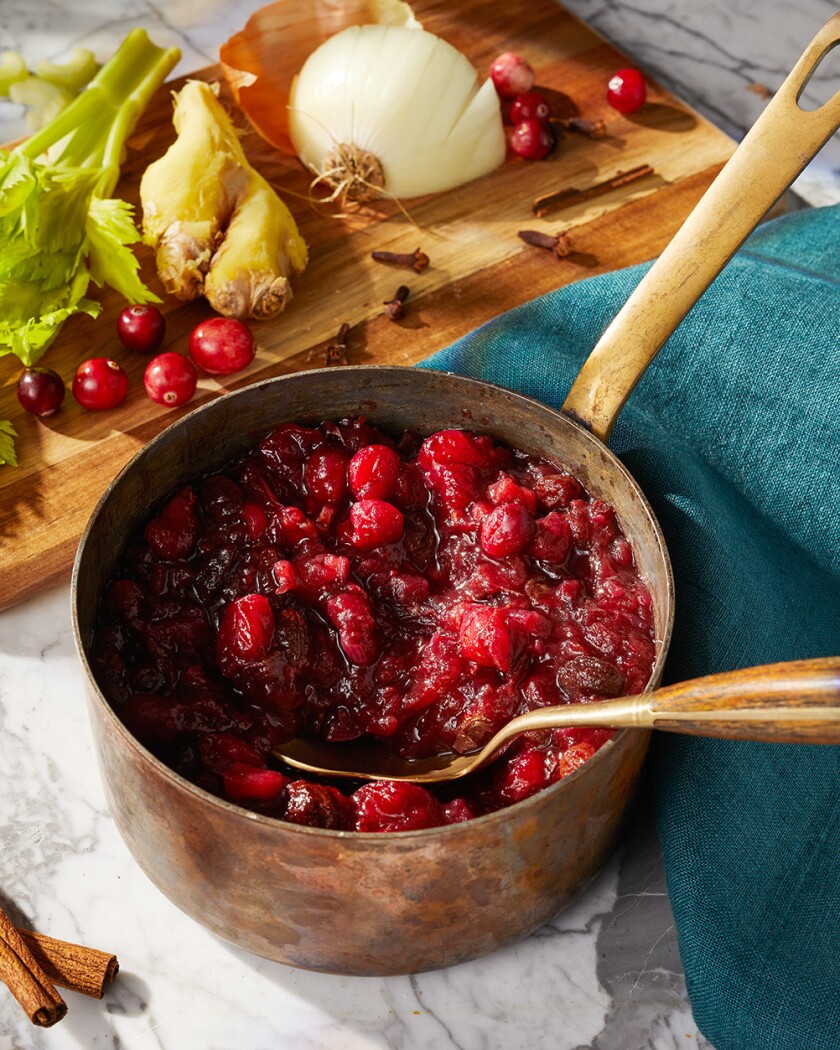 Nana's Cranberry Chutney

For Lindsey Farr, a professional pastry chef in New York City and owner of the online pastry store Pastry Creations that specializes in seasonal pies, holidays aren't complete without her grandmother's cranberry chutney.

"One year, my mom forgot it, and there may have been tears! It is that sweet-tart sauce that just pulls the whole meal together and makes leftover sandwiches a delight," says Farr. "Plus, when you are making it, the aroma fills the whole house with the smell of the holidays."

Ingredients

3½ cups fresh cranberries — or 1 (12 ounce) bag

¾ cup raisins (I like to use half red and half golden)

1⅓ cups white granulated sugar

1 tablespoon cinnamon

1½ teaspoons ground ginger

¼ teaspoon ground cloves

¼ teaspoon allspice

6 ounces water

1 teaspoon brandy (optional, and you can use more; I've used up to 2½ teaspoons)

½ cup celery, finely diced

½ cup onion, finely diced

¾ cup apple, peeled and cored, finely diced

Directions

Combine cranberries, raisins, sugar, cinnamon, ginger, cloves, allspice and water in a large saucepan. Bring to a boil on medium-high heat, reduce heat and simmer 15 minutes or until the cranberries pop. Stir in celery, onion, apple and brandy. Simmer at least 15 minutes. I like to cook mine for several hours over low heat until the apples, celery and onion have broken down.

Mom's Three-Meat Stuffing/Dressing

"My mother's Three-Meat Stuffing was a staple at our holiday table," says Ingrid Hoffmann, professional eater, author and host of Top Chef Estrellas (Telemundo, NBC); Simply Delicioso (Cooking Channel); and Delicioso (Univision). "All the women of the family gathered in the kitchen to share in the duties of making this delicious dish with meats that had to be grounded three times for the perfect consistency," says Hoffmann. "Memories of the oldest and youngest members of the family cooking together is what I cherish the most!"

Serves 12–14

Ingredients

½ cup oil, divided

1½ pounds lean ground beef (ground 3 times)

1½ pounds ground pork (ground 3 times)

3 large yellow onions, finely chopped, divided

15 garlic cloves, finely chopped, divided

1 cup steak sauce

½ cup apple cider vinegar

1 tablespoon lemon zest

1 teaspoon ground cumin

1 teaspoon dried oregano

1 tablespoon salt

1½ teaspoons freshly ground pepper

1 red bell pepper, seeded, ribbed and finely chopped

1 green bell pepper, seeded, ribbed and finely chopped

5 celery stalks, sliced

20 scallions, white and light green part only, finely chopped (about 1½ cups)

4 ounces tomato paste

10 large boiled eggs, chopped

1 pound cooked sausage, sliced

1 cup raisins

1 cup finely chopped flat-leaf parsley leaves

7 ounces bottled pimento-stuffed olives, sliced

6 pats of unsalted butter

Directions

Heat half the oil in a large pot over medium-high heat. Add the ground beef and ground pork, and cook until the meat is starting to brown, about 8–10 minutes. Add half the chopped onions and half the chopped garlic, along with the steak sauce, apple cider vinegar, lemon zest, cumin, oregano, salt and pepper. Cook until the onions are completely tender, and the meat is cooked through, about 35 to 45 minutes, stirring often. Turn off the heat and let the mixture cool. Skim fat, if desired. Cover with plastic wrap and refrigerate until you're ready to make the rest of the dressing (the meat base can be made up to one day in advance).

Heat the remaining oil in a large pot over medium-high heat. Stir in the remaining onions and garlic, along with the peppers, celery and scallions. Add the tomato paste and cook until the liquid in the pot is nearly evaporated, about 15 minutes. Add the meat mixture, chopped eggs, sausage, raisins, parsley and stuffed olives, and mix to combine. Pour into oven-safe ceramic bakeware and refrigerate, covered, until ready to bake.

Preheat oven to 400°F. Place the butter pats evenly across the top. Bake for 25 minutes, until the top is browned and the stuffing is heated through.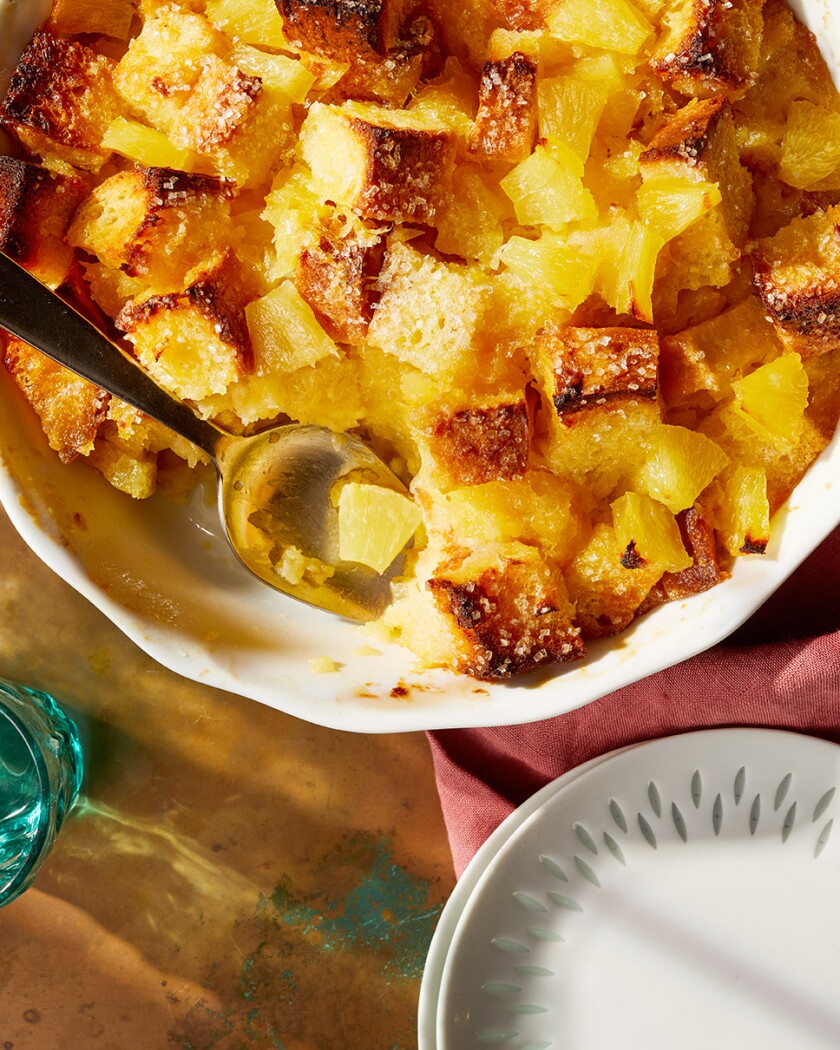 Pineapple Soufflé

Marjory Pilley creates and posts recipes at The Dinner Mom, where she helps busy moms get healthy dinners on the table. She says pineapple soufflé is a holiday staple in the South and something she has enjoyed since childhood. "It's a bit like a sweet bread pudding that's infused with pineapple," says Pilley. "My mom would say it qualified as a side dish because it was mostly pineapple and bread. It always brings back a flood of memories of the debates we would have about whether we should wait for dessert to enjoy it because it is very sweet. We never do."

Ingredients

⅓ cup butter or plant-based substitute

3 eggs, or Just Egg to equal 2 eggs

½ cup natural no-calorie sweetener (think stevia, monk fruit or Truvia)

½ cup sugar

20 ounces crushed pineapple in juice

5 slices white or wheat bread to equal about 5 cups of cubes (GF, whole wheat or keto bread may be used instead)

Directions

Preheat oven to 350°F. Add eggs (or Just Egg) to a large bowl and gently beat with a fork to break. Add sugars and crushed pineapple to the bowl and stir to combine. Cut bread into cubes. The crust can be left on or cut off. Mix the bread cubes into the pineapple mixture until they are slightly wet. Pour the mixture into a 9-by-9-inch square or round baking dish and use a fork to evenly distribute ingredients. Melt butter and gently pour over the top. Bake for approximately 45 minutes or until bubbly, and the top starts to brown. Allow to sit for about 5 minutes before serving. Serve warm or at room temperature.

Classic Anise Pizzelle (traditional Italian Waffle Cookies)

Liz Mincin, an American ex-pat in the United Kingdom with 20 years of home-baking and dessert-creation experience, blogs at Waiting for Blancmange. "I left home at 18 and moved from the U.S. to the U.K. Becoming an immigrant has made me extremely nostalgic at certain times of the year — and particularly around the holidays," says Mincin. "Probably the main holiday recipe that really brings me back to my childhood is pizzelle. My grandmother and great aunt used to make pizzelle every holiday when I was growing up. At Thanksgiving and Christmas, there was always guaranteed to be pizzelle waffle cookies to share," she says. "My parents bought me a pizzelle waffle iron when I moved into my first house. Even though I have to use a transformer to convert the power sockets for use in Britain, I make pizzelle every year!"

Ingredients

6 eggs

4 teaspoons baking powder

2 tablespoons anise extract (or ½ tablespoon anise oil)

3½ cups all-purpose flour or plain flour

1½ cups sugar

½ cup unsalted butter, softened to room temperature or melted

Directions

Begin by making the pizzelle batter. Cream together the sugar and butter in a large mixing bowl. Add the eggs (2 at a time) and beat after each addition. Then add the anise extract and beat to incorporate. Sift the flour and baking powder into the mixture and stir with a wooden spoon to incorporate — making sure there are no pockets of unmixed flour.

Heat the pizzelle iron. Once this is hot, dollop out about a tablespoon into the middle of each mold space. Press the iron lid firmly shut and latch it. Allow to cook for about 30 seconds before unlatching and lifting the lid. Carefully remove the pizzelle from the press. Discard the first 2. Repeat the process and place pizzelle on a piece of parchment paper or wire rack to cool. Repeat until done with the batter.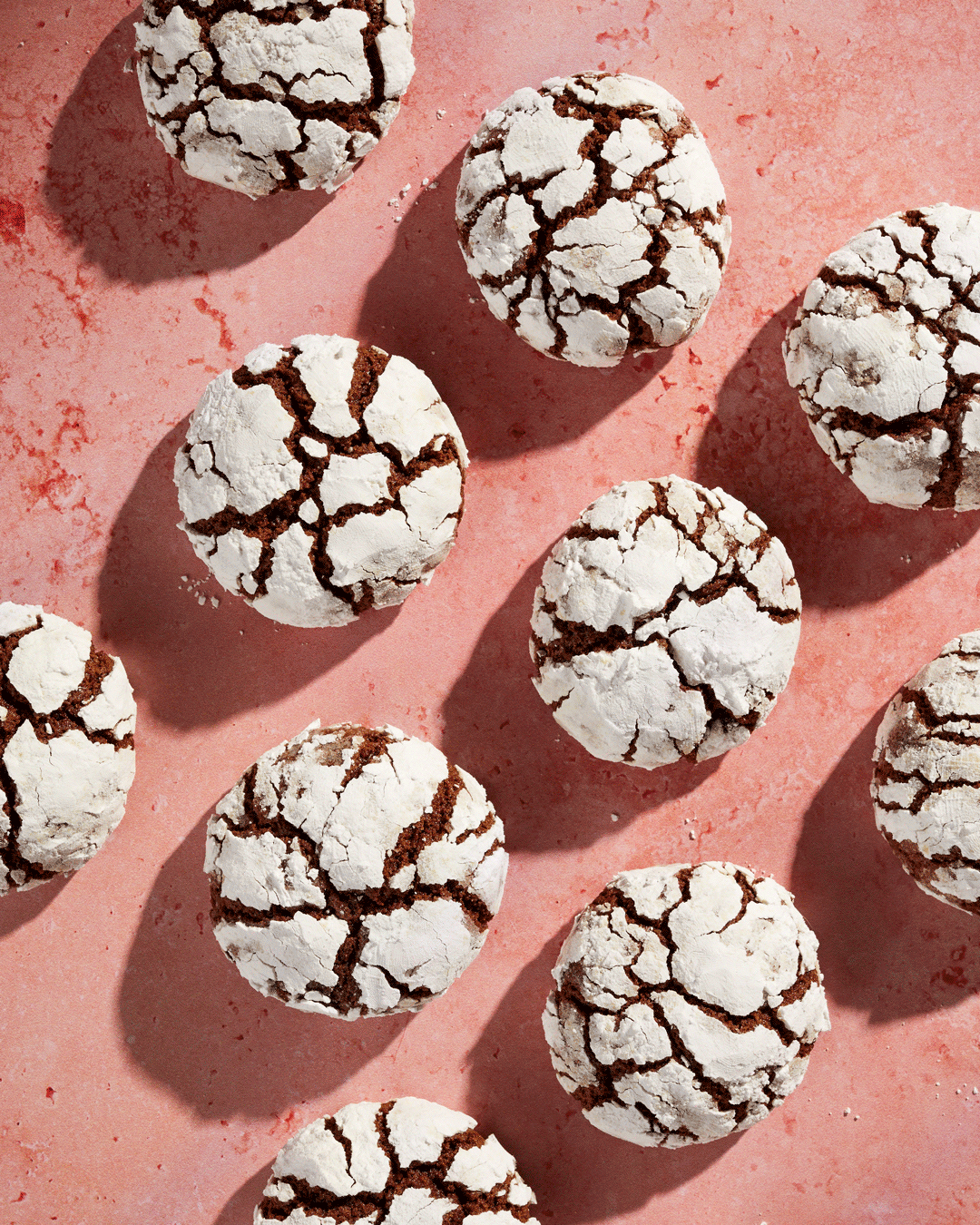 Chocolate Crinkle Cookies

Cassidy Reeser, a registered dietitian and recipe developer behind Cozy Peach Kitchen, a blog for quick, comforting and easy recipes, says the holiday recipe that instantly transports her back to childhood is for these crinkle cookies, which are chocolate cookies rolled in powdered sugar. "My mom made these cookies every year only for Christmas, and now I do the same," she says.

Makes 24 cookies

Ingredients

2¼ cups all-purpose flour

¾ cup cocoa powder

2 teaspoons baking powder

⅛ teaspoon salt

1½ cups white sugar (granulated)

¾ cup canola oil

3 large eggs

2 teaspoons vanilla extract

1 cup powdered sugar (more as needed)

Directions

Stir together dry ingredients in a medium mixing bowl. Set aside. To a large mixing bowl, add the eggs, oil and sugar. Using a large spoon or mixer on low speed, mix until eggs are fully combined, about 1 minute. Stir in the vanilla extract. Slowly mix in the dry ingredients, about 1 cup at a time. Once all of the dry ingredients are added, you will have a soft but malleable dough. Cover the bowl and refrigerate for 30 minutes, then remove the dough from the fridge. Use a tablespoon (I mean the kind that you eat with, not a tablespoon measure) to measure out pieces of dough. Roll into a roughly ping-pong-size ball. Transfer the balls, one or two at a time, to the bowl of powdered sugar. Coat in the powdered sugar twice. You should not be able to see any of the dough.

Preheat oven to 350°F. Line the cookies up on a parchment paper-lined cookie sheet, leaving 1 inch between cookies. Bake 8–10 minutes. Let rest for 5 minutes after removing from the oven, then transfer to a cookie rack to cool.

What holiday dish always transports YOU back to childhood? Let us know in the comments below.