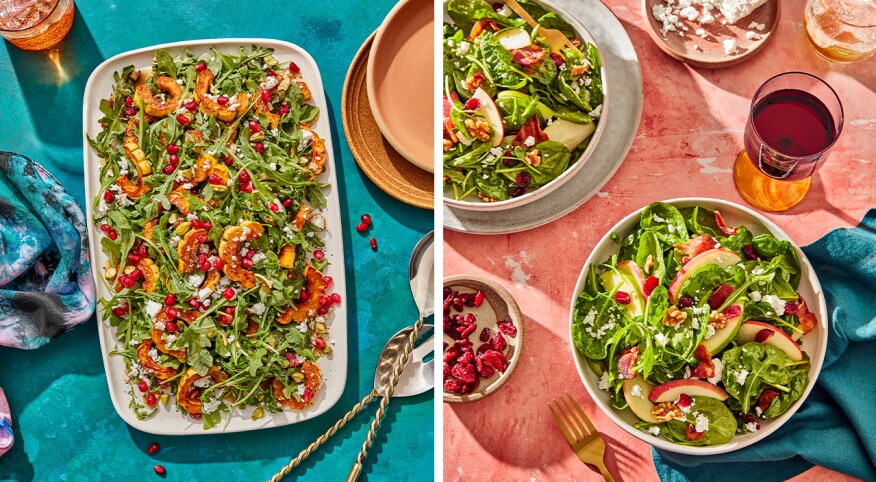 The weather is getting cooler. It's almost time for people to start gathering for fall potlucks and preholiday dinners. It's one of the best times to make a robust salad with all the autumn harvest has to offer. Ingredients such as squashes, apples and nuts can take a side dish from boring to amazing, and they are healthy, to boot.

Here are five must-make fall salads that are guaranteed to fill you up and be the perfect complement to any main dish.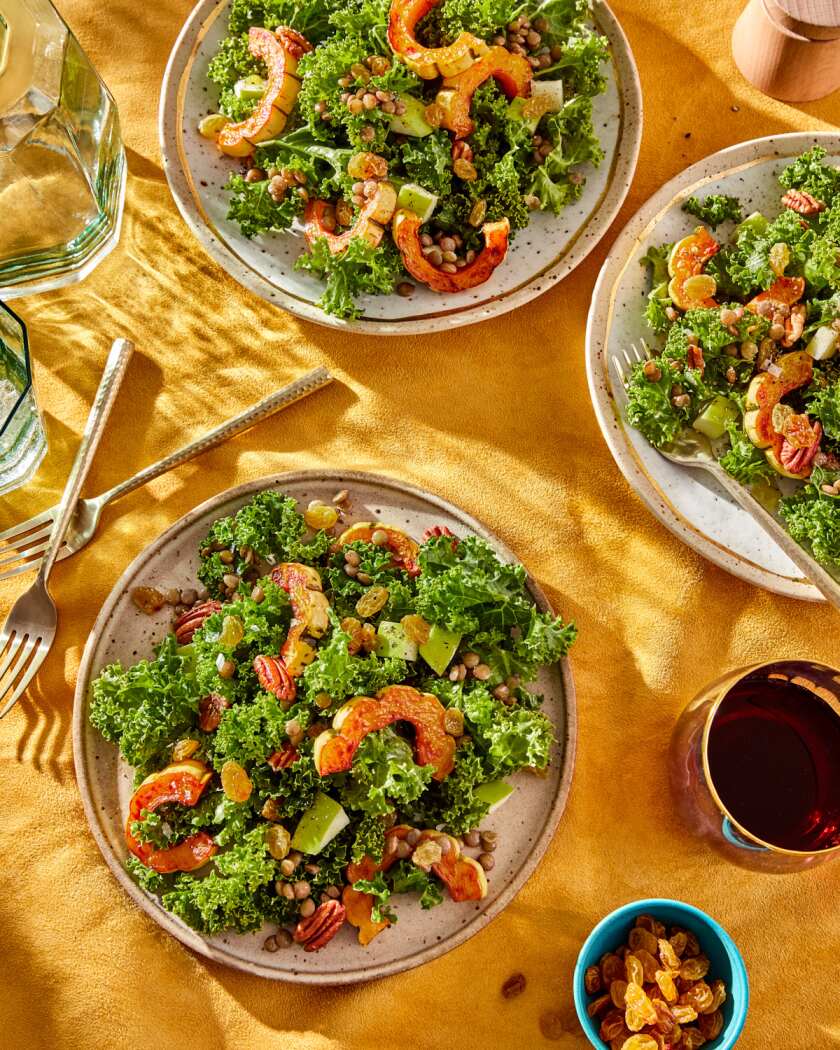 Autumn Kale Salad

Trying this salad may change your mind if you aren't already a kale lover. It's loaded with hearty, nutritious ingredients, and you massage the kale with salt and olive oil, making it tender and adding flavor.

Serves 4

Ingredients

1 medium bunch curly kale, stems removed

3 tablespoons olive oil

Sea salt

1 medium delicata squash

Black pepper

1 cup pecan halves

½ cup raisins

1 large apple, diced

¾ cup cooked brown lentils

1. Add the kale to a large bowl, and sprinkle with 2 tablespoons olive oil and a pinch of sea salt. Rub the leaves between your fingers for about 3 minutes; set aside. Heat the oven to 400°F. Slice the delicata squash lengthwise and remove the seeds with a spoon.

2. Slice the squash again, into half-moon shapes. Put it into a bowl, and toss with the remaining 1 tablespoon olive oil and pinch of salt and pepper. Toss until the squash is covered in oil and set it on a greased baking sheet; bake for 10 minutes. Flip the squash and bake it for another 10 minutes.

3. When the squash has cooled, add it to the kale along with the pecans, raisins, diced apple and lentils. Add more olive oil, salt and pepper if you wish.

Apple-Cranberry Walnut Salad

This salad is a lighter side dish that tastes wonderful with turkey or a roast. It features fresh, crunchy apples and zingy dressing.

Serves 6

Ingredients

1 red apple

1 green apple

6 cups salad greens (a mix of baby spinach and arugula is yummy, but any greens will do)

⅓ cup feta cheese

4 to 6 strips bacon, cooked

⅓ cup dried cranberries

1 cup walnuts, roughly chopped

Dressing

1 cup apple juice

4 tablespoons apple-cider vinegar

2 tablespoons honey

½ teaspoon salt

¼ teaspoon black pepper

¼ cup olive oil

Core and chop the apples into thin slices or little chunks. In a large bowl, toss the greens with the apples, feta, bacon, cranberries and walnuts. Whisk together all dressing ingredients in a jar, and shake vigorously. Toss the salad with the dressing immediately before serving.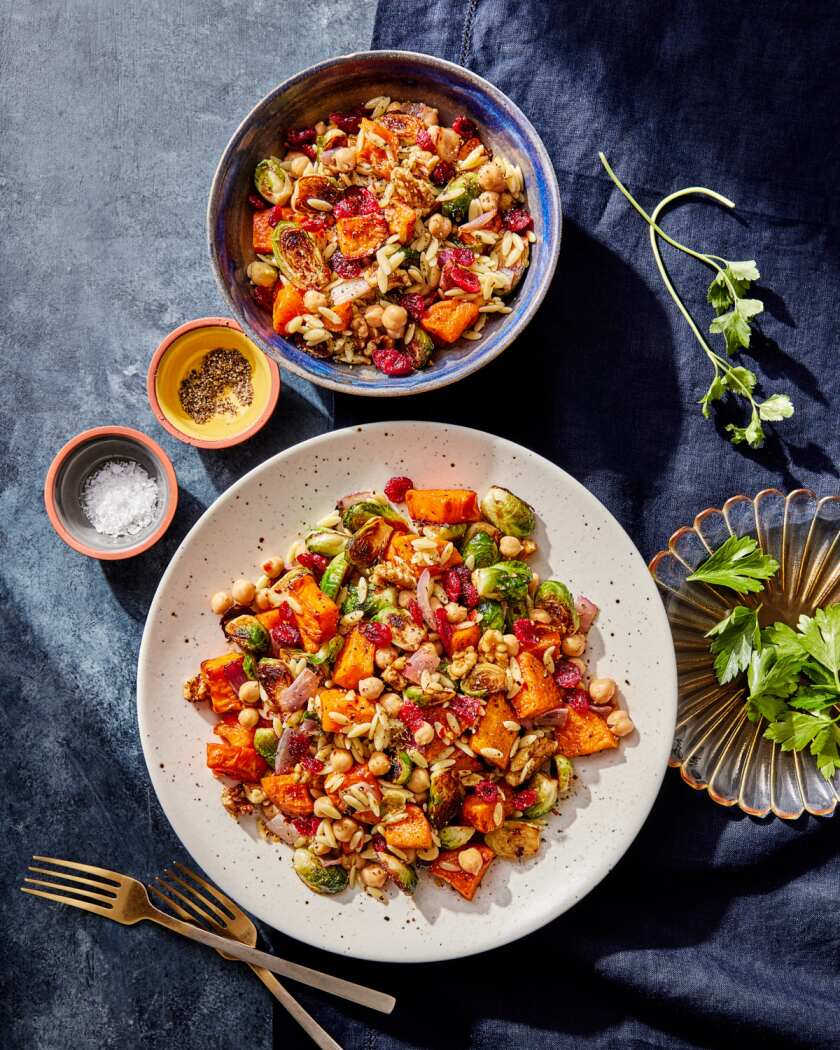 Roasted Veggie–Orzo Salad

Not only is this salad super-tasty and filling, but it's also inexpensive to make and is loaded with protein.

Serves 4

Ingredients

1 cup dry orzo

1 sweet potato, peeled and chopped

¾ pound fresh brussels sprouts, trimmed and quartered

1 medium red onion, chopped

2 tablespoons olive oil

Salt and black pepper to taste

15-ounce can chickpeas, drained and rinsed

⅔ cup chopped walnuts

⅓ cup dried cranberries

⅓ cup fresh parsley

Dressing

¼ cup extra-virgin olive oil

1 tablespoon red wine vinegar

1 tablespoon maple syrup

¼ teaspoon dried basil

¼ teaspoon dried oregano

¼ teaspoon crushed red pepper

1 small garlic clove, grated

Salt and black pepper to taste

1. Heat the oven to 425°F. Cook the orzo according to package instructions.

2. Place the sweet potato, brussels sprouts and red onion in a bowl; drizzle with 1 tablespoon olive oil. Toss until all the veggies are coated, and add salt and pepper to taste. Transfer to a greased baking sheet; roast on the lower rack for about 10 minutes, toss, then cook for another 10 minutes or until the sweet potato is tender. Place the chickpeas and walnuts in two separate bowls and drizzle with the remaining oil and a pinch of salt. Place on a greased baking sheet, keeping the chickpeas and nuts separated, and roast on the lower rack with the other vegetables. Remove the walnuts from the oven after about 5 minutes, and continue roasting the chickpeas until the other veggies are done.

3. Make the dressing by mixing together and whisking all ingredients. In a bowl, add the orzo, roasted veggies and nuts; toss with the dressing, and top with the cranberries and parsley. Add salt and pepper to taste. Serve warm or cold.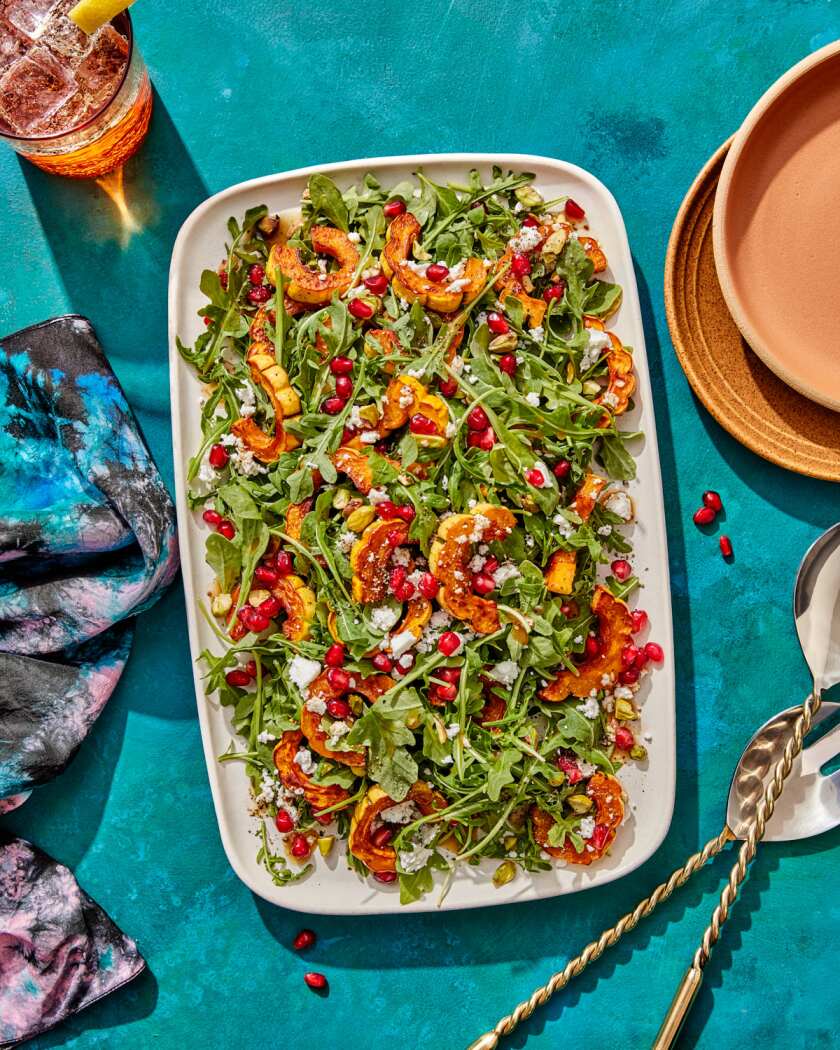 Delicata Squash Salad

Delicata squash has a lovely, sweet flavor and is especially delicious when roasted in the oven, as it is for this salad. The pomegranate, feta and pistachio flavors complement one another, and this is an easy dish to bring to your next gathering.

Serves 4

Ingredients

2 medium delicata squashes

1½ tablespoons olive oil

½ pound arugula

⅓ cup pistachios

4 ounces feta cheese

¼ cup pomegranate arils

Salt and black pepper to taste

Dressing

¼ cup olive oil

2 tablespoons rice vinegar

2 tablespoons coconut aminos

1 tablespoon pure maple syrup

1 teaspoon Dijon mustard

1. Heat the oven to 425°F, and grease 2 baking sheets. Combine all dressing ingredients and mix. Cut the delicata squashes in half lengthwise, and scoop out all the seeds. Cut into ½-inch thick half-moons, and place them in a large bowl.

2. Add the oil and salt to taste to the bowl, and mix until coated. Transfer the squash pieces to the prepared baking sheets, being careful not to avoid any overlaps. Bake for 30 minutes, flipping halfway through. Combine the rest of the salad ingredients, add the squash pieces; stir to combine. Top with the dressing, or serve this on the side.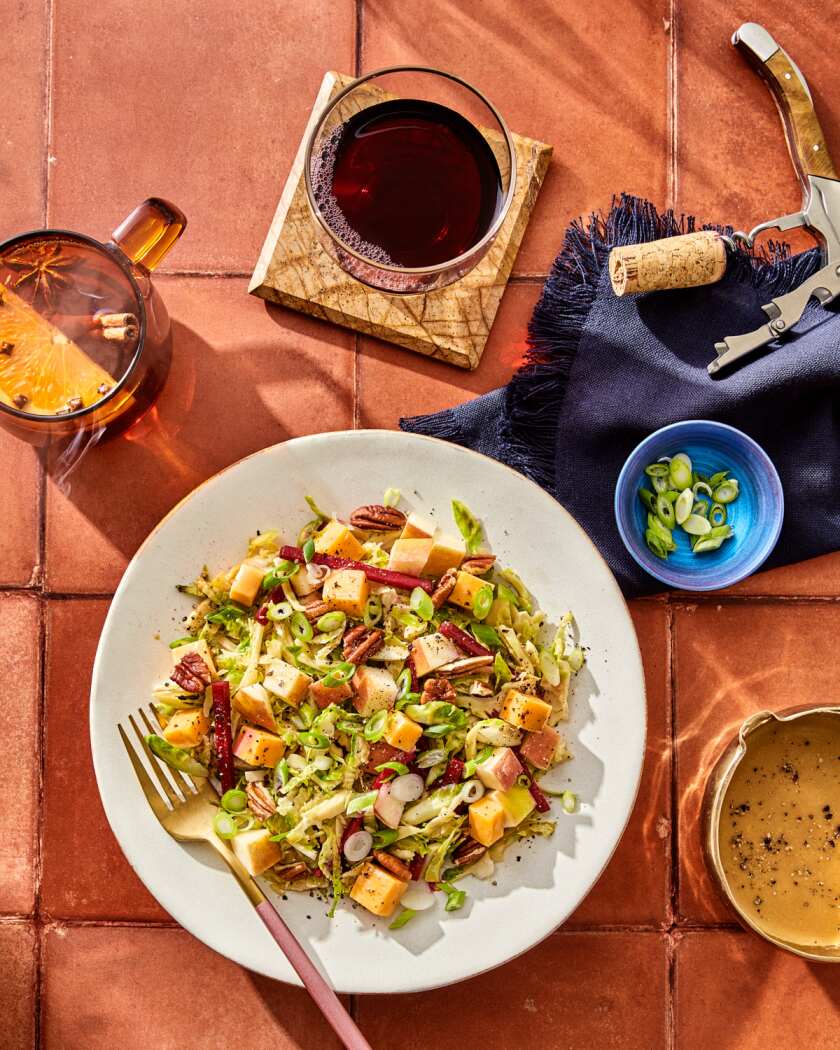 Shaved Brussels Sprouts Salad

This salad has shaved brussels sprouts, cheddar cheese and a scrumptious dressing to finish things off. Anyone who says they don't care for brussels sprouts may change their mind after eating this flavor-filled salad.

Serves 4

Ingredients

1 pound brussels sprouts, trimmed

1 medium beet, peeled and julienned

1 apple, chopped

½ cup sharp cheddar cheese, cut into small cubes

¼ green onion, sliced

½ cup toasted pecans, chopped

Dressing

½ cup olive oil

3 tablespoons balsamic vinegar

2 tablespoons daikon mustard

1 tablespoon honey or maple syrup

1 tablespoon minced garlic

Pinch of salt and pepper

1. Finely chop or shred the brussels sprouts. Chop the beet. Add the brussels sprouts, beet and apple to a mixing bowl and set aside.

2. Whisk together all the dressing ingredients. Pour the dressing over the brussels sprouts mixture, and stir until coated. Add the cheese, green onion and pecans; toss again. Refrigerate for 1 hour before serving.

What's your favorite salad to make? Let us know in the comments below.