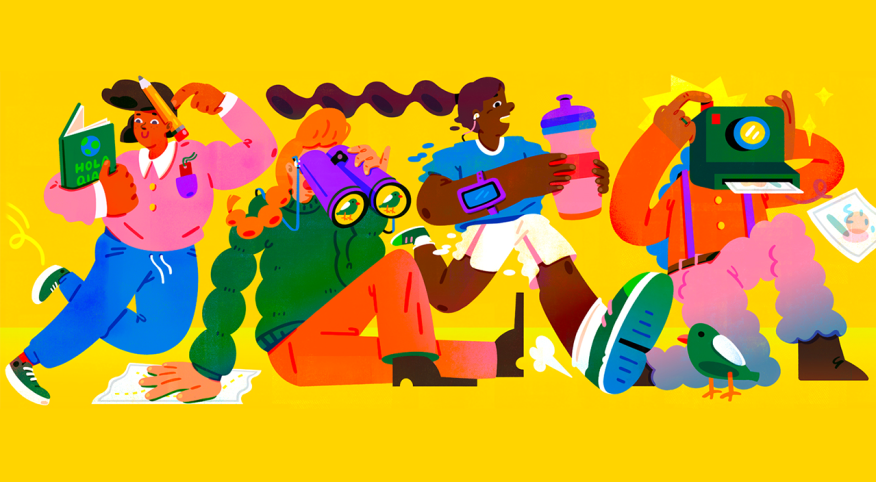 Reading YA mystery novels in bed, writing stories in my journal, bike riding in the neighborhood, listening to music on my Walkman, taking jazz-dancing lessons after school, watching baseball games, playing card games, roller-skating at the local rink, crafting plastic jewelry, and making art collages with decorative rubber stamps.

If you had asked 11-year-old me about my favorite hobbies, I would have named any or all the above. And now that I've rehashed the list, all I can say is . . . What. The. Hell. How did I have the moxie to try my hand at — and legit enjoy — so many things?

As the years passed, I became too preoccupied to think about hobbies. Instead, I'm obsessed about my rent payments and my pesky gray hair and what I'm going to have for dinner and when I should schedule my colonoscopy. It's not as fun as lanyard braiding, and infinitely more stressful.

Still, adult responsibilities aren't the only roadblocks en route to creative and productivity freedom. At the end of an exhausting day, we're just too accustomed to lounging on the couch to binge the latest juicy limited series on HBO while mindlessly scrolling Instagram. And in our success-driven world, perhaps there's less motivation to pursue an activity without a guaranteed tangible outcome, financial or otherwise.

Look, I love The White Lotus, too. But it's time for a new hobby to push us all off the couch. Here are five tried-and-true ideas; at least one is bound to stick.

Jogging

I was so running-averse in school that I was stoked to get mono in the 1990s because I could skip the presidential fitness test. Then I started jogging for 20 minutes at a time in Central Park in my late 30s to mix up my gym routine, and it proved a game-changer. I even ran a marathon at age 40! Fact is, per a 2019 study, individuals who started exercising from age 40 to 60 had a 29 to 36 percent mortality-risk reduction, which is the same as people who started in young adulthood. Leisure running also helps your heart rate, and instantly enhances your mood thanks to that for-real endorphin-spiked "runner's high." But because injuries can stack up — check with a health-care provider before undergoing any high-impact activity — start slooooow, and build up incrementally. (I began by jogging from one lamp post to another.) The Couch to 5K app provides a nonintimidating training plan.

Bird-watching

How about bringing a little nature into your bustling life? True story: One of my city-girl friends moved to a rustic-y house in upstate New York and quickly became fixated on the aviators in the area, to the point where she'd log hours standing under a tree with binoculars trying to spot a bald eagle. Per the National Park Service, bird-watching is low-cost, can be done anywhere and can be surprisingly social. (Yes, there are bird clubs!). All you really need are those binoculars, a proper guide — either a book or an app works — and a positive attitude. A bit of well-earned patience couldn't hurt, either. By the way, the website also includes an impressively extensive guide to parks and wildlife-refuge systems around the country.

Blogging

This is not the same as late-night venting on Facebook. When you publicly document your organized and impassioned thoughts, you establish yourself as a trusted authority; build engagement with similar opinions and interests; tell your story; and create potential business opportunities. You may even bank a little coin along the way. And thanks to the likes of free forums like Medium and Substack, it's no longer necessary to pay a computer geek to set up a site and individualized URL for you. But remember rule No. 1: Blogging isn't quite the same as writing in a diary; you actually want someone to break the lock and read your musings. That means all your posts should be focused, user-friendly and targeted to a specific audience with a clear takeaway. (Skillshare, Squarespace and WordPress offer pro classes or tips.)

Photography

This one goes way beyond snapping cute photos of your kids on their last day of school and colorful vacation sunsets. Think about it: Every time you capture a unique moment, you're finding beauty in the world and preserving memories that can theoretically last forever. You're also creating a new way to express yourself. And thanks to the device likely in your hand right now, this pastime has become exponentially more convenient, with zero fancy darkroom required. Don't know where or how to start? First off, relax. Nobody expects you to be the Annie Leibovitz of Instagram. Shutterfly — i.e., the company that turns your pics into books, cards and gifts — will walk you through the tools of the trade and hook you up with innovative ideas free of charge. So will Best Photo Lessons and The Reddit Photoschool.

Learning a New Language

Harken back to Diane Keaton's 50-something heroine, Erica Berry, in the 2003 comedy classic Something's Gotta Give. Remember what she did, per her daughter, after her divorce, as part of her "Keep Busy, Don't Look Back" program? She took French classes. What about how she distracted herself in the wake of the Jack Nicholson brush-off? She remodeled her place in the city and picked up Italian! I'm convinced writer-director Nancy Meyers included these nuggets because cognitively challenging yourself and deepening your connection to other cultures may yield substantial rewards. They include traveling to a foreign country and fitting in like a native, no matter your fluency level. And if you happen to dine with Keanu Reeves in Paris, more power to you.

What new hobby have YOU taken up lately? Or what hobby would you like to take up? Let us know in the comments below.