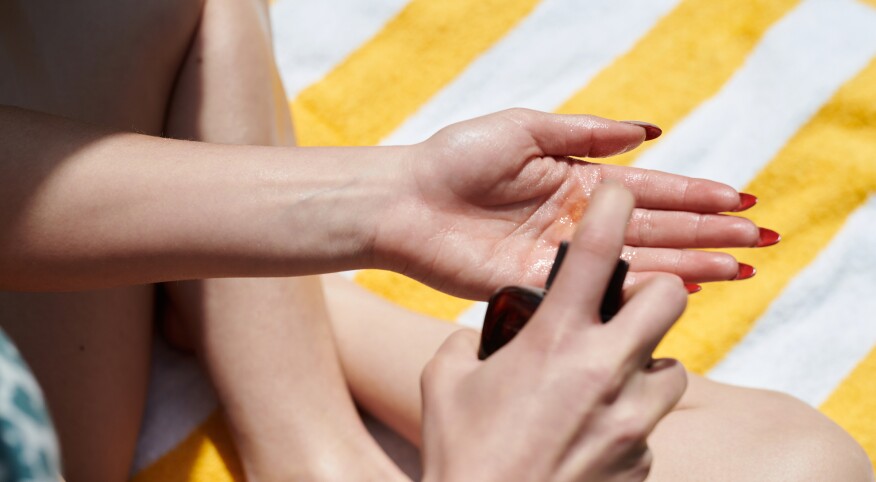 I've been using (or should I say trying to use) sunless tanners since the '80s when I was a teenager. There was the time I forgot to do one leg before the high school dance. There was the time I had a bad streak going across my face in college. And I will never forget the time someone asked me if I'd been playing in the dirt while they looked at my uneven sunless tanner that was stuck in between my fingers and in my fingernails while trying to learn the ropes at my first "real" job.

We can't deny sunless tanners have come a long way. They used to make us look like we'd been dipped in a package of Cheetos. It was impossible to apply evenly, and trying to get it to look natural on places like your feet and hands was a mystery. But today the tanners look like the real thing and can take us from feeling blah to seeing a glow in no time.

I'm at the age where I need to try and make up for all the damage I've done in the sun, and sunless tanners have saved me. I have thin, Irish skin, and always look pale unless I have a little glow. So, you could say I've tried all the sunless lotions, mousses and tanning drops. Here are the ones that work best, according to me (and the thousands of positive reviews they have received).

Tanned AF by b.tan

This must be my number 1 pick. I tried this self-tanning mousse last summer, then went to the beach the next day and even in the harsh light it looked like a real tan. I got compliments on how much color I had, and even my feet looked naturally bronzed. Most of their products are under $20.

L'Oréal Paris Self-Tanning Water Mousse

This is another one of my favorite mousses — and also under $20. I love using this on my face and entire body during the winter months because rather than making you look super tan, it gives you a nice glow. You can build on it by applying more, but this one doesn't seem to get as dark as a lot of the others — so it's great if you are fair or want something more subtle.

Coco & Eve

This is one of the best-selling self-tanners on Amazon — and with thousands of positive reviews. It's a little pricier, coming in at about $35, but remember, you don't need to apply a lot of self-tanner. Applying it once or twice a week will give you great color, and one bottle this size will last you for a few months.

Bondi Sands Liquid Gold

I happened to grab some of this on the fly last fall when I couldn't find any of my other favorite self-tanners. It was a bit pricier than my usual pick (about $26), but it was worth it. It smelled like coconut and left my skin feeling really soft and hydrated. After one application I looked like I'd been on vacation, so I had to use a lot less.

L'Oréal Paris Sublime Bronze Self-Tanning Facial Drops

Tanning drops are great because you have more control over how much you use, you can mix them with your favorite moisturizer, and they don't leave you feeling sticky like some other self-tanners. I love Sublime Bronze drops because they work just as good as the pricey ones. These drops (about $14) are perfect for your face because they give you a natural glow without making you look too dark.

And now about those application tricks …

Here are five tips for using self-tanners.


Exfoliate and moisturize your skin first. This doesn't have to be done right before you use the tanner (I like to exfoliate and moisturize in the morning, then apply self-tanner at night before bed).

If you are using a mousse, you can purchase a mitt to wear while you apply it. I strongly recommend doing this. It will protect your hands and make the application so even you won't believe it.

While doing your face, don't forget your ears, neck and the back of your neck. Work it all the way up to your hair line, and keep a warm, wet cloth handy to rub the self-tanner out of your hair.

While doing your hands, a clean makeup brush works great. Apply mousse or lotion directly on top of your hand and use a makeup brush to rub it in, avoiding your fingernails.

I always find the drops work best on my face and leave it looking more natural than the mousses do. Start off by going light and building each day until you achieve the look you are going for.