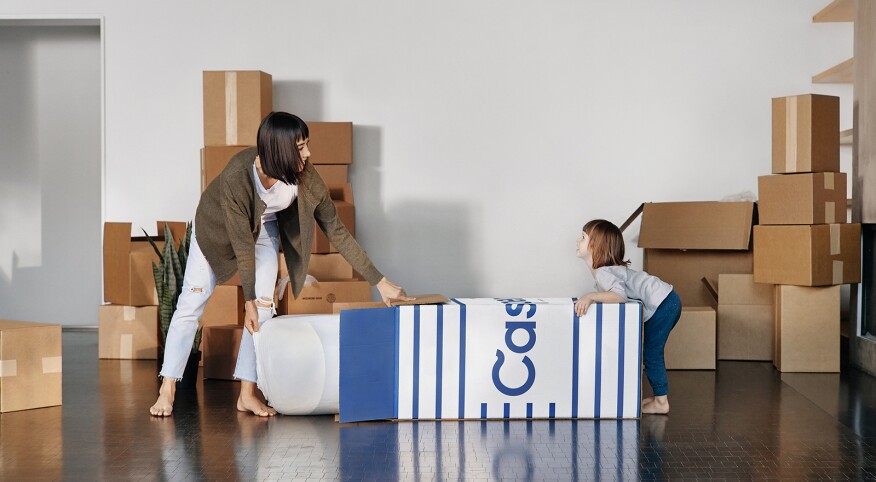 You've probably seen the ads: Order one online! It comes in a box and magically expands when you take it out! Try it for up to a year! If you don't like it, they'll pick it up for free!

Or, like me, you've seen about a thousand ads. It seems like the minute my husband and I started talking about upgrading to a king-size bed, Google, Facebook and Instagram so helpfully began inundating me with sponsored posts about how to get the best sleep of my life.

The concept certainly seemed appealing. Like anything else that fits into my Amazon Prime lifestyle, ordering a mattress in a box seemed like a big win. Who wants to deal with waiting at home all day for a delivery service when FedEx can leave it on your doorstep?

But there are dozens of online mattress companies out there these days, so I spent weeks trying to figure out how to choose between Casper and GhostBed, and Layla and Leesa. (Seriously, they don't make it easy for you.) Here's what you need to know.

1. No springs, but definitely some strings. These new mattresses are made of memory foam rather than the traditional inner springs — which is how they're able to fold, roll up, and vacuum seal the mattress and get it into a box. Memory foam, as the name suggests, molds itself to the contours of your body (but bounces back when you're not on the bed). On the plus side, that should mean a more comfortable experience than lying on a non-yielding mattress. Also, these mattresses advertise no motion transfer — you won't likely be disturbed when your partner gets into bed after you. On the minus side, memory foam tends to retain heat, and some users complain of a "quicksand" feeling after they've been in bed for a while.

2. Everyone has an opinion. Search "mattress reviews" on YouTube and you'll get a mind-boggling 183,000 (and counting) results. I fell down this rabbit hole and spent hours watching reviews late into the night. Surely losing sleep shouldn't be a by-product of shopping for a new mattress. And after hearing so many conflicting opinions (one mattress that's designated as firm by one reviewer is critiqued as too soft by another, and on and on ...), I realized that unless the reviewer happened to have the same exact build, weight, sleep habits, climate, and even bed mate, his or her opinion really wasn't terribly relevant to me.

3. Unboxing fun. This part did live up to the hype. Watching a king-size mattress emerge from a box that could easily fit in the smallest car trunk was kind of magical. The whole process can take a couple of hours, so be sure to unbox well before bedtime.

4. The sex factor. I laughed when I saw reviews online that included sex ratings for mattresses. But once we got our new mattress, I realized this wasn't a joke. You know that molding-to-your-body characteristic you want for sleeping? Maybe it's not as desirable for other activities. Not to mention the quicksand aspect! Truth is, in order to know for yourself, you just have to try it. And again. And again. Which leads to ...

5. Easy returns? Those 365-day-satisfaction-guaranteed offers are legit. They'll come and take away the mattress if you're not happy. Unfortunately, given what people do on mattresses, the rejected ones are generally sent to the landfill rather than donated or recycled. And then you have to start the selection process all over again! I, for one, think that if you give yourself a little time to adjust to the differences, your body — like the memory foam itself — will adapt. Plus, I can't bear another YouTube video. This mattress is staying!