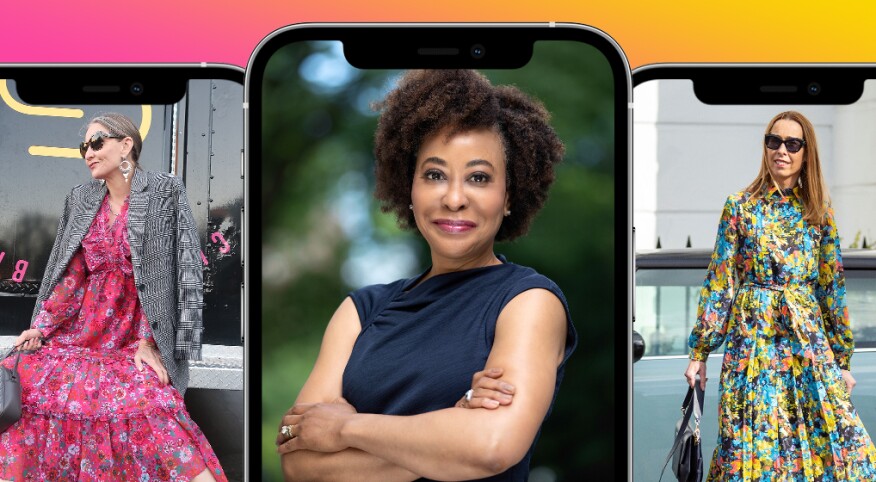 Let's be real here — a lot of Instagram is focused on those who are 30 and under. But women 40-plus like fashion and beauty trends, too.

And honestly, watching a 20-something apply their antiaging skin-care routine while taking a filtered video isn't helping us out at all. I make no apologies for wanting to see barefaced ladies my own age who aren't afraid to show their unfiltered makeup and skin-care regimens.

I also want to see women closer to my age styling some trending pieces and classic outfits. There is a huge want and need for women 40 and older on social media, and if you've been looking for some women closer to your age for inspiration, search no further. Here are five women to follow on Instagram for fashion and beauty tips.

Dawn Lucy @Fashionshouldbefun

Dawn Lucy is a 55-year-old woman who has ageless style and can rock anything from a sexy dress to distressed denim. Her style is classic, and she's a master at showing crisp, clear photos. There's so much outfit and jewelry styling inspiration on her page you will find yourself saving many of her photos. Lucy makes getting dressed seem effortless and is proof there's no such thing as age-appropriate attire. Wear what makes you feel like your best.

Marie-Louise @Mrsmlmode

Marie-Louise is a mother of two and posts all things fashion, beauty and wellness on her page. She shares her favorite skin-care and makeup products, as well as fantastic styling tips. Her photos are colorful, inspiring and — most of all — real.

Hope Mitchell @Drhopemitchell

Hope Mitchell, M.D., is a board-certified dermatologist who shares her expert opinions on all things skin and hair. Mitchell has great recommendations for everyone — including the best over-the-counter products to use on your hair and skin. She also hosts regular Instagram Lives, where you can get loads of information.

Carola Gonzalez @Carolagmakeup

Carola Gonzalez is a makeup artist for celebrities who posts tutorials we can all use on her Instagram page. She shares tips on beauty with household products — like chamomile tea bags to de-puff eyes — and offers quick makeup tutorials for a busy lifestyle.

Elan Bongiorno @Beautybyelan

Elan Bongiorno is an expert when it comes to makeup and women 40-plus. Her tutorials are addictive and doable, and her before and after images are transformative. She shows all the best makeup products for women 40 and older to use, along with at-home skin care that will keep us looking our best.