I love the holiday season for many reasons. I love decorating my house and hanging our cherished family ornaments on the Christmas tree. I love shopping for gifts and driving around looking at houses with glorious displays of lights while listening to Christmas music on the radio. I love watching all the same holiday movies that never get old. And I love eating all the delicious homemade delicacies my friends and family make each year. We often have many special containers full of a variety of delicious desserts some gifted bakers have spent hours creating for us to enjoy. I don't bake, so I appreciate those who do.

When our family receives a plate of goodies, I'm thrilled to try them all. I know those extraordinary recipes are beyond my baking abilities. There are gifted bakers who love to spend hours in their kitchens working tirelessly on complicated homemade recipes that are often passed down through family generations or shared with friends. This is not my thing. I'll buy some cookie dough cutouts and I'm good to go. But I've always wanted to learn a few easy homemade recipes, especially for the holidays. Thankfully, some friends graciously gave me six simple recipes for people like me who don't bake.

They know I have limited skills and little interest in spending too much time in my kitchen, so these are easy enough for me to do — and they are delicious. So, for anyone who doesn't bake, the following recipes are for you, too! Make them for you and your family to enjoy, or bring to your next holiday gathering and you'll surely receive compliments on your delectable creations.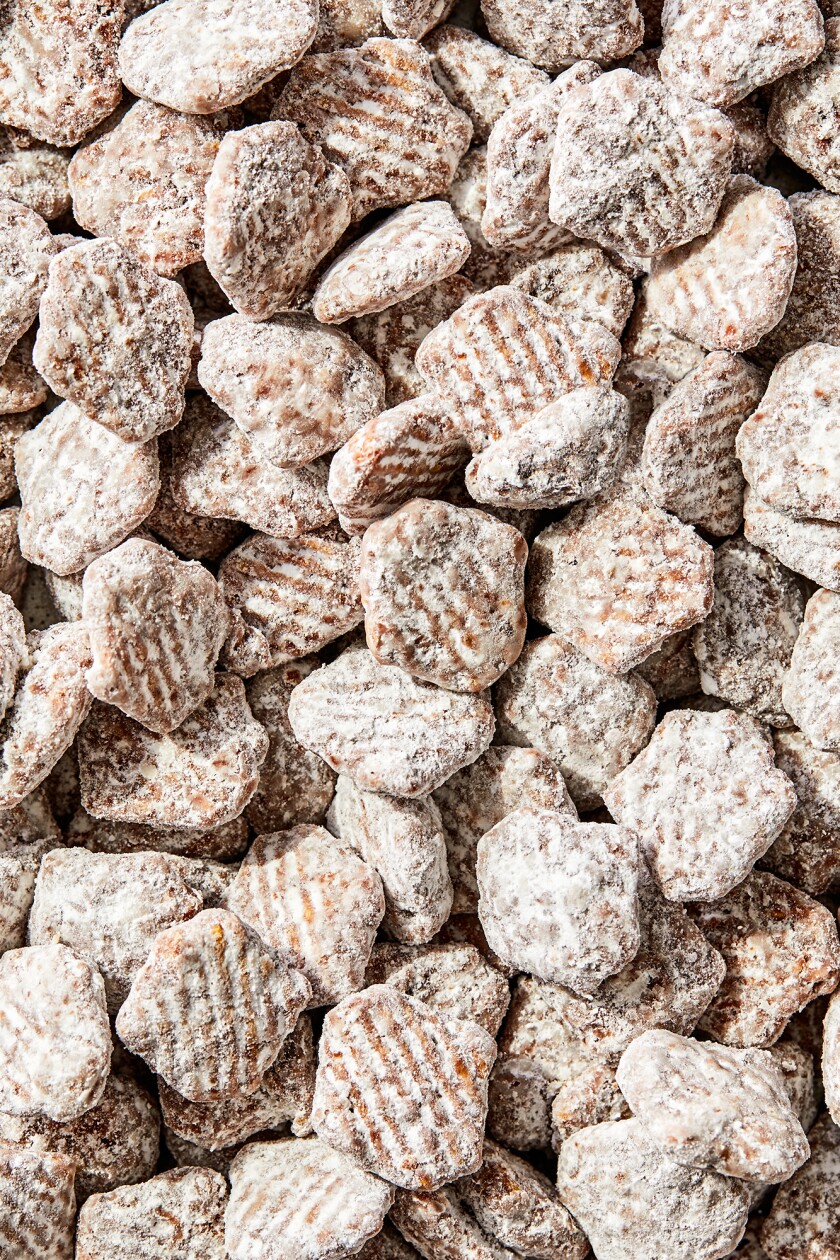 Puppy Chow

Ingredients

½ cup butter

1 cup creamy peanut butter

2 cups chocolate chips

9 cups Crispix

3 cups powdered sugar

Directions

Melt butter, peanut butter, chocolate chips in the microwave while stirring occasionally. Pour over Crispix and gently stir until coated. Shake in a bag with powdered sugar. Dry on a paper towel. Store in plastic zipper bag.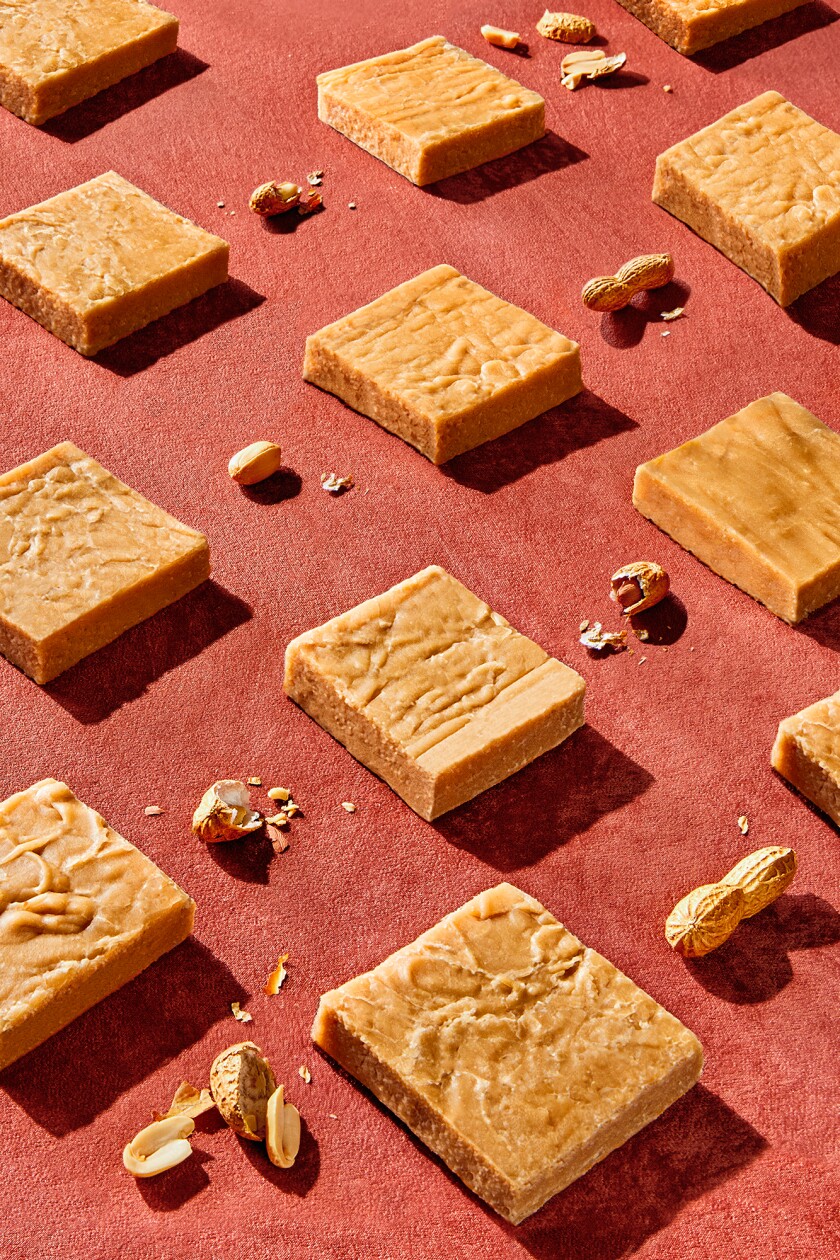 Peanut Butter Fudge

Ingredients

2 cups sugar

⅔ cup milk

1 cup marshmallow creme

1 cup peanut butter

1 teaspoon vanilla

Directions

Boil sugar and milk to a soft-boil stage (240°F). Remove from heat. Add marshmallow creme, peanut butter and vanilla. Stir until well-blended. Pour into buttered 8-inch square pan. Cool.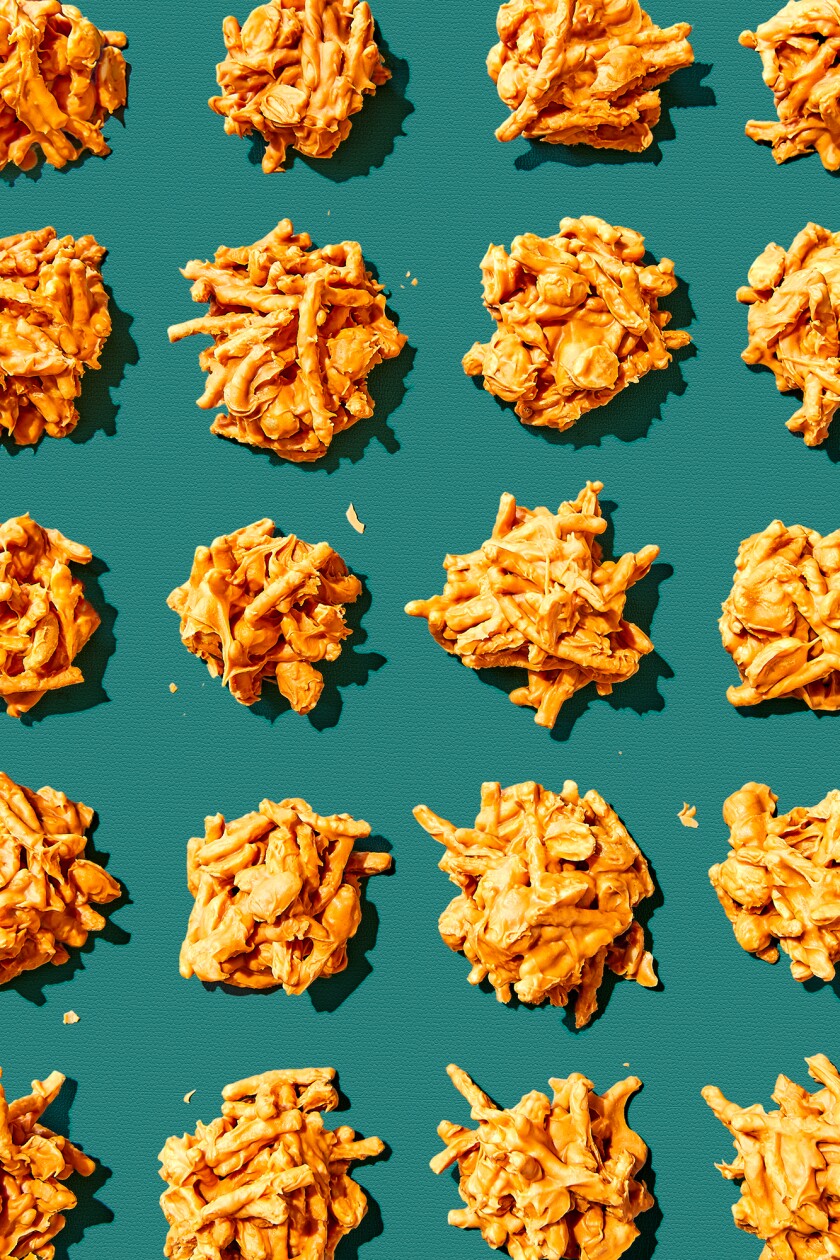 No-Bake Clusters

Ingredients

12 ounces butterscotch chips (may substitute semisweet chocolate or milk chocolate chips)

2 cups chow mein noodles

1 cup peanuts

Directions

Microwave chips uncovered 1 minute on high (stop and stir at 30 seconds). Stir until chips are completely melted and smooth. Stir noodles and peanuts into melted chips until well coated. Drop by teaspoon onto wax paper. Refrigerate 1 hour until firm.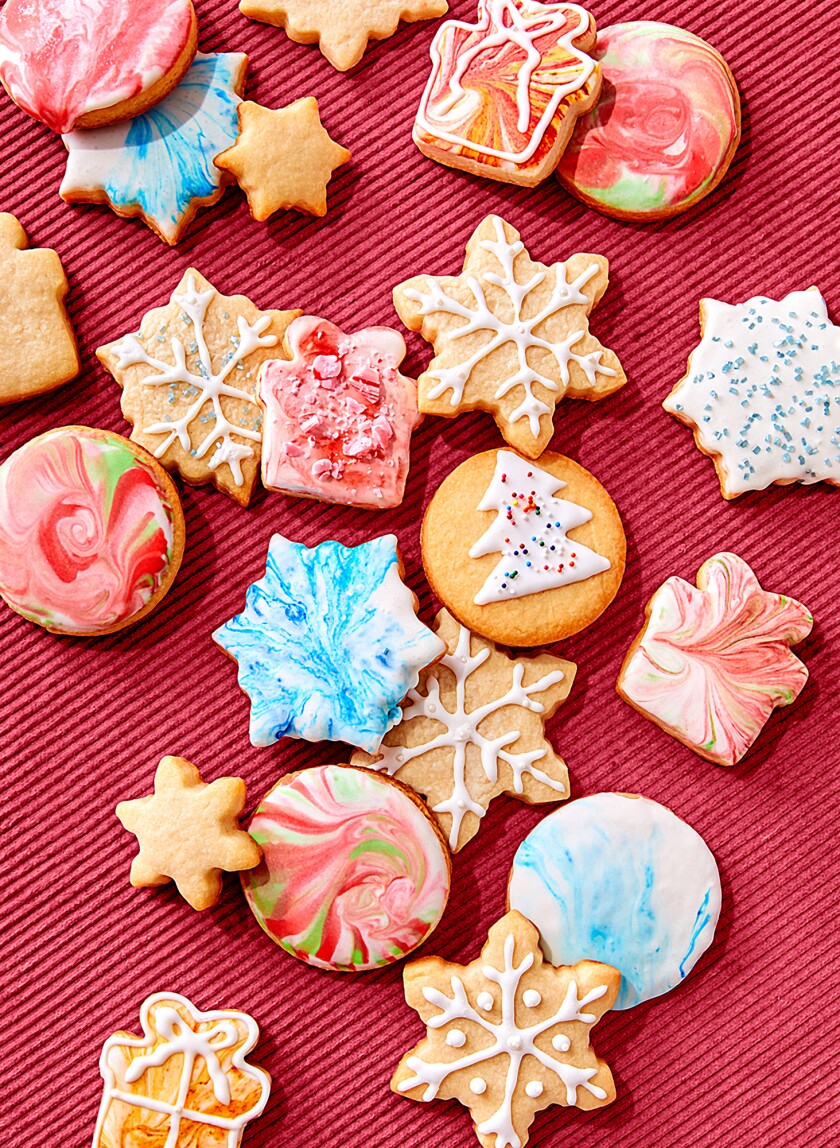 Sugar Cookies

Ingredients

1 stick butter flavored Crisco

2 tablespoons water

2 cups sugar

2 eggs

2 teaspoons vanilla

1 cup sour cream

5 cups flour

2 teaspoons baking powder

1 teaspoon salt

1 teaspoon baking soda

Directions

Mix all ingredients together. Refrigerate dough for 30 minutes. Roll the dough out and use your favorite holiday cookie cutters. Bake on a greased cookie sheet at 400°F for 7–8 minutes. Bake only until the bottoms are very light brown. For a festive touch, you can add white frosting and holiday sprinkles after they cool.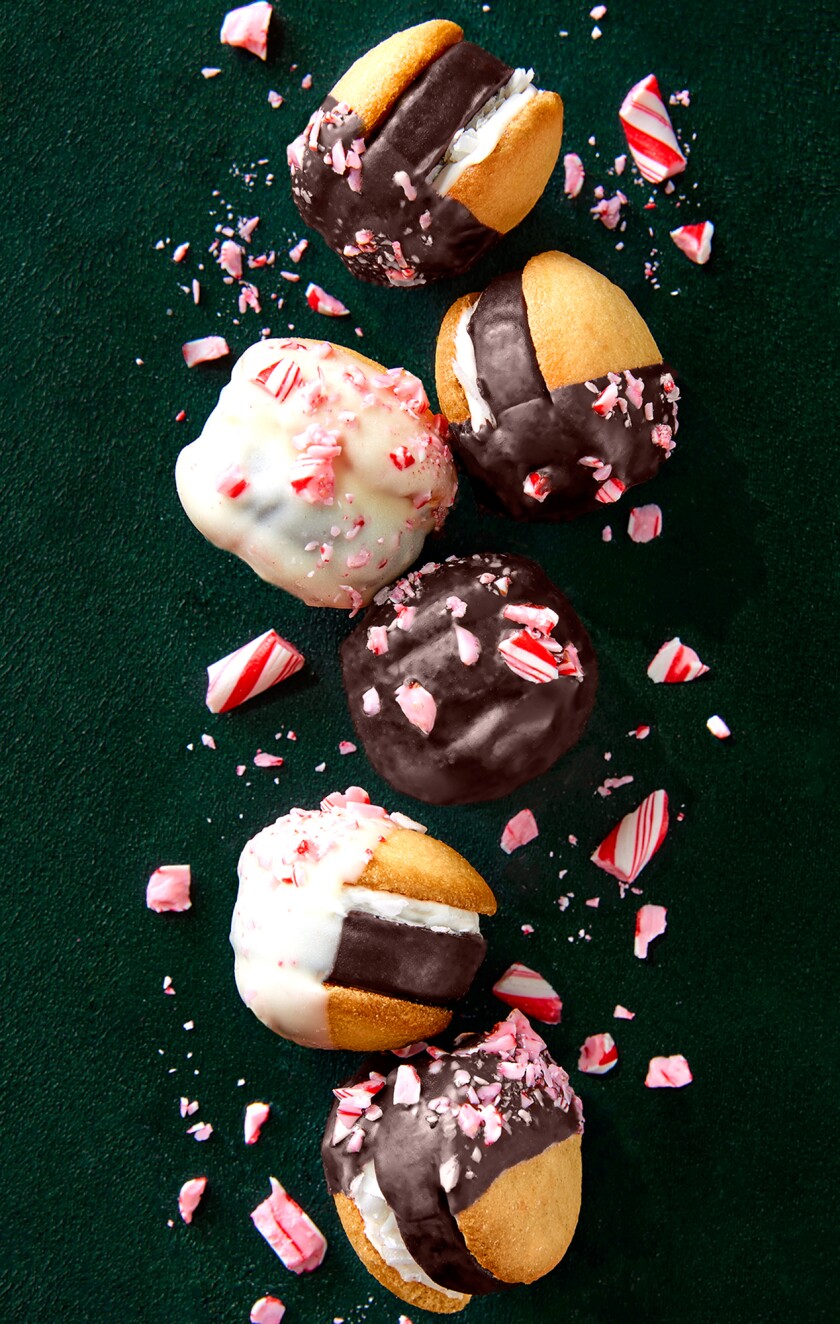 Peppermint Sandwiches

Ingredients

Vanilla wafers

Frosting

Sweetened coconut flakes

Peppermint Patties

Directions

Layer wafer, frosting, coconut flakes, peppermint patty and another wafer. For the holidays, you can always use food coloring to make the coconut flakes green and the frosting red!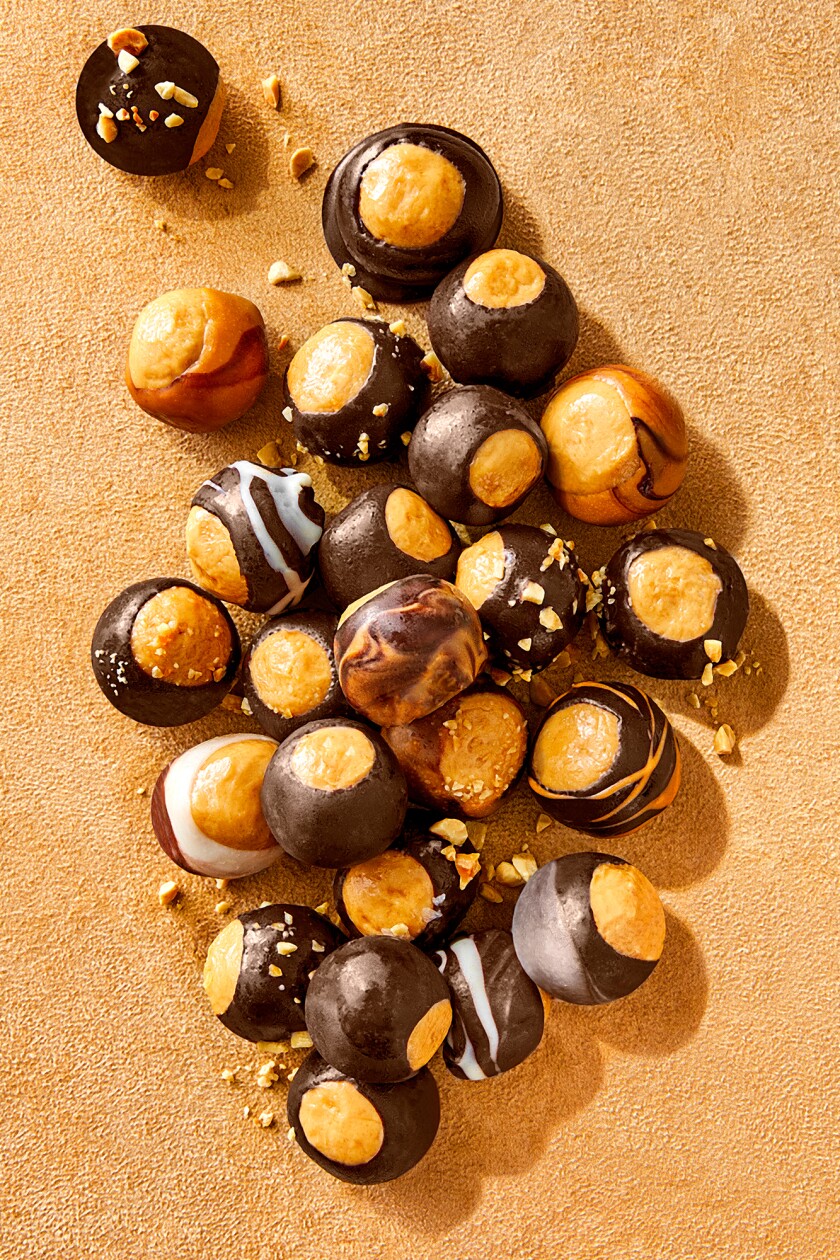 Buckeyes

Ingredients

1 16 ounce jar peanut butter

1 stick softened butter

1½ cups powdered sugar

1 bag chocolate chips (semi or sweet)

Directions

Stir peanut butter, softened butter and powdered sugar together and roll into 1 inch balls. Freeze.

Melt (semi or sweet) chocolate chips in the microwave for 1 minute (stir at 30 seconds).

Dip balls in chocolate and place on wax paper to cool.