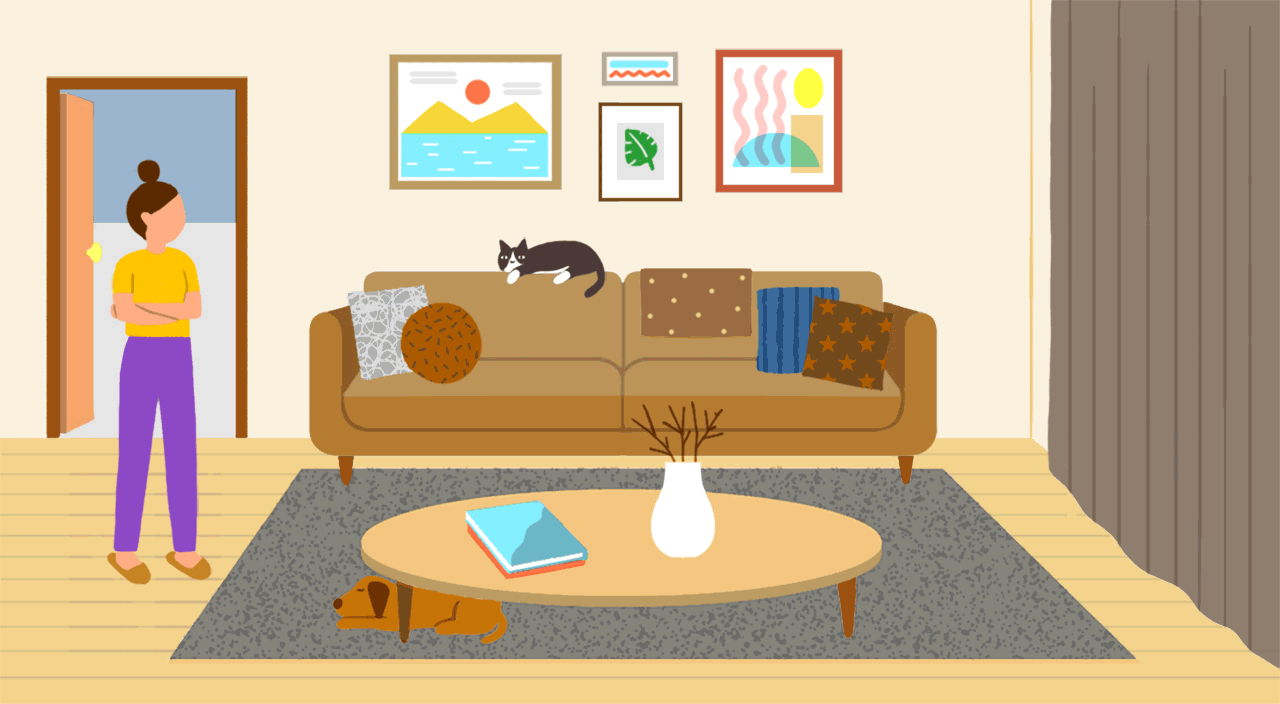 The weather's warming up and maybe you're craving a lighter, brighter home. You may want an atmosphere of airiness and understated luxury. Time to knock down some walls! Kidding. You don't need a sledgehammer to add a lighter vibe to your home. Simple, strategic updates can have a dramatic impact on how your space looks and feels, and more importantly, how you feel in it. Here are six ways to lighten and luxe-ify your home — no demo required.


Let the sunshine in.

Blackout drapes and heavy blinds serve their purpose in colder months by making a space feel like a warm, cozy cocoon. But now that it's warmer, it's time to make like a Disney princess and throw open the shutters. Replace heavy drapes with lightweight, billowy curtains pulled to the edge of the window to welcome in light and fresh air. Not only will your space feel brighter and more open, but the vitamin D you get from the sunlight streaming in will be great for your mood.

Top picks:


Dress your sofa for summer.

Pack away the chunky cable knit throw that you lived under during the winter holidays and swap in some lightweight linen or cotton blankets along with a few throw pillows in muted pastels or vibrant colors, depending on the type of luxe energy you want to bring to your space. Material is your key element — linen and cotton are natural, breathable fabrics that keep you cool in the warmer months, so go with those over less breathable synthetics or winter-appropriate wool or fleece, no matter the color you choose.

Top picks:


Bring in a low-pile area rug.

While it's true that dark-hued rugs hide imperfections, light-colored rugs can do wonders to open up a room and add a touch of elegance. And you only live once, right? Get an area rug in as light a color as your anxiety about spills can withstand — it doesn't have to be white! Pastels of any hue are on-trend this season. Not only will a lighter colored rug update your space by reflecting light and adding to the airy effect, but the soft, low pile will feel incredible under your bare feet.

Top picks:


Add a luxurious scent.

Have you ever stayed in a nice hotel and wondered what kind of cleaning products they use because somehow it smells like happiness? That's because luxury hotels invest in something called an HVAC scent diffuser — an attachment to their heating and cooling system that infuses the air with an elegant signature scent. Recreate this feeling in your own home by investing in a smaller-scale version, no HVAC adaptations required — a simple reed diffuser or wall plug-in will do the trick. Some beloved hotel scents are sandalwood, patchouli, white tea, vanilla, jasmine, lavender and lemon blossom.

Top picks:


Change the paint color.

This tip is admittedly more time intensive, but nothing updates the feel of a room more dramatically than freshening up your wall color. Enlist your partner or a friend to help you push your furniture to the center of the room and make a day of it, followed up with dinner from your favorite takeout joint. Decorators love Sherwin Williams and Benjamin Moore because their palettes literally set trends. Just make sure you try samples in your room before you commit, as the light in your home will be different from the light in the store.

Top picks:


Swap out clutter and swap in greenery.

One surefire way to make a space feel luxurious and well-designed is with strategically placed greenery. We've all got a shelf piled with clutter that we've been thinking we should toss or donate — do that, and put a plant there instead. If you're convinced you have a brown thumb, go for a hardy, resilient plant like pothos, philodendron, or ZZ plants. Pothos is one of the most resilient plants you can own, requiring less frequent watering and medium sunlight, and its spilling foliage adds a glorious, natural vibe to any space it inhabits.

Any one of these swaps will make an immediate difference in your living space. Do all of them and you'll have a total room makeover. Here's to enjoying the summer months in light and luxury of your own creation.

What would you love to change about the way your home looks? Let us know in the comments below.