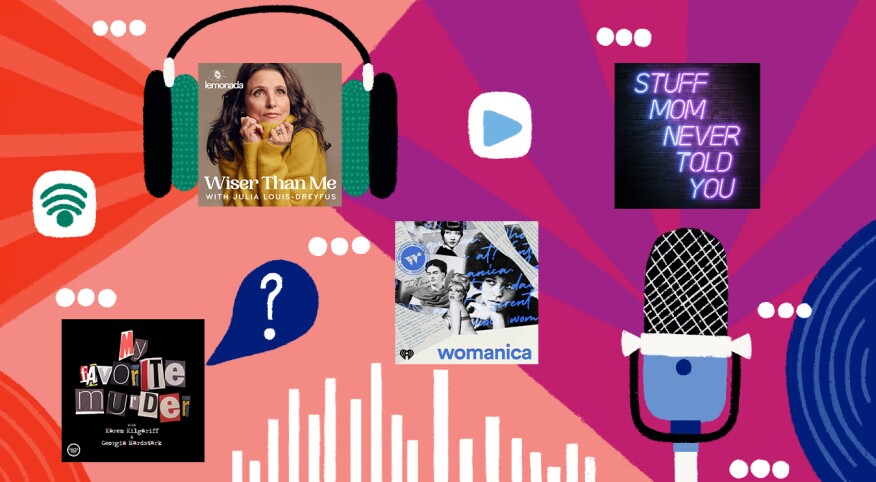 Podcasts are enjoying a growth spurt: They're projected to reach 100 million listeners by next year. Today's choices seem endless. Here are seven insightful, entertaining and inspiring selections that are brimming with Girlfriend power.

Womanica

Curious about women throughout history? Jenny Kaplan's podcast episodes each last about 5 minutes. This is far from what you'll recall from high school history classes, which focused more on men than women. You might not know these pioneering women's names, but you'll discover why they were important by hearing their accomplishments: a circus performer nicknamed "Lady Hercules" who stunned audiences with her strength, the only African American magician of her time to have a solo touring show, the first and only woman to achieve the highest rank in judo, one of the first women to fly through the air as a human cannonball.

Wiser Than Me

Do you look up to and learn from women older and wiser than you are? Julia Louis-Dreyfus does, in her podcast launched in April 2023. She says in the show's trailer, "It is just stunning to me that older women are so easily dismissed and made invisible in our culture." Louis-Dreyfus gets schooled by older women. She interviews Jane Fonda (85), Darlene Love (82), Ruth Reichl (75) and others including her 89-year-old mom, Judy. "We've all got a lot to learn from these wise women who've had a little more time than I've had to figure this life … out," says Louis-Dreyfus. Personal, poignant and funny conversations every week.

Maintenance Phase

Diving underneath wellness scams and unscientific nutrition and health fads, Aubrey Gordon and Michael Hobbes deliver important information sprinkled with humor. They unpack myths about "fat people," popular diet books, and sleep issues. Is a vegetarian diet better for you? Is it true that French women don't get fat? Tune in for provocative answers.

The Guilty Feminist

Hosted by British comedian Deborah Frances-White, this award-winning podcast is a combination of comedy, top-tier guests and deep-dive discussions about female politics, music, culture and much more. Her oft-used opening line, "I'm a feminist, but…" allows her to compare her lofty principles with real-life realities. For example: "One time I went on a women's rights march, and I popped into a department store to use the loo, and I got distracted trying out face cream. And when I came out the march was gone." There's a reason it has some 100 million downloads.

Moms Don't Have Time to Read Books

Zibby Owens is the mother of four children, yet she reads tons of books and has interviewed more than 1,600 authors on her award-winning podcast, exceeding 12 million downloads. She demonstrates her enthusiasm for literature by advocating for writers and speaking directly to readers of all genres. A writer herself, with her own publishing company and an independent bookstore in Los Angeles, Zibby introduces both emerging and established writers. "The cracking open of a book's spine has always been an exercise in self-discovery, healing, and fortification," writes Owens in Bookends: A Memoir of Love, Loss, and Literature. "That subtle whoosh when words spill out makes me salivate."

Stuff Mom Never Told You

My mother told me to let boys win at sports and vote in elections for whomever your husband chooses. Now I rely on Anney Reese and Samantha McVey's talks about women's issues, mental health, sexuality, body politics and how feminism impacts our lives. Podcasts range from nine minutes to over an hour, emphasizing comedy and advocacy in a wide range of topics from banned books to female firsts and pop TV shows.

My Favorite Murder

Calling all true crime story aficionados! The funny hosts, Karen Kilgariff and Georgia Hardstark, trade true crime stories, and you'll feel like you're having a private conversation with buddies who thrive on mysteries. Since its start in 2016, the podcast has exceeded download records, referring to their listeners as "murderinos." Their episodes are not for those easily spooked or scared: murderers, massacres, mysterious disappearances, private investigators and heroic rescues. Listen with the lights on.

What's YOUR favorite podcast? Let us know in the comments below.