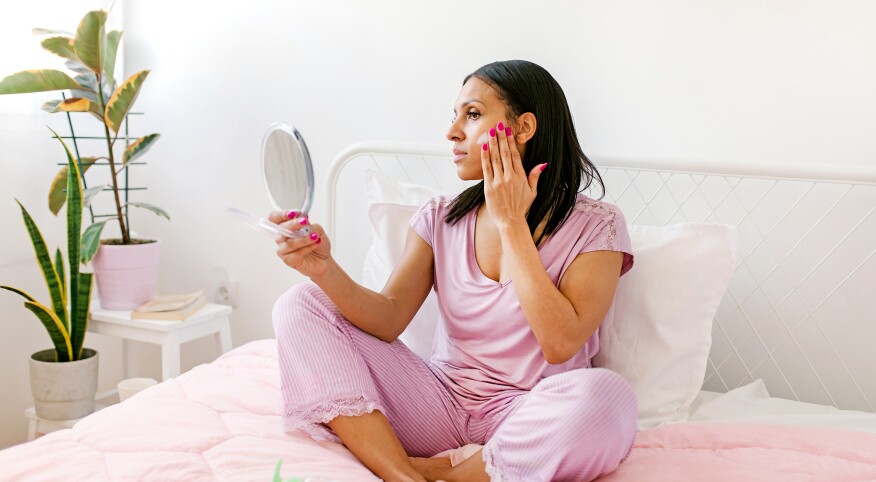 When I was in my 20s, I wasn't overly concerned about the skin on my face or the products I was using. My skin looked pretty good, aside from the occasional breakout. So I used cheap stuff — soap and water, moisturizer from the drugstore, a few dabs of Clearasil — and that was it.

In my 30s and 40s, I upgraded my regimen. I started using a more expensive moisturizer that my dermatologist recommended and went for facials two or three times a year. I became one of those people easily convinced to try any product. I always left with a bag full of creams, many of which I used only a few times before discarding.

Now that I'm in my 50s, I am not quite sure what my skin needs — and actually, not much. Lena Weinman, the medical director at Douglas J's Medspa, says, "Proper skin care is a balancing act between hydration, exfoliation, skin renewal and regeneration."

As skin ages, structural changes can occur. Alexander Zuriarrain, M.D., a board-certified plastic surgeon, explains, "These can include thinning of the entire skin, which leads to increased susceptibility to sun damage and skin wrinkling. The amount of collagen also decreases as the aging process continues, which leads to increased skin laxity."

There is no shortage of skin-care creams and serums labeled "antiaging" and marketed toward midlife women.

But it turns out that most of these products don't deliver on their promises. And while there are tons of items you can buy, your skin doesn't need much to be healthy. Weinman says, "As we age skin becomes more sensitive to topical products, and even though formulas labeled as antiaging are safe, older women need less product for skin improvement."

So, to keep your skin looking and feeling its best, consider narrowing down your skin-care regiment to these five products for daily use.

Facial cleanser

If you haven't graduated from soap and water, it's time to make a change. New York-based makeup artist Marsha Page, aka the Melanin Therapist, says, "The harsh detergents contained in soap strip the skin of its natural oils. Therefore, a hydrating cleanser offers a better, skin-friendly solution."

Choose a facial cleanser appropriate for you skin type and avoid synthetic foaming cleansers. Explains Cybele Fishman, M.D., board-certified dermatologist of Advanced Dermatology, PC: "Foaming agents are alkaline, and our skin is supposed to be an acidic environment. When you use a foamy face wash, you disrupt the skin's natural barrier. Get over this idea that your face is not clean unless it feels tight and dry after. I always recommend a milky or cream cleanser."

Sunscreen

Whether you are spending the day at the beach or just going to and from your car on a winter day, sunscreen is a daily necessity. "Sunscreen is the ultimate antiaging cream," Fishman says, "as it will help prevent UV-induced aging like loss of collagen, elastic tissue and abnormal pigment as well as skin cancer." Choose a sunscreen with an SPF of 30 or higher, with a physical blocker of zinc oxide or titanium dioxide. Apply after cleansing and before other products for maximum skin absorption.

Antioxidant serum

Choose a lightweight serum, preferably one with vitamin C as part of your morning routine. Kemunto Mokaya, M.D., a board-certified dermatologist from Houston, says, "Vitamin C is safe for most skin types and is useful because it is an antioxidant that fights the effects of free radicals such as those from UV radiation. It promotes collagen production, is a skin brightener that evens out the complexion and reduces hyperpigmentation, hydrates the skin and reduces redness."

Moisturizer

Moisturizers tend to be thicker in consistency than serums and are used to hydrate skin. The best moisturizer to use depends on skin type. Drier skin needs a heavy formulation, but oily skin needs something lighter to avoid causing breakouts. "Peptide moisturizers help the skin fight against premature aging and sagging of the skin," Page says. A separate moisturizing eye cream with hyaluronic acid can also be beneficial. Fishman explains, "While not an antiaging product per se, hyaluronic acid is a humectant. It draws water to the skin so it appears more hydrated and can make eye wrinkles appear less prevalent." Also, hydrate your skin from the inside. "Hydration is critical. It is important to drink at least eight glasses of water per day," advises Zuriarrain.

Retinol product

"Retinol will always be your gold standard for antiaging," says Fishman. But be careful about the strength of the retinol you use. Page explains, "If you have darker skin, you need to be careful about what type of retinol product you are using. Some prescription-strength retinols, like Retin-A, have a high concentration that can cause adverse reactions for people with dark skin." To be safe, discuss with a board-certified dermatologist before using any retinol products, even those sold over the counter. And make sure to use retinol only at night, as it will make you photosensitive.