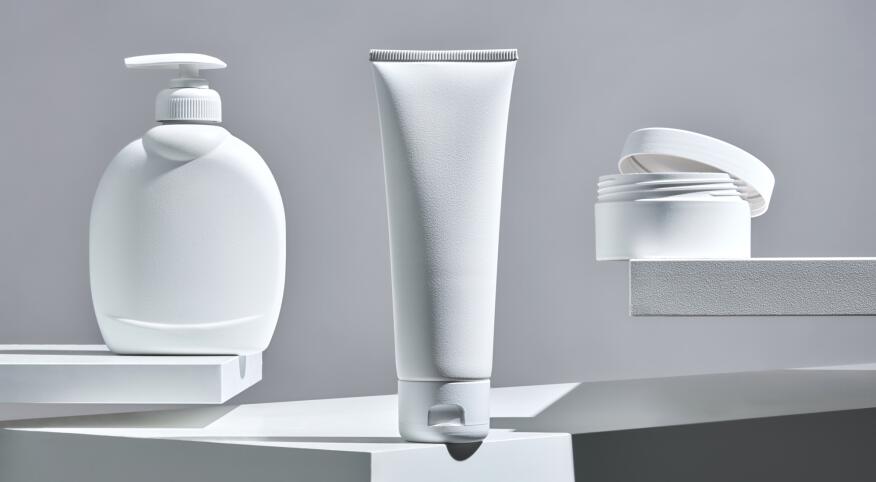 I stepped on the scale this morning and realized I gained 3 pounds since the start of my quarantine. It didn't concern me all that much because I am pretty sure that most of those extra pounds are living comfortably on my eyebrows, which are in dire need of a professional waxing. Plucking is a long and painful process for my coarse eyebrows, and I just can't seem to get the art down.

And don't get me started on the roots. Girl, I was three weeks overdue before the salons closed down, so now I am sporting the two-tone (OK, three if you count the gray) hair that I so desperately want to fix. I was dangerously close to purchasing some auburn hair dye and drastically changing my blonde locks — just to feel like I was somehow in control of the mess of hair that lives on my head.

Despite settling into our new normal, anxieties and questions about beauty maintenance in quarantine are increasing. What's a sheltered-in-place woman to do? I decided to turn to Jordan Artistry, a licensed cosmetologist who specializes in both hair and makeup artistry. I asked her all of my crazy, quarantine beauty questions, and here are her top five tips to get you through this time in our lives.

Just say no to hair dye
Your roots are not nearly as noticeable to others as they are to you. Just look at a friend who is complaining about her roots and you will quickly realize it really isn't that bad. Plus, aren't we all kind of pulling off ombre right now? Regardless, Artistry's professional advice regarding at-home color: Don't do it. While she understands that temptations can run high during this difficult time, she warns that a mix-up with at-home color could be costly. "If you choose the wrong color or accidentally damage your hair, color corrections at the salon are pricey and timely. Box dye is typically not a great option because the processing time is not tailored for your specific hair type." She suggests trying a temporary root cover-up powder. Added advice for the blondes: Invest in a good, toning hair mask to help remove brassiness and revive your hue until you can make it to the salon again.

It's a maybe for the scissors
If you notice your split ends multiplying and your hair looking dry and damaged, your first thought may be I really need a haircut. Not so fast, says Artistry. "Before cutting your hair due to split ends, I suggest using hair masks and moisturizing creams, and limiting your use of hot tools." If you still feel like you need to treat yourself to a trim and feel confident that you have a steady hand? Artistry offers tips for an at-home trim: "Cut minimal amounts off, on clean hair, using a pair of haircutting shears."

There are options for facial hair
The options are endless for at-home facial hair remover, but when it comes to eyebrows, Artistry's number one rule is tweezers only. "Waxing eyebrows yourself can cause serious problems, such as skin damage. Tweezing is more precise than waxing, allowing you to pluck stray hairs until you are able to see your brow professional." What about upper lip, chin and other facial hair removal? "Facial hair-removal methods vary from woman to woman. Someone with sensitive skin or other skin conditions may not work well with Nair, but work better with using a facial razor or epilator. Many of my clients shave their face and love it! It provides exfoliation, and a smooth surface for makeup application." Food for thought, friends. If you do go for the razor, please report back to me. I am intrigued.

Say yes to all moisture!
While you may be missing your normal mani-pedi routine, it is still a great time to offer your hands and feet some much-needed nourishment. Artistry says, "Many of us are washing our hands more frequently, which leads to dry skin and nails. Invest in a good hand cream, strengthening polish, and a cuticle oil," and apply as directed throughout the day. Your skin will thank you, and your nails will grow stronger and potentially longer. Artistry also reminds us to hydrate our skin more generally. "Drink a lot of water, use sheet masks and overnight treatments. Be sure to continue your daily skin-care routine, and despite being in the indoors, it is still very important to wear sunscreen to protect your skin from light coming from windows and through your electronic screens."

Embrace your inner beauty and say yes to self-love
It is only normal to get a little panicked over gray roots and bushy eyebrows, but the bottom line is, these things don't hinder your beauty. Artistry suggests using "this time to fall in love with your inner self and natural appearance completely." Practice writing a self-love list in the morning, listing the nonphysical things you love about yourself. It will serve as a reminder that your eyebrows, hair, nails, etc. are really just the cherry on top. You're beautiful because you are you, from the inside out, and there is nothing a quarantine can do to change that.