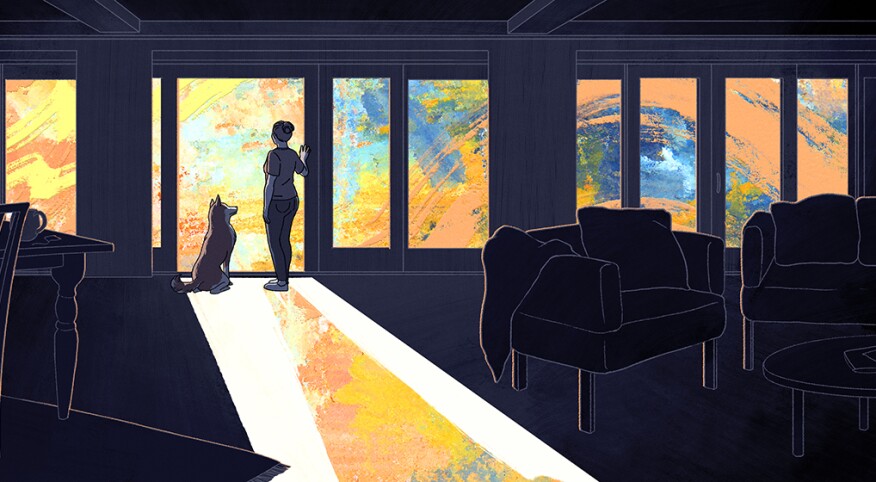 Bored with your life lately but can't seem to make a change? Feeling stuck in your job or your relationship but lack the energy to shake things up? Sick of the same old, same old but nothing new sounds appealing? The likely diagnosis? Inertia.

Inertia isn't just a concept you vaguely recall from high school physics; inertia is also a state of mind that can hurt your relationships, your career, health and even your self-esteem. Here's how to know whether inertia is dragging you down, and how you can break free from it.

Inertia isn't all bad

Inertia can have both positive and negative connotations, says motivational psychologist Martin Ford, a professor of education at George Mason University. Humans are creatures of habit. We tend to do the same things day after day without thinking about it. That saves time and energy and can help us meet our goals. That's all good — until you realize you've outgrown your job, or your relationship isn't working anymore, or you're tired of carrying around 30 extra pounds. When you have that kind of epiphany, yet feel incapable of changing your circumstances, you're experiencing inertia.

Though inertia can strike anytime, you're particularly susceptible during midlife. "Circumstances change, or you change," Ford says. "You get older and develop new interests or lose interest in the things you used to be interested in. At that point, your steady-state pattern isn't working for you anymore."

Overcoming inertia

OK. So something's not working. You need a plan to shake things up.

Step one: Become aware

Take some time to drill down to why you're feeling "meh." Are you burned out at work? Tired of being single and ready to meet Mr. Right Now? Want to downsize or move someplace warmer? What's your "why"?

Step two: Look for a catalyst

A catalyst — which in physics is a substance that increases the rate of change — is necessary for change. That catalyst can be internal or external. Last year, I realized I didn't love my job but decided to try to make it work — then I got laid off in July. That's a hell of an external catalyst. Now a new job wasn't a want but a need. My friend Cindy's approaching retirement spurred her to take up a new hobby — golf. "I realized I was going to have a lot more free time than I did before, and I didn't want to be bored," says Cindy, 57, who retired last year. "So I started golfing and found out I loved it!" She hits the links four or five times a week and has yet to be "bored."

Step three: Consider your options

Brainstorm possibilities. Say you're bored with your social life. What can you do? Take a class or two? Volunteer? Join a Meetup group? Learn how to shoot pool or throw axes? Plan a trip with your girlfriends? Feeling uninspired? Talk it through with a friend. "Often inertia is best combated with folks who are change agents in some way who can push you differently and make you think further in the future," says Ford, coauthor of Motivating Self and Others: Thriving with Social Purpose, Life Meaning, and the Pursuit of Core Personal Goals (Cambridge University Press, 2020). "You may be stuck in the here and now with circumstances as they are, but who might be able to help you think differently or more broadly?"

Step four: Get in gear

Now that you've got some idea of what you want, take action. That could mean updating your CV, creating a dating profile or hiring a personal trainer. Don't be afraid to start small.

So-called incremental change — a small shift in behavior (such as convincing your spouse to see a marriage counselor with you) — is often less scary and can be more effective than transformational change (such as deciding to leave your marriage). But sometimes you need a radical change. My cousin Wendi is a chef who lost her job running a culinary school during COVID-19. After months of sitting on her couch ruminating, she realized she had to change careers and decided to look into real estate. "I had a fear of living in my car, and I got to the point where I was sick of my own b.s. and knew something had to happen," admits Wendi, 54. Now a successful realtor in Washington, she still teaches cooking classes on the side while pursuing a second career she loves.

Welcoming something new

Consider inertia as a window to new possibilities, and be open to what's next. "The key to overcoming inertia is having some kind of wakening or some sort of catalyst that will trigger change," Ford says. That can give you another threshold of energy that can spur you to apply for a new job, launch a side hustle or tell your guy you need a break — or more quality time. The willingness to examine your life and shake things up, at least a little, can make for a happier, more content you.

What do you do when you feel bored with your life? Let us know in the comments below.