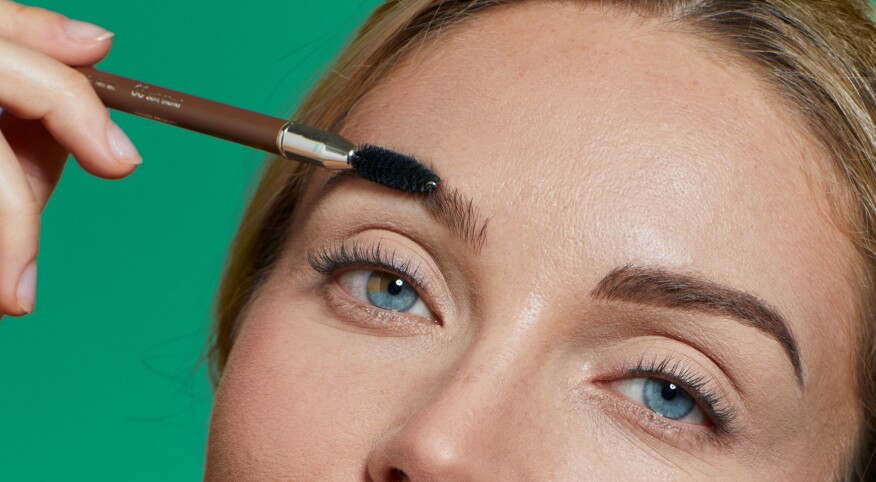 In my early 20s, my best friend and I treated ourselves to a day at a trendy spa in New York City. While we waited in our robes in between treatments, we turned to the topic of eyebrow grooming. I mentioned that my brows were "au natural." I had full brows, similar to Brooke Shields in the 80s, and never felt the need to do anything to maintain them.

As only a best friend can tell you, she gently suggested I consider doing a little for them.

I appreciated her honesty and her timing was ideal. My next treatment that day was a facial. The esthetician was happy to do a little waxing and tweezing. I left the salon with a glistening complexion and brand-new, well-groomed brows.

From then on, brow grooming became part of my beauty routine, and I now regularly go to a professional for eyebrow shaping.

Then, sometime in my 50s, I realized that my eyebrows weren't growing as rapidly. My once overly lush brows seemed thinner and kind of patchy. One day a huge, long gray hair appeared on my left brow. I plucked it out immediately, but a few weeks later, more appeared.

Aging brows

My experience is a common one. As if a decrease in hormones didn't wreak enough havoc on a woman's body (hot flashes, mood swings), they also impact eyebrow growth. Many women will see the hair in their brows appear sparser, grow coarser and change color.

"Back in their 20s and 30s, many women may have over-tweezed their brows and now, later in life, their brows don't grow back," explains Delphine Breyne, a restorative beauty expert and founder of Delphine Eyebrow Couture.

Breyne adds, "I've also seen a lot of clients who have lost hair in their brows due to stress, especially since COVID."

"We should be thinking about brow and skin health more as we age," says Michele Holmes, owner of Michele Holmes Studio. "In addition to cosmetics or tint to bring color back to the brows, we should also be thinking about the skin and follicle health around the brow area."

Brow color

"I see many people using the wrong color makeup on their brows, " says Holmes. "It's a little tricky because it's not always a 'match the hair' to the brows scenario. Clients with all-white hair wouldn't want white brows, or a redhead that still has a little strawberry and gray shouldn't have red brows. Color matching is very important when hair pigment starts to change with age."

Because hair color tends to fade into cooler shades with age, it's best to mimic that in the brow. Holmes explains, " If you are a light brown, you want to find something on the cooler scale of brown, not warm or reddish tones. A good brow artist can lift some of the color out with specialized tinting."

Brow serums and vitamins

"There are many good growth serums on the market right now," says Holmes. Her clients have had great success with Revitabrow, Grande Brow and the new Obagi Brow Serum. Holmes explains, "Use these products on your brows at night just like you would with good skincare. Wash your face and pat the brow area dry. Use your serum on the brows and let it fully absorb before following with your nighttime moisturizer."

While topical serums and oral vitamins may be effective, they might only work for some people. Delphine explains, "With aging, brows lose balance. Hair loss tends to be at the tail and toward the nose. So while serums or vitamins may help with growth, it may be fuller in some places and not in others, so you might not get the results you want."

Brow gels

Using an eyebrow pencil can be helpful for minor shading of sparse spots. But drawing in a full or almost complete brow will not look natural. For sparse brows, Holmes suggests using a tinted brow gel instead of a pencil. She explains, "Brush what hair is there in the brow to bring it to life. Using a gel looks a lot more natural than using a pencil."

Botox before brows?

The order should be brow shaping and then Botox (and don't try to fix bad Botox by adjusting the brow shape, as doing so will only make the brows worse in the long run). "Botox shouldn't change your brows too much, but sometimes it happens. If your brows get lifted too high with Botox, fill them in a little more on the underside of the brow to give them a more natural look."

Microblading

Microblading can be a great semi-permanent solution for women with significant brow loss. "Microblading gives the look of hair strokes, while
powder brows look more like soft makeup," explains Holmes.

Delphine has been in the beauty industry for 25 years. She explains, "I have a consultation with all my clients to ensure we are a good fit. I must understand their lifestyle and expectations. It's a meaningful investment so I want us to trust one another and also ensure that they are committed to the process. Clients must keep the area dry and sleep on their backs for 10 days."

Microblading does fade with time, so if clients change their hair color, they can adjust the brow to lighter or darker. Delphine says, "Because it's semi-permanent, it's a lot harder to remove color. I go slowly and add in color little by little. It takes a few sessions to create the natural, conservative 'top chic' brow."

Perfect brows are imperfect

Holmes says, "The most youthful-looking brow is not overdone or overly made up. I stopped tweezing my brows for almost a year and they finally started to come back from my skinny brow phase in the 1990s. Now I don't touch them very often, and I have enough hair to have a lovely shape and just fill in where needed with a pencil."

Finally, keep in mind that eyebrows aren't supposed to be perfect. Delphine explains. "People are asymmetrical. Each side of our face is different and the hair grows differently in each brow. So the brows shouldn't match each other perfectly. Also, your brows should enhance your face — you want people to see your eyes first, not the brow. 'Less is more' and 'You are beautiful the way you are' are my favorite things to tell clients."

Are YOUR eyebrows thinning? What do you do about it, if anything? Let us know in the comments below.