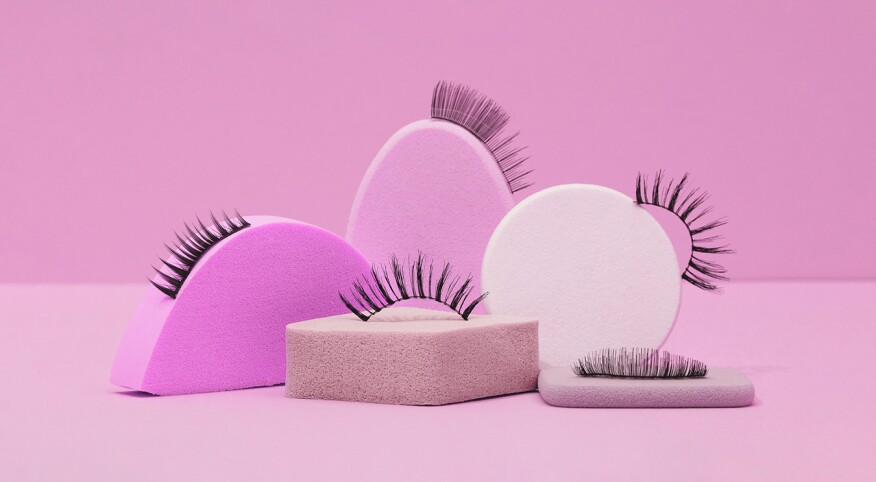 Confession: I have, like, five eyelashes on each eye. While I exaggerate (a bit), my lashes are short, sparse and straight. I've always relied on coats of mascara to give them volume and length but have been enviously eying (pun intended) the thick, lush lashes that are popping up not only on celebrities but on my barista, my niece, my neighbor, you name it. So I did my homework on the lash options out there. Here's the 411 on your lash options, as well as their pros and cons.

Falsies/Glue-on eyelashes

Pros:

Inexpensive; relatively easy to remove; can be reused (clean them first)

Cons:

Can be tricky to apply; must be removed at night; can look fake; can't get them wet

Cost:

$5 to $25 (eyelash adhesive may be sold separately)

"Falsies" are usually the first step in lash experimentation. You can pick up a pair of lash strips at the drugstore, apply a little eyelash adhesive to your eyelid, apply the eyelash strip, and voila! Long, lush lashes. That is, if you have pretty good eye-hand coordination. I don't and had a difficult time with the glue, and with getting them to stick. You also have to be careful while removing them so you don't pull out any of your own lashes.

Magnetic eyelashes

Pros:

Inexpensive; relatively easy to apply and remove; different application options

Cons:

Must be removed at night; magnetic eye makeup can be difficult to remove

Cost:

$20 to $40

I found magnetic lashes easier to work with than falsies. With some, you draw on a little eyeliner and then the tiny magnets on the lashes "snap" onto the makeup. They stay on really well and are easy to remove, though you'll need special eye makeup remover. Other types include magnetic pairs of lashes that surround your existing lashes, and tiny clusters of magnetic lashes that you apply under (not above) your lashes for a more natural look. Like falsies, they should be removed at night to avoid bacteria growth and infections.

Professional eyelash extensions

Pros:

No need to remove them at night; someone else applies them for you; can get wet

Cons:

Time-consuming to have them applied; expensive; must clean them regularly; require "fills" regularly

Cost: $150 to $300 for initial set and $100 to $200 for fills

I went right to my local lash guru, Lindsay Dillon of Downers Grove, Illinois, for my first set of lash extensions. Your lashes (and brows) start to thin in your mid-40s, so it's not surprising most of her clients are women in their mid-40s to mid-50s. Lash extensions are applied not to your eyelids, but directly to your lashes, using special adhesive. To avoid damaging or breaking your lashes, you should only use extensions that are about a millimeter or 2 over your natural lash length in order to avoid damage. That means that while extensions can range from 6 to 18 millimeters, most extensions are about 8 to 11 millimeters.

Dillon offers different options, ranging from the more natural "classic" look to the "volume" look, which uses fans of natural lashes for a thicker, more dramatic appearance. Lashes used to come in synthetic, silk and mink, but today the majority are synthetic. (Silk lashes can be special-ordered, but they don't hold curl as well.)

The application process is simple: You keep your eyes closed while your aesthetician applies the extensions, which takes an hour to two hours. (It is pain-free, and you may find it quite relaxing to lie there while someone gently touches your face.)

You can't get them wet for 12 to 24 hours; after that, gently wash them daily with special cleanser that your lash pro will provide you. (Yes, you have to keep them clean. If you don't, the eyelash mites that already live on your lashes can grow more numerous and cause an infection.)

Typically, you'll need a "fill" appointment every two to four weeks, depending on your lash growth cycle. Plan to spend an hour to three hours for your first full set (depending on what you choose and the skill of your lash tech), and one to two hours for a refill.

Look for a licensed aesthetician or cosmetologist for lash extensions. Ask to see her before-and-after photos, read her customer reviews, and make sure that she sanitizes her tools to avoid pink eye or another infection. Allergic reactions to the adhesive are rare, but if you notice swelling or itching after your lashes are applied, have your lash tech remove the lashes and adhesive for immediate relief. Note: You shouldn't opt for lash extensions if you've been treated for cancer during the last year; have trichotillomania, or hair-pulling disorder; or tend to rub your eyes frequently.

The last word

As for me? When I opened my eyes to see my new lashes, I was thrilled. Two weeks after getting them, my lashes are still long and curly, yet natural looking. And I've worn no eye makeup since I got them. I'm not sure that I'll spend the money to keep them up, but for now I love my luscious new look!

How do you cope with thinning lashes? Let us know in the comments below.