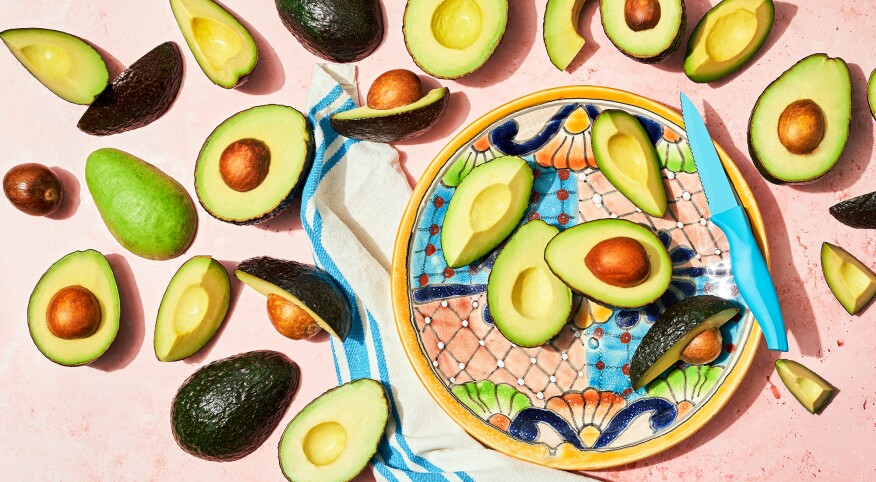 Avocados are one of the most versatile fruits around. Nutritious and delicious, this member of the berry family (who knew?) is terrific in salads, smoothies and even baked goods.

The 411 on avocados

Avocados, also known as "alligator pears" (due to their prickly outer skin) or "butter fruit" (because of their butter-like taste), are considered by many food pros to be a superfood. They contain 20 different vitamins and minerals, including vitamins C, E and folate. They are also low in sugar and high in fiber. Yes, they are high in calories and fat (but it's the "good" fat that helps lower bad cholesterol), so the key is to eat them in moderation. Of course, that can be challenging when they are used to make fresh guacamole and served alongside chips and margaritas!

Picking and storing

Picking a perfect avocado at the market can be challenging. To find a perfectly ripe avocado:

• Check the color. Ripe avocados have a skin color that is dark green/nearly black.

• Check the skin. Ripe avocados will have a bumpy (not smooth) texture.

• Squeeze test. A ripe avocado shouldn't feel mushy but should yield to gentle pressure. If the plan is to eat it in one to two days, pick one that is dark green, slightly bumpy and still somewhat firm to the touch. If you aren't planning to eat your avocado for three to four days, choose one with a lighter green color and smooth skin.

Store avocados on the counter at room temperature (although if you are trying to slow down the ripening process, you can store them in the refrigerator for up to five days). If you need to speed up the ripening process, place the avocados in a paper bag with an apple or banana for a day or so.

Ready, Set, Guac

While avocados are yummy on their own, try using them in the following recipes.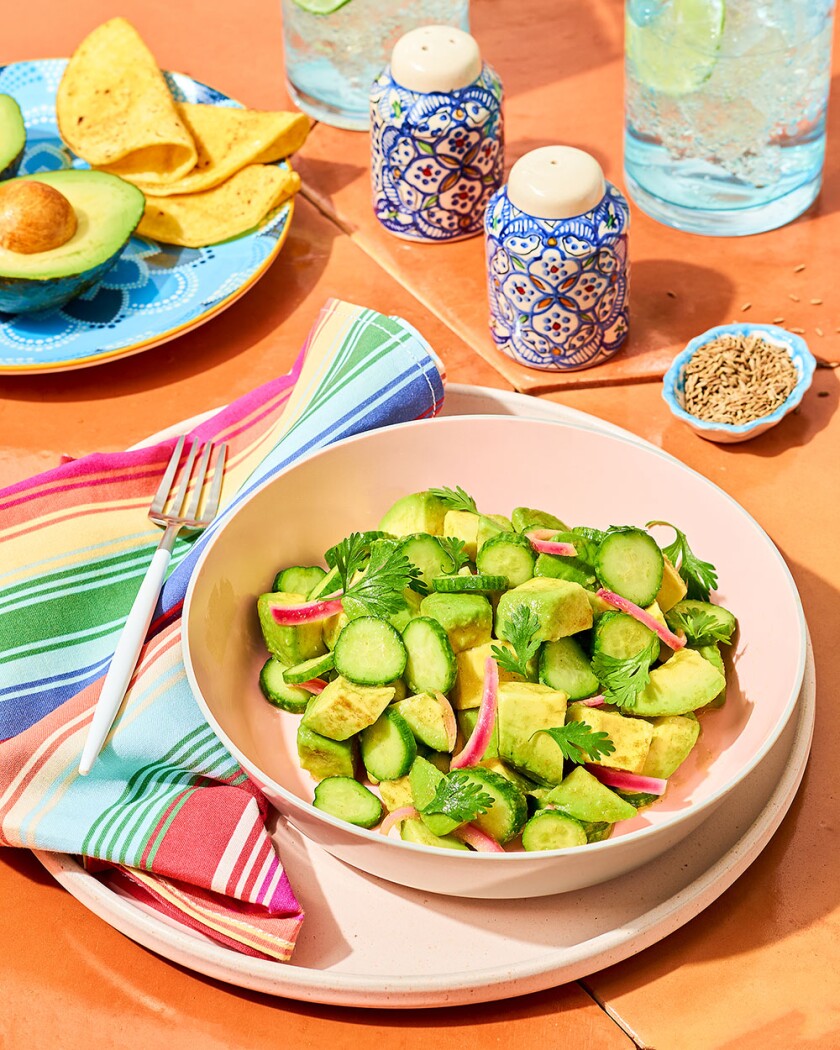 Avocado Salad (From Tricia Yearwood for the Food Network)

Serves 4 to 6

Instead of adding avocado as an afterthought to your next salad, let it be the star.

For the salad

2 semi-ripe avocados

2 tablespoons torn fresh flat-leaf parsley·

1 mini cucumber, sliced

½ a small red onion, thinly sliced

Kosher salt and freshly ground pepper to taste

For the dressing

2 tablespoons extra-virgin olive oil

1 tablespoon honey

¼ teaspoon cumin

1 lime, juiced (about 2 tablespoons)

Peel avocados and cut into 1-inch chunks

Put aside 2 chunks (for dressing) and place rest of avocado in a large mixing bowl. Add parsley, cucumber and onion to avocado chunks. Sprinkle generously with salt and pepper.

Mash the 2 reserved avocado chunks with fork until smooth. Add oil, honey, cumin and lime juice. Whisk until smooth.

Pour dressing over avocado salad and toss gently to combine. Serve immediately.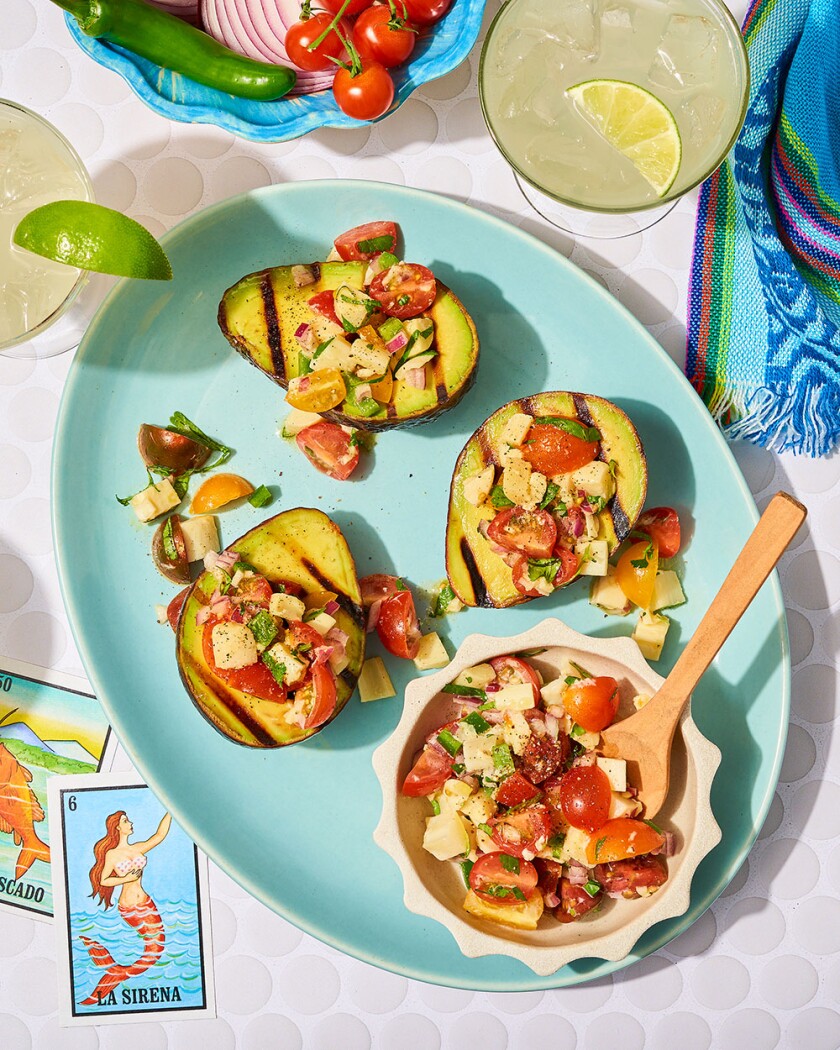 Grilled Avocado With Vegetable Ceviche (From Love & Lemons)

Serves 8

Hosting a BBQ and some of the guests are vegan? These grilled avocados will be a hit with even meat lovers.

2 tablespoons coconut milk

Zest and juice of 1 lime, plus lime wedges for serving

¼ cup finely diced red onion

½ garlic clove, minced

1 can hearts of palm, drained, rinsed and diced

1 cup diced cherry tomatoes

⅓ cup diced cilantro

½ diced jalapeño or serrano pepper, more if desired

Heaping ¼ teaspoon sea salt, more for sprinkling

Freshly ground black pepper

4 ripe yet firm avocados

Extra-virgin olive oil for drizzling

In a medium-small bowl, combine coconut milk, lime zest, juice, red onion and garlic. Stir, then add the hearts of palm, tomatoes, cilantro, jalapeño, salt and pepper to taste. Set aside.

Heat a grill to medium-high heat. When the grill is preheated, slice the avocados in half, remove the pits, and drizzle each half with olive oil, lime juice, salt and pepper. Grill the avocado halves, cut side down, for 3 to 4 minutes or until char marks form.

Remove from the grill, place on a platter and fill each avocado half with the filling. Serve with a pinch of salt, if desired, and lime wedges.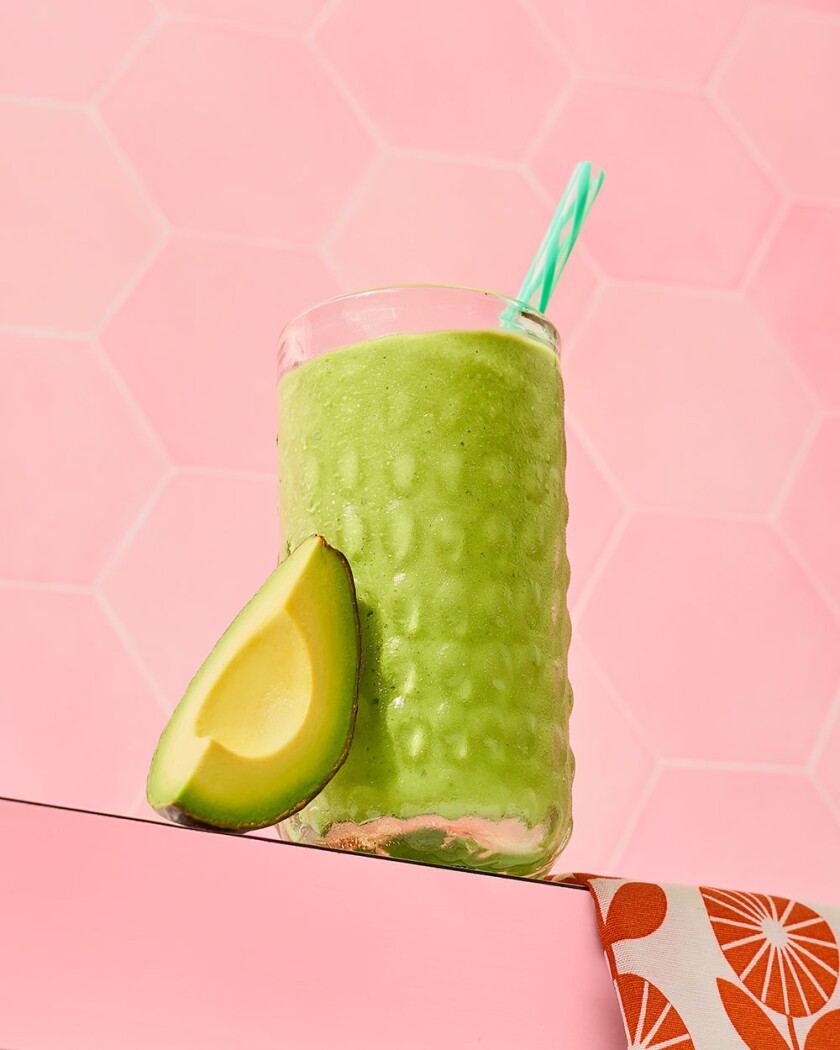 Avocado Smoothie (From Chocolate Covered Katie)

Serves 1 to 2

Great for breakfast or a filling afternoon snack.

½ of a large ripe avocado

1½ cups cold milk of choice

Scant 1 teaspoon pure vanilla extract

Sweetener of choice, such as 2 tablespoons pure maple syrup or stevia to taste

1/8 teaspoon salt

Scoop of protein powder, optional

Peel avocado and discard pit

Blend all ingredients until completely smooth. Serve cold

If you want a thicker shake consistency, make ice cubes using canned coconut milk and add before blending. (Do not use regular ice cubes, which will dilute the flavor.)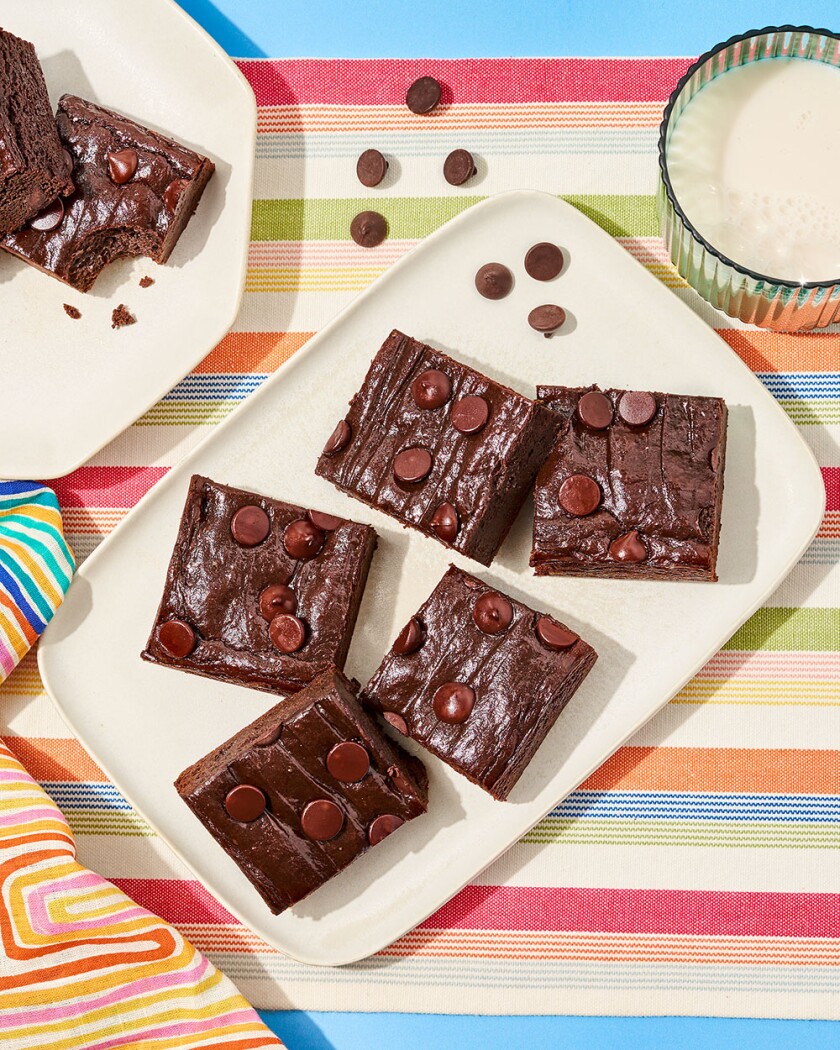 Fudgy Avocado Brownies (From Detoxinista)

Makes 16

1 ripe avocado (about 6 ounces; 1/2 cup mashed)

½ cup cacao powder (or cocoa powder)

2 eggs

1 cup coconut sugar (or brown sugar)

¼ cup almond butter

1 teaspoon baking powder

1 teaspoon vanilla extract

¼ teaspoon fine sea salt

½ cup dark chocolate chips

Preheat oven to 325°F and line a 9-inch square baking dish with parchment paper. (Grease the pan first so the parchment paper will stay in place.)

In a food processor, combine the avocado (peel and pit removed), cacao powder, eggs, coconut sugar, almond butter, baking powder, vanilla and salt. Process until smooth, stopping to scrape down the bowl as needed.

Fold in the chocolate chips, then pour the batter into the prepared pan.

Bake at 325°F for 40 to 45 minutes, or until the center of the brownies looks cooked-through. (You don't want them to jiggle when you shake the pan.)

Allow the brownies to cool completely. Do not eat until they reach room temperature — at least 2 hours on the counter

Slice the brownies into small squares and serve. It's normal for these brownies to stick to the knife a bit when you cut them, since they are very fudgy.

Store leftovers on the counter for up to 48 hours or in the fridge for up to a week.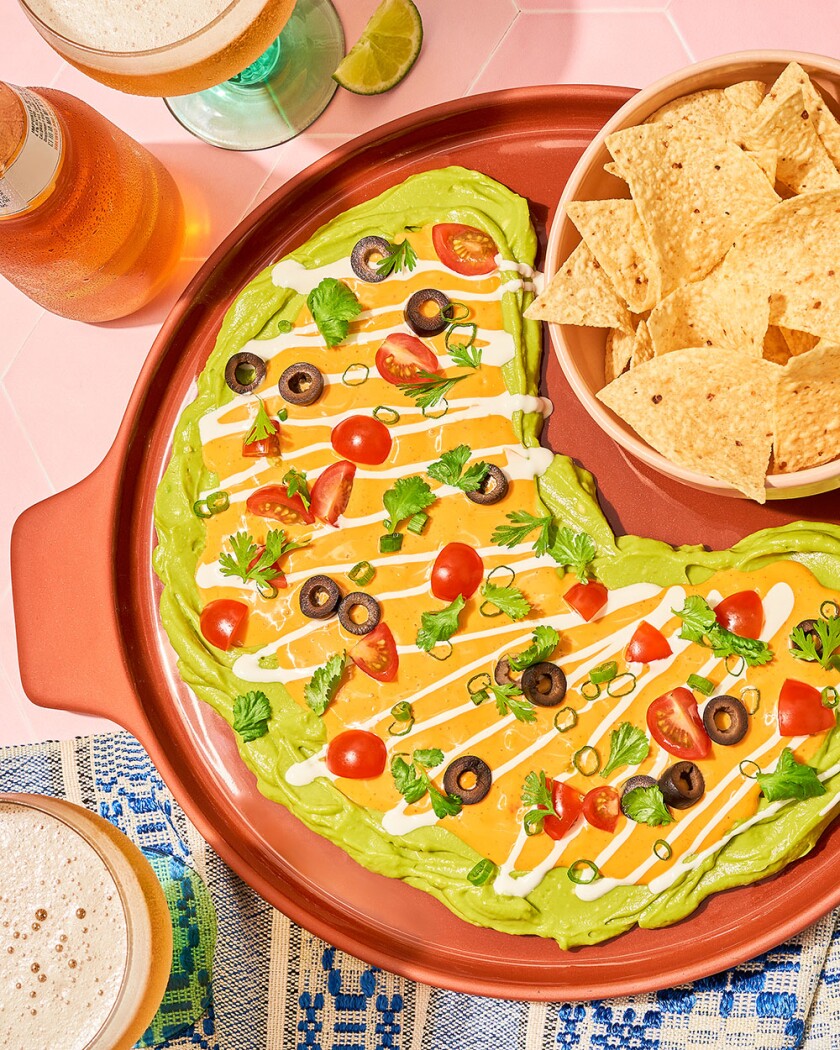 Loaded Guacamole Board (From Robin Miller on AZ Central)

Serves 4 to 6

Move over charcuterie boards and butter boards! Try this guacamole board for your next get-together.

For the cheese sauce

1 cup half-and-half, divided

1 tablespoon cornstarch

1 teaspoon chili powder

½ teaspoon smoked paprika

1¼ cups shredded sharp cheddar cheese

1 cup shredded Monterey jack cheese

Salt and freshly ground black pepper

For the board

4 ripe avocados, halved, pitted and peeled

½ cup diced fresh tomatoes

¼ cup sliced black olives

¼ cup chopped green onion

Fresh cilantro leaves

Tortilla chips for serving, warmed at 300°F for 5 to 10 minutes

Lime wedges for serving

To make the sauce, whisk together ¼ cup of the half-and-half and the cornstarch in a small bowl and set aside.

Place the remaining ¾ cup of half-and-half in a small saucepan and whisk in the chili powder and smoked paprika. Set the pan over medium heat and bring to a simmer. Whisk in the half-and-half/cornstarch mixture and simmer until the sauce thickens, whisking constantly.

Reduce the heat to low and fold in both cheeses, one handful at a time. Stir until the cheese melts. Remove the pan from the heat and season to taste with salt and black pepper.

Assemble your board. Place the avocado halves on a wooden board or serving platter of choice and mash with a fork to spread them out to cover the board. Spoon the cheese sauce over top and spread it like you're frosting a cake.

Top with the tomatoes, black olives, green onions, cilantro and any other toppings you'd like to add. Serve at once with the warm tortilla chips and lime wedges.

Do you love avocados? How do you typically eat them? Let us know in the comments below.