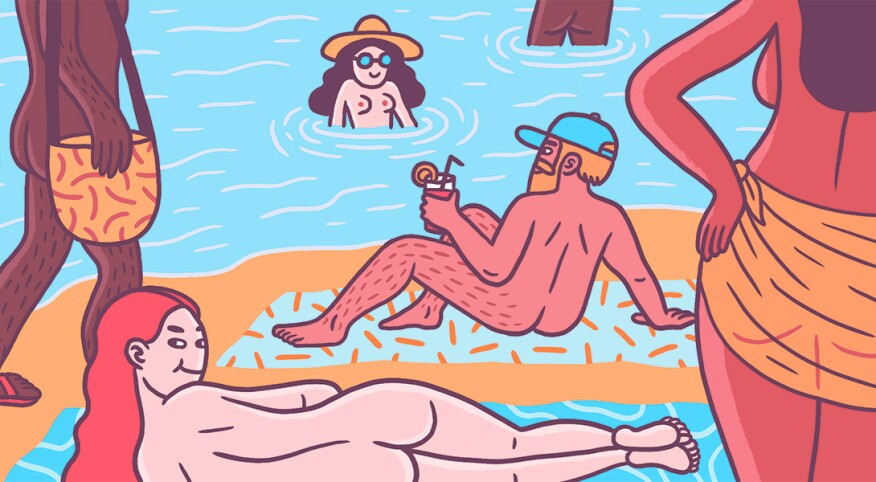 Nude travel isn't anything new. Still, naked vacations, or "nacations," are a growing niche, bringing in more than $440 million annually, says the American Association for Nude Recreation.

I don't need much encouragement to get naked, especially when sun, beach and surf are involved. It's surprising, given that I was raised in a family that didn't promote body positivity. Growing up, my mother never missed an opportunity to remind me that at her all-time heaviest, she weighed 119 pounds. She was 5 foot 10 and pregnant with me at the time. Her fear of fatness created intense pressure to watch the scale and worry about how I looked. "If you lose 10 pounds, boys will like you" was the background track of my teens.

Thankfully, I made peace with the shaming and started stripping down in public settings as soon as I left home — first as a nude model in art school, and then at a slew of clothing-optional resorts on the West Coast over the past two decades. Given the choice, I prefer getaways where you can stay and play in the buff. For me, baring it all (or nearly all, depending upon resort policy) is liberating.

Sure, it may be intimidating to get naked in front of strangers. Once you get over the initial reveal, I promise you won't feel (as) self-conscious. Few of us have the kind of body image society deems perfect. That's OK. We all have flaws. And every body is beautiful.

At Hedonism II in Negril, Jamaica, the granddaddy of clothing-optional resorts, guests have the option of staying on the "nude" or "prude" side. The former requires nudity at all times. On the prude side, guests can wear as much (or little) as they'd like. There is one rule, though: Nipples and genitals must be covered up in restaurants and dining areas. Thongs and pasties meet the dress code.

During the day, guests frolic naked in the nude pool as if they're on adult spring break spelling out the letters of "Y.M.C.A" – au naturel. It's not uncommon to see breasts on the swim-up bar or for naked bodies to brush up against each other while waiting in line for jerk chicken at the nude-pool grill. Body parts bounce on the beach while playing volleyball; ditto while snorkeling. (Nude snorkeling is one of life's greatest pleasures.) Clothing is also optional on the resort's catamaran tour.

People do look, and maybe for a few seconds more than you're accustomed to. But the stares typically are followed by a flood of compliments. Trust me, being told you're beautiful by respectful admirers does wonders to improve one's confidence.

So, who actually goes on such a naked adventure? You'll see every single kind of figure — from svelte supermodels to zaftig super booties. On a recent visit to Hedonism II, the most attractive woman I encountered had one breast and a scar. The thing is, nobody cares what you look like.

At Hedonism II, I met doctors, politicians and PTA moms ranging in age from their 20s to 70s. These travelers hailed from all pockets of the world, with a variety of political beliefs and religious and socioeconomic backgrounds. The common denominator was shared respect and open-mindedness.

Nacations aren't for everyone. If you have an open mind and minimal expectations, and treat others with respect, it can be a life-changing experience. After a few days in the buff, all the judgment and messaging about how you're supposed to look melts away, and you realize there's more to life than fitting into skinny jeans. Just don't forget to pack sunscreen.